Bean Soup Recipe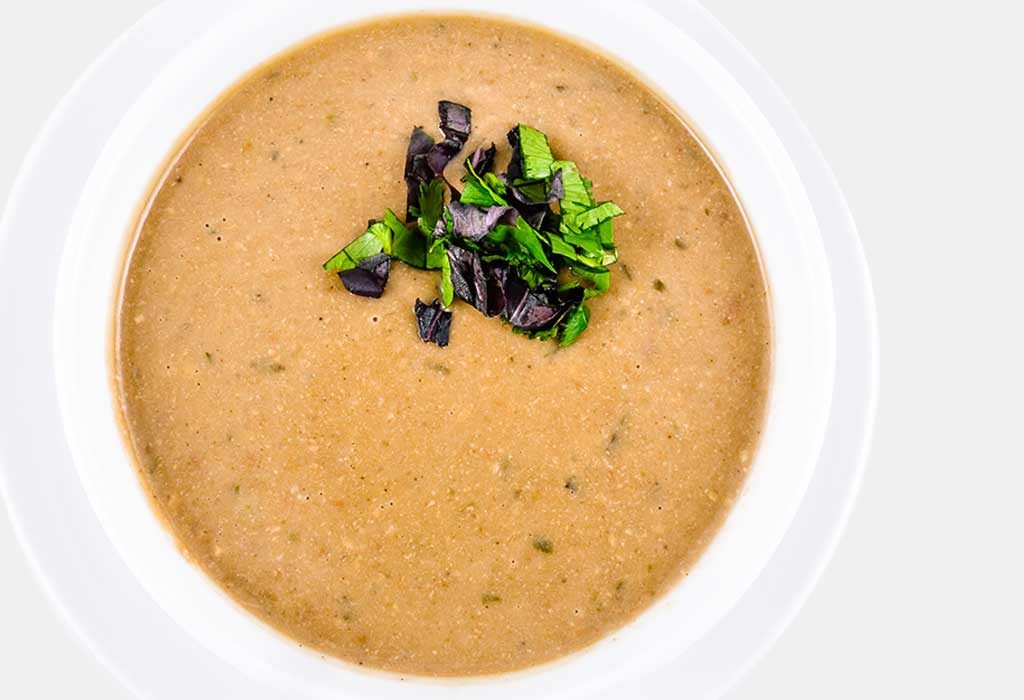 Beans are a great source of nutrients and help in the baby's development and growth. It is also a good choice to give to your baby when he is enjoying the transition from breast milk or formula feeding to solid foods. This soup is easy to make, delicious and healthy. Why wait? Read further to learn how to make Bean Soup, which is an excellent alternative to beans when it comes to introducing baby-led weaning.
Video: How to Make Bean Soup for Toddler (Suitable for Babies 18 Months Old & Above)
Cooking Time
| | |
| --- | --- |
| Type | Time (hh:mm:ss) |
| Preparation Time | 00:10:00 |
| Cook Time | 00:25:00 |
| Total Time | 00:35:00 |
Cooking Method: Gas
Type of Meal: Vegetarian, Vegan
Suitable For: Babies from 18 months onwards
Meal Schedule: Breakfast, Mid Morning Snack, Lunch or Evening Snack.
Recipe Type: Soup
Ingredients
| | |
| --- | --- |
| Type | Quantity / Volume |
| Kidney Beans (soaked overnight) | 1/2 cup |
| Onion chopped | 1 small |
| Tomato chopped | 1 small |
| Butter | 1 teaspoon |
| Garlic cloves | 2-3 |
| Lemon juice | ½ teaspoon |
| Black pepper powder(optional) | ¼ teaspoon |
| Water | 2 cups |
Instructions
Follow our step by step instructions guide to make this super nutritious and tasty soup for your little one that he/she will surely love to relish on.
Heat a pressure cooker and melt 1 teaspoon butter in it. Add chopped garlic to butter and let it saute for 30 seconds.
Add chopped onions to it and saute until soft and pink.
Now add finely chopped tomato and saute until soft.
Add overnight soaked kidney beans to this mixture and add 2 cups of drinking water to it.
Close the lid of the pressure cooker and wait for 2 -3 whistles. Then simmer for 5 to 7 minutes.
Turn off the burner flame and wait for the steam to pass naturally. Check whether beans are cooked properly or not. If not cooked well, cook again till done.
Now transfer the mixture to blending jar and make a smooth paste. You can also blend using a hand blender but make sure the paste is smooth without any bean.
Check for the consistency of the paste, if thick, add ½ cup of drinking water or more.
Transfer the puree to a pan and let the soup boil again.
Serve it warm and season with a pinch of black pepper powder and lemon juice just before serving.
Recipe Tips
It is advisable to soak the kidney beans overnight and washing them just before cooking. It helps in reducing gas-forming compounds and makes the beans gentle on the baby's tummy.
This soup is good for toddlers and kids and can be given in small quantities either by itself or with some steamed rice.
Kidney beans need to be cooked properly. If left uncooked it can cause bloating problems in babies and toddlers.
Make sure to blend the soup to a smooth consistency to prevent choking hazards in toddlers.
Adding black pepper and lemon juice is optional and depends on the liking of your baby.
You can also add a pinch of salt to this easy Bean Soup recipe if your child does not like the bland taste and needs some flavor.
Use only RO or purified water in making dishes for babies led weaning or toddlers.
Make sure to wash your hands, vegetables, and utensils properly before starting the preparation.
Nutrition Information (Per 100 Grams)
| | |
| --- | --- |
| Type | Value |
| Energy | 80 Cal |
| Carbohydrates | 11.8 grams |
| Calcium | 70 milligrams |
| Iron | 1.1 milligrams |
| Magnesium | 29.7 milligrams |
| Phosphorus | 67.4 milligrams |
| Protein | 3.1 grams |
| Fat | 2.3 grams |
| Dietary fiber | 1.7 grams |
Health Benefits
This Bean Soup recipe for babies/toddlers is not only tasty but is packed with essential nutrients required for the healthy development of babies and toddlers. Here are few of the significant health benefits of this delicious and easy to make soup:
Kidney beans are rich in Vitamins (A, B1, B2, B3, C, and E) and Folic acid.
This soup all provides minerals and calcium to babies and makes them strong and healthy.
It helps in the development of bones, muscles, and brain.
Buying Guide
Make sure all the ingredients are fresh, and if possible, go for organic products.
Organic products are the best for your babies as these products are free from harmful chemicals, pesticides, and insecticides. Also, these are tastier, healthier and safe for your little one.
Always buy products from a reputed store and check for the expiry date before purchasing.
This homemade Bean Soup recipe is good for both babies and toddlers as it keeps the baby full for a longer time and is a complete and tasty diet in itself.