Rajgira Wheat Sheera Recipe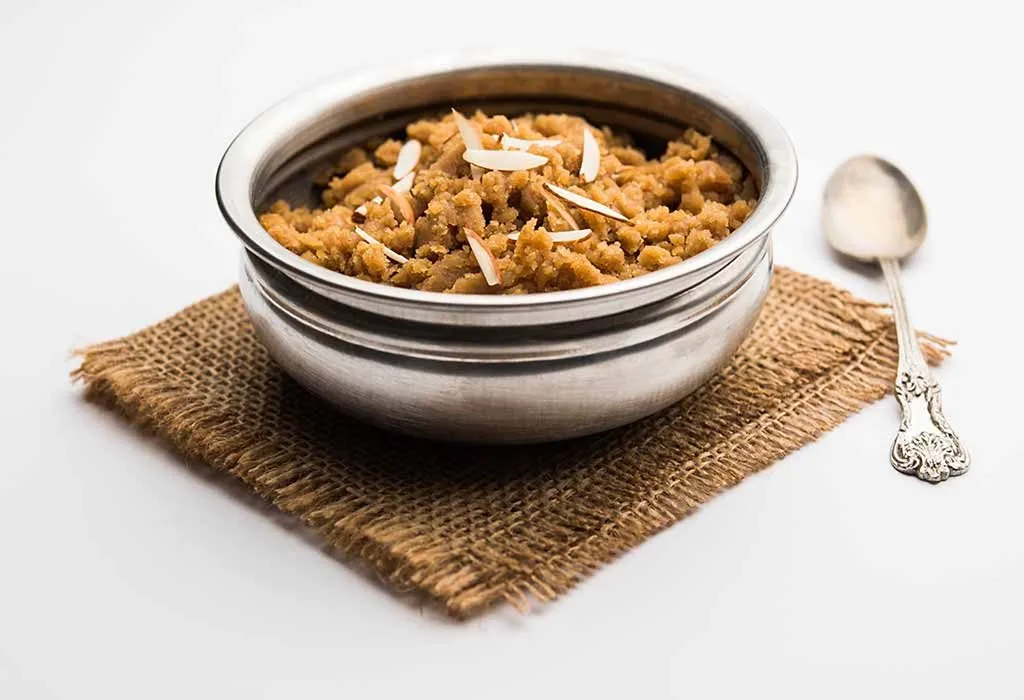 In this Article
Sheera is a sweet delicacy that is made using various kinds of grains and seeds. An easy meal option, sheera can be given to young kids too as it is loaded with many health benefits. In this post, we shall share a simple Rajgira wheat sheera recipe that you can make in absolutely no time and you will see your little one finishing off the entire serving without fussing. If this got you excited about the recipe, we recommend reading the following post!
Cooking Time
| | |
| --- | --- |
| Type | Time |
| Preparation Time | 00:05:00 |
| Cook Time | 00:15:00 |
| Total Time | 00:20:00 |
Cooking Method
Gas or microwave
Type of Meal
Vegetarian
Suitable For
For toddlers over 12 months of age
Meal Schedule
Lunch or dinner
Recipe Type
Desserts
Ingredients
You need the following list of ingredients to make Rajgira wheat sheera for babies
| | |
| --- | --- |
| Type | Quantity/ volume |
| Rajgira flour | ½ cup |
| Whole wheat flour | ½ cup |
| Ghee | ¾ cup |
| Brown sugar | ¾ cup |
| Cardamom powder | ½ teaspoon |
| Milk | 1 cup |
Instructions
Here are step by step directions on making this yummy sheera recipe:
Take a heavy-bottomed wok.
Heat ghee in it.
Add rajgira and wheat flour. Cook on medium flame. Keep stirring continuously until the flour starts giving nutty aroma.
Add milk as you keep stirring the mixture continuously.
Add brown sugar and cardamom powder and cook until sugar dissolves nicely.
Let the sheera come to room temperature before you feed it to your little one.
Recipe Tips
Here are some recipe tips that can ensure a perfect homemade Rajgira wheat sheera baby food recipe:
You can add chopped almonds or cashew nuts to add a crunchy twist to the sheera if your baby can eat nuts comfortably. You can add other nuts and dried fruits as per your choice or preference.
If you do not have brown sugar, you can replace it with jaggery, date sugar, and other such natural sweeteners.
For kids with gluten sensitivity, sheera can be made using only rajgira flour.
You can also replace milk with water if your kid is lactose intolerant.
Adding a few strands of saffron will add a nice golden tint to the dish and add more aroma too.
Nutrition Information (Serving Per 100 Grams)
After learning how to make Rajgira wheat sheera recipe, take a look at this table that demonstrates the nutritional content present in this yummy recipe:
| | |
| --- | --- |
| Type | Value |
| Energy | 300 Kcal |
| Carbohydrates | 40 gm |
| Protein | 5 gm |
| Potassium | 145 mg |
| Sodium | 45 mg |
| Cholesterol | 25 mg |
| Dietary fiber | 0.7 gm |
| Sugars | 25 gm |
This table represents tentative nutritional values present in 100 grams of rajgira and wheat sheera. The actual values may vary slightly.
Health Benefits
This sheera is loaded with the goodness of wheat, rajgira, milk, and ghee as the main ingredients. All these ingredients contain hoards of health benefits for your little one. Here are some of the health benefits of this sumptuous recipe:
Protein is one of the most essential growth nutrients that helps in the growth and maintenance of muscles and tissues. Including foods such as rajgira in your baby's regular diet may help in fulfilling the protein requirements of your baby.
The presence of phosphorus and calcium in rajgira helps in strengthening bones and teeth in young children.
High fibre content in whole wheat flour and rajgira flour helps in improving digestion and keeping digestive issues at bay.
Ghee contains antioxidant and antimicrobial properties that are helpful in building better immunity in young kids and also keeps infections and diseases at bay.
Ghee also contains calcium, which is vital in maintaining good bone health in babies.
Buying Guide
Take into consideration the following things when buying ingredients for making rajgira wheat sheera for your little one:
Buy organic wheat and rajgira flour to make the sheera. Do not buy loose or unpacked flour from any local vendor. Always pick up packaged goods from renowned brands.
Do not forget to check the expiry or best before date on the label. Though most flours come with a shelf life of 6 to 10 months, however, it is always best to check the date of packing to avoid picking up expired products.
Make sure you pick up organic brown sugar, which is readily available in most departmental stores and supermarkets.
So, there you go with Rajgira Wheat Sheera Recipe. Try it out right away and do let us know if your kid liked it or loved it.