Sattu Mix Recipe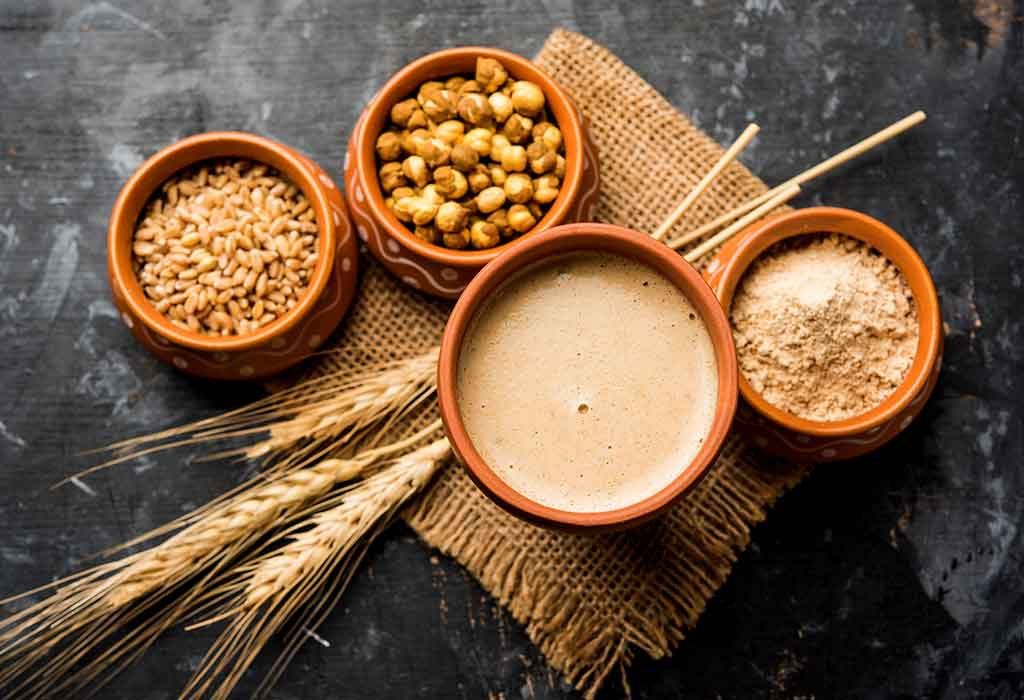 In this Article
If you want a real weight gaining food for your baby, then sattu it is! Sattu can be given to a child in many forms and the Sattu mix for babies is one such dish. Sattu mix or sattu maavu, as it is more popularly called, can be bought at a store or you can prepare this protein-rich mix at home so that you provide all the ingredients you would like to feed your baby. The best part about this mix is that it can be made once and stored in airtight containers for up to 6 months. You could use this mix to prepare kanji, porridge or smoothies in a jiffy after that. If you sprout the black chickpea before grinding, then it yields the best results since sprouting enhances the nutritional value of any grain or legume. But here, we have given you a simpler process. If you still want to sprout them then you can find the tips to sprout, in the recipe tips section.
Cooking Time
| | |
| --- | --- |
| Type | Time (hh:mm:ss) |
| Preparation Time | 00:15:00 |
| Cook Time | 00:45:00 |
| Total Time | 01:00:00 |
Cooking Method
Gas stove and blender
Type of Meal
Vegan
Suitable For
Any baby above 6 months of age
Meal Schedule
Breakfast / Dinner
Recipe Type
Main dish
Ingredients
| | |
| --- | --- |
| Ingredients | Quantity and Volume |
| Black chickpea | 200 g |
| Brown rice | 200 g |
| Wheat daliya | 200 g |
| Ragi | 200 g |
| Jowar | 200 g |
| Roasted gram | 200 g |
| Green gram | 200 g |
| Sabudana | 200 g |
| Moong dal | 200 g |
| Horse gram | 100 g |
| Ajwain | 10 g |
| Dry ginger | 10 g |
| Cardamom | 15 g |
| Cashew | 100 g |
| Almond | 100 g |
| Pista | 100 g |
Instructions
We will now see the step by step procedure of making this nutrient-dense sattu mix:
Take an iron kadhai and start dry roasting all the ingredients separately, to save time it is best to utilize 2 burners and 2 kadhai at a time. The ingredients are to be roasted for different amounts of times, here is a guide on that:

Roast rice till it looks like puffed rice.
Roast pulses and daliya till they are golden brown.
Roast sabudana and horse gram till it is crispy and dry.
Roast green gram till the color changes to light brown.
Roast cashew till its golden brown.
Roast almonds and cardamoms till your get their aroma.

Once all ingredients are roasted, let them cool down.
Grind all of them in a blender.
Sift the flour mix to get finer consistency.
Store them in airtight containers.
Recipe Tips
This is an easy Sattu mix recipe for a baby which is easily done in 10 minutes and can be your go-to recipe on a busy day.
Make sure all the roasting is happening on medium to low flame.
If you are making it for a child younger than 1 year then avoid the nuts.
Ingredients could be added based on the kind of diet you follow for your child, allergies, etc. Some of the other healthy choices for addition would be flax seed, dried peas, peanuts, etc.
Make sure all the grains are free of any grit or stones.
If you want to first sprout the grains and legumes, then follow the below process:

Wash and soak them overnight.
Next day morning wash them thoroughly and tie them in a thin cloth, individually, and keep them in a dry and warm place for 10-12 hours.
Once sprouted, put them in the sun to dry for a few hours.
Nutrition Information (Per 100 g)
| | |
| --- | --- |
| Nutrient | Value |
| Energy | 375 Kcal |
| Protein | 16 gm |
| Carbohydrates | 55 gm |
Health Benefits
This home-made Sattu mix baby food recipe is one of the easiest ways to get tonnes of nutrition into your child.
All the pulses and nuts make this an extremely protein-rich food.
It provides a good source of energy in just one meal.
Sattu is a naturally cooling drink that is great for regulating body temperature.
It also aids digestion and cleans colons helping in detoxifying as well.
It has a low glycaemic index and regulates blood pressure.
Sattu also increases appetite so really good for developing kids.
Buying Guide
Organic is the way to go, so buy all organic products for this mix.
Buy only reputed brands of grains and other ingredients.
We hope this recipe on how to make Sattu mix for a child was clear and concise and you would be happy to try this with your munchkin soon.