Homemade Fruit Jam Recipe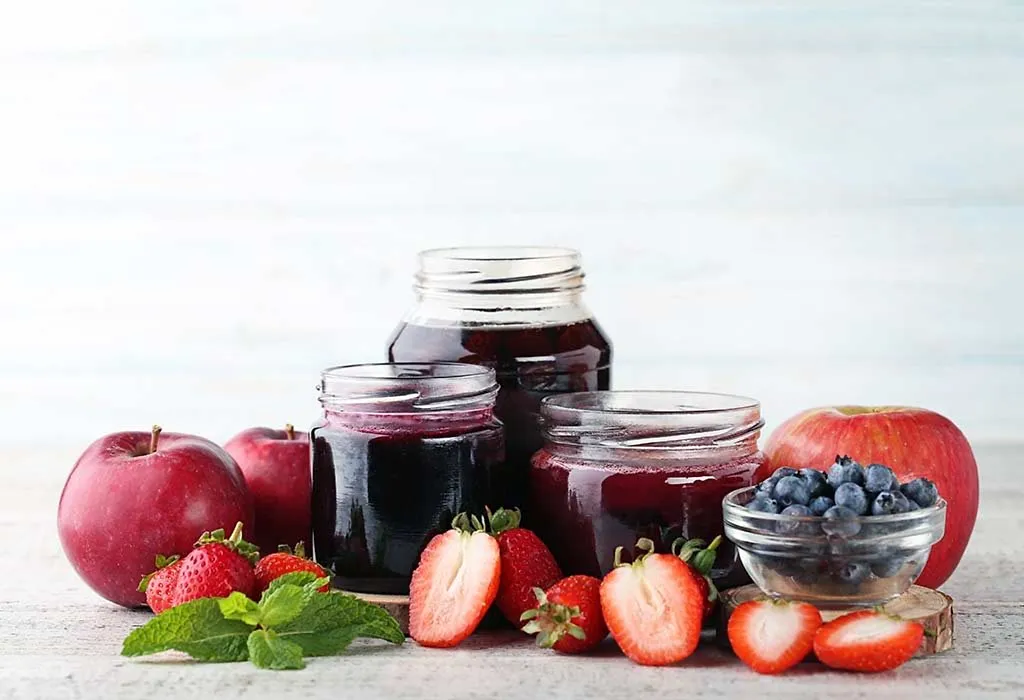 In this Article
While some kids enjoy savoury dishes, others enjoy the sweet treats. If your kid has a sweet tooth and relishes everything sweet, we have an interesting recipe that your munchkin will love for sure. We have an easy Homemade fruit jam recipe that you can make with seasonal fruits. This recipe offers the goodness of several fruits in just one single spread. Browse through this post and learn this jam recipe that your kiddos will simply love!
Cooking Time
| | |
| --- | --- |
| Type | Time (hh:mm:ss) |
| Preparation Time | 00:10:00 |
| Cook Time | 00:20:00 |
| Total Time | 00:30:00 |
Cooking Method
Gas Stove
Type of Meal
Vegetarian
Suitable For
Toddlers over 24 months of age
Meal Schedule
Breakfast, Mid Morning Snack or Evening Snack
Recipe Type
Spreads
Ingredients
Here's what all you need to make Homemade fruit jam for toddlers:
| | |
| --- | --- |
| Ingredient | Quantity and Volume |
| Banana (medium-sized) | 1 |
| Apple (medium-sized) | 1 |
| Guava | 1 |
| Papaya (chopped) | 1/2 cup |
| Prunes | 3 to 4 |
| Strawberries | 8 to 10 |
| Red grapes | 8 to 10 |
| Jaggery | 3/4 cup |
| Lemon juice | 2 tsp |
| Orange juice | 1/2 cup |
Instructions
Want to know how to make the make homemade fruit jam? Follow these simple step by step directions given below:
Wash all the fruits nicely under running water. Drain excess water by keeping them on the strainer for some time.
Chop all the fruits into small pieces, discard the seeds and peels.
Take the chopped fruits in batches and churn them into a fine paste in a blender.
Place the fruit paste in a heavy-bottomed pan and turn on the heat.
Add jaggery, orange juice, and lemon juice and keep cooking the fruits on low flame for few more minutes. Keep stirring it constantly or else the jam may stick to the base.
Once the fruit paste reaches a thick consistency or no longer remains watery, turn off the heat and let it cool.
Store the jam in a sterilised glass jar.
Serve homemade fruit jam with bread, cracker, parantha or other such meal options!
Recipe Tips
Keep in mind these following tips while making homemade fruit jam baby food recipe:
You can use brown sugar or white sugar in place of jaggery.
Do not skip lemon juice as it is added to increase the shelf life of the jam.
You can adjust the sweetness of the jam by increasing or decreasing the use of jaggery as it depends on the sweetness of the fruits.
You can add more bright coloured fruits such as red grapes and strawberries to render deep red colour to the jam.
Keep the jam under refrigeration and use it within a few weeks.
Nutrition Information (Per 100 Grams):
| | |
| --- | --- |
| Nutrient | Value |
| Energy | 300 Cal |
| Carbohydrates | 75 g |
| Protein | 5 g |
| Calcium | 20 g |
| Vitamin C | 10 mg |
| Sodium | 30 mg |
| Potassium | 75 g |
This table shows approximate nutritional values present in 100 grams of homemade jam. The actual nutritional content may slightly vary.
Health Benefits
Here are some health benefits of eating jam:
All fruits contain pectin, which is a natural substance that gets modified on being heated. The presence of pectin is great for hampering the growth of cancer cells.
Being a good source of natural sugar and other sweeteners, jams are great for providing that added dose of energy to your munchkin.
Jams provide a concentrated dose of nutritional benefits when it is made from ripened fruits.
Mixed fruit jams are not only loaded with nutrients, but they also help in optimizing the body's metabolism.
Buying Guide
Now that you know how to make Homemade fruit jam, here are some tips on buying the ingredients for the same:
Buy seasonal fruits to make jam. Frozen or fruits from cold storage contain very fewer nutrients in them.
Always buy organic fruits for your baby to protect your baby from any chemical exposure.
Ripe fruits are ideal for jam as they render natural sweetness to the jam, and this means less need of adding extra sugar or other kinds of sweeteners.
Buy organic jaggery to make jam. You can also replace jaggery with brown sugar. Check the expiry date of the product before buying it.
Homemade jam is a sweet treat for your munchkin, and this can be made in different flavours as per your kid's choice. So, get hold of some yummy fruits and make this mouth-watering jam for your little one and make regular toasts, crackers and pooris more interesting and tastier!