Murmura Chikki Recipe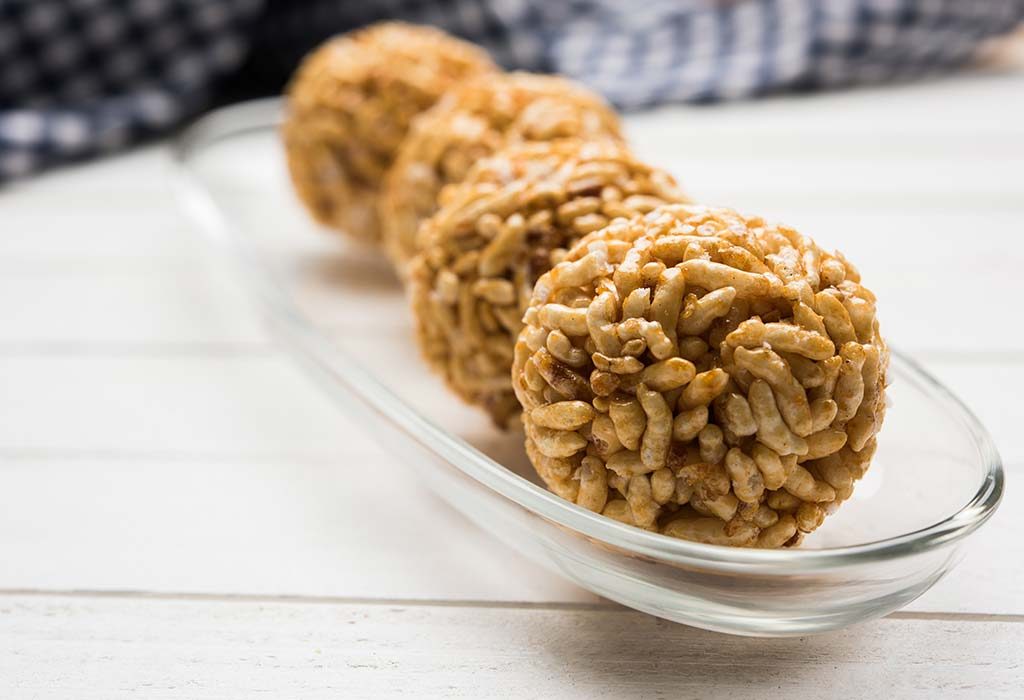 In this Article
Puffed rice or murmura is originated from India. It is a type of grain made from rice under high pressure. It is commonly used as a cereal for breakfast and evening snacks. They are light, crunchy and digestible. You can mix it with many other ingredients to make a delicious snack. One of the most healthy and easiest snacks to prepare is murmura chikki. This is also a famous sweet during Lohri/Makar Sankranti festival. It is prepared basically from puffed rice and jaggery. Overflowing with iron, proteins and carbohydrates, this energy-giving snack is ideal for kids.
Cooking Time
| | |
| --- | --- |
| Type | Time (hh:mm:ss) |
| Preparation Time | 00:05:00 |
| Cook Time | 00:04:00 |
| Total Time | 00:09:00 |
Cooking Method
Gas Stove
Type of Meal
Vegetarian
Suitable For
Any toddlers above 18 months of age
Meal Schedule
Snacks
Recipe Type
Dessert
Ingredients
| | |
| --- | --- |
| Ingredients | Quantity |
| Puffed rice (murmura) | 3 cups |
| Jaggery | 1 cup |
| Ghee | 2 tbsp |
Instructions
Grease a large plate with little ghee and keep aside.
Now in a pan, roast murmura on a slow flame till crisp.
Now add jaggery and water in a pan and melt it down. Bring it to boil and cook on a slow flame for 3 to 4 minutes or till the jaggery turns light brown while stirring continuously.
Switch off the flame and at this point add roasted puffed rice and mix well until all the murmura is covered with jaggery.
Pour this mixture on to a tray/plate or greased surface and spread it as thin as possible and allow it to cool.
Let it set for a few hours and cut into desired shapes.
Store this murmura chikki in an airtight container.
Yummy puffed rice chikkis are ready to be relished!
Recipe Tips
Make sure you remember the below mentioned points before you start preparing the healthy and simple Murmura chikki recipe for kids.
Don't add more water for jaggery to dissolve, add very little water for jaggery to thicken.
Quickly spread the puffed rice on the greased plate, otherwise, the puffed rice coated with jaggery becomes difficult to spread as it becomes crisp.
You can even replace jaggery with brown sugar/normal sugar.
These chikkis remain fresh for a week if stored in an airtight container.
It can be had when desired.
Nutrition Information (Per Bar)
| | |
| --- | --- |
| Nutrient | Values per bar |
| Energy | 51 Cal |
| Protein | 0.8 g |
| Carbohydrates | 6.7 g |
| Fibre | 0.6 g |
| Fat | 2.3 g |
| Cholesterol | 0 mg |
| Vitamin A | 7.9 mcg |
| Vitamin B1 | 0 mg |
| Vitamin B2 | 0 mg |
| Vitamin B3 | 0.2 mg |
| Vitamin C | 0 mg |
| Folic Acid | 7.7 mcg |
| Calcium | 40.8 mg |
| Iron | 0.6 mg |
| Magnesium | 13.7 mg |
| Phosphorus | 25.9 mg |
| Sodium | 0.5 mg |
| Potassium | 19.6 mg |
| Zinc | 0.5 mg |
Health Benefits
Puffed rice or murmura is an instant cereal mix for babies and kids. This recipe is a healthy protein mix for babies as puffed rice is rich in protein and carbohydrates and jaggery is rich in iron.
Jaggery is a good source of iron which is essential for the formation of haemoglobin. Adding jaggery to puffed cereal helps to meet the daily requirement of the mineral.
It is also rich in several minerals, calcium and phosphorus which are necessary for healthy bones and tissues.
Puffed rice is rich in carbohydrates that help to improve the energy of the babies.
Puffed rice and jaggery combined is a dietary fibre that helps to activate bowel movements and metabolism.
Due to abundance of minerals and antioxidants in this cereal, it helps babies and kids to boost their immunity and to combat diseases.
Buying Guide
Make sure you buy the jaggery that is naturally processed.
Before purchasing the jaggery, make sure to taste and check the colour of the jaggery to identify the good one.
Check if the puffed rice is fresh and crisp.
Check for the expiry date if the puffed rice is store-bought.
Our babies are very precious to us, and therefore we always want the best for them. So, instead of depending on formula food bought from the market, give your baby a bowl of tasty and nutrient-rich murmura chikki at least few times a week. You can even add a twist and prepare murmura ladoos instead of chikkis.