Sabudana Khichadi Recipe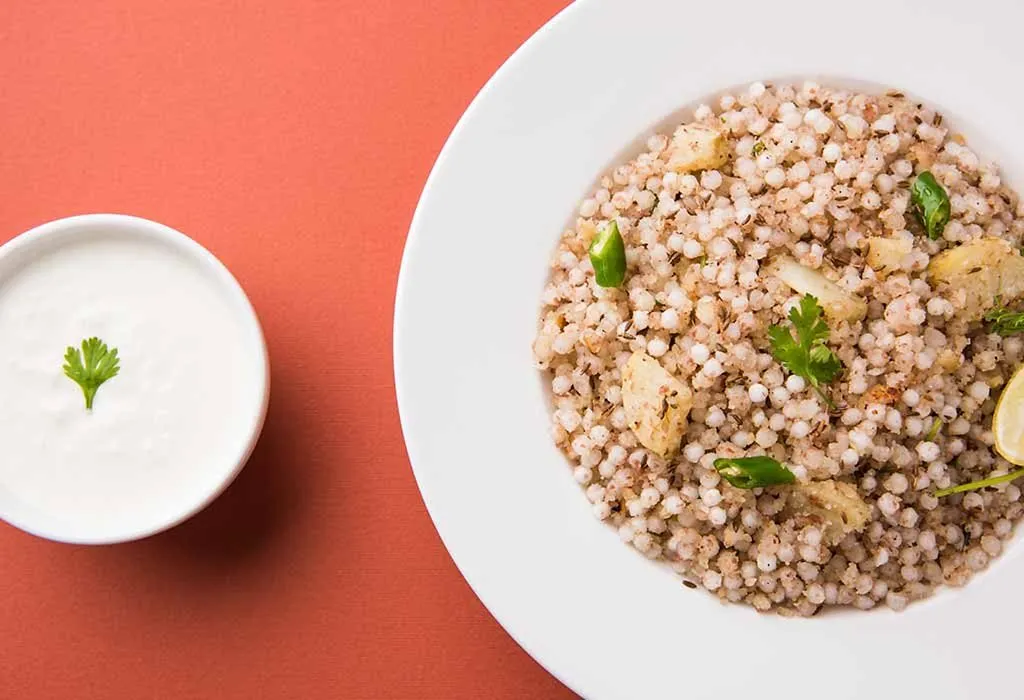 In this Article
Considered as comfort food, sabudana khichadi is mostly consumed during fasting days like Navratri. However, you don't need an occasion to make this gluten-free vegan dish, as it is extremely healthy for your little one as well as for your entire family! Sabudana khichadi can be an appetizing and filling breakfast, lunch, snack, and dinner, especially when it is served with chilled yogurt or roasted papad. This delicious and wholesome meal is made by combining tender tapioca pearls coated with crunchy roasted peanuts, sautéed potatoes, mild spices and a garnish of a generous squeeze of lemon. Follow these tips carefully on how to make sabudana khichadi in the perfect way, so that your child can benefit from its high nutrition value!
Cooking Time
| | |
| --- | --- |
| Type | Time (hh:mm:ss) |
| Preparation Time | 00:15:00 |
| Cook Time | 00:10:00 |
| Total Time | 00:25::00 |
Cooking Method
Gas
Type of Meal
Vegetarian
Suitable For
Toddlers older than 17 months of age
Meal Schedule
Breakfast, lunch, snacks or dinner
Recipe Type
Main dish
Ingredients
| | |
| --- | --- |
| Ingredients | Quantity |
| Sabudana | 250g |
| Crushed peanuts | 150g |
| Potato | 2, boiled and peeled |
| Sugar | 1 tbsp |
| Salt | as per taste |
| Ghee/Clarified butter | 2 tbsp |
| Cumin seeds | ½ tsp |
| Coriander leaves | 1 tbsp |
| Lemon juice | 1 tbsp |
Instructions
The step-by-step directions given here will help you make this truly humble yet tasty dish in the easiest way.
Put the sabudana in a colander and rinse it under water till all the starch is removed.
Transfer the sabudana to a large bowl, and add 1 cup of water to soak it overnight.
Check if the sabudana is soft and ready to be cooked by pressing it between your fingers.
Heat the ghee in a pan. Add the cumin seeds and wait for them to crackle.
Add the diced potatoes and cook for 3 – 4 minutes, stirring occasionally on medium flame till they are almost cooked.
Add the raw peanuts in a kadai and roast for 2 – 3 minutes by keeping the flame from medium to low.
As the peanuts' skin becomes brown and charred, set them aside to cool.
Put the peanuts in a small grinder and powder coarsely.
Add the peanut powder to the potatoes and cook for another minute.
Add the drained sabudana to the pan along with sugar and salt.
Mix everything well and cook for few minutes until the sabudana becomes translucent.
Garnish with chopped coriander leaves and add a dash of lemon juice.
Serve hot.
Recipe Tips
This simple sabudana khichadi recipe can be made spicier by adding black pepper or green chillies to it.
It can take less time for the sabudana to become soft, or require less or more water, depending on its quality.
Potatoes can be boiled, fried or steamed before adding to the sabudana.
You can use vegetables like boiled green peas, sweet corn, and carrot to add variety to the dish.
The sabudana should not be overcooked as it might become dry and dense.
This homemade sabudana khichadi baby food recipe can be made tastier by adding grated fresh coconut.
Curry leaves or cilantro leaves can also be used for garnishing this dish.
Avoid peanuts if your child has any nut allergy.
Nutrition Information (per 1 serving)
| | |
| --- | --- |
| Nutrient | Value |
| Carbohydrates | 69mg |
| Calories | 539kcal |
| Protein | 10g |
| Sodium | 946mg |
| Fiber | 6g |
| Fat | 26g |
| Potassium | 786g |
| Calcium | 94mg |
| Vitamin C | 71.6g |
| Calcium | 94mg |
| Iron | 6.4mg |
| Sugar | 2g |
| Vitamin A | 100IU |
Health Benefits
This easy sabudana khichadi for toddlers made from vegetarian ingredients has outstanding health benefits. It is easy to swallow, and is a satiating dish which can definitely be your baby's first food.
As sabudana is obtained from tapioca root, it is a source of vitamins, proteins, calcium, Vitamin K and iron which is necessary for the growth and nourishment of babies. It maintains your baby's bone health and flexibility.
Loaded with starch, sabudana provides carbohydrates that keep your child energized for the entire day.
It is an excellent food for summer, as sabudana helps to cool the body.
Peanuts are a good source of fats, protein, potassium, phosphorous, magnesium, folate and Vitamin B that are needed for the all-round growth of every child.
Buying Guide
Get the necessary information and some insightful tips regarding the ingredients that you need to buy for making sabudana khichadi from this buying guide given below:
Opt for the organic variety while buying peanuts that have no added sugar or oil.
Sabudana can be readily found in all grocery stores. Check the expiry date of its package before buying it.
Look for dry, even and white color pearls, as sabudana comes in different grades. Choose as per the requirement of the recipe.
Organically grown potatoes will certainly have better health benefits, as they are grown without synthetic fertilizers.
Homemade sabudana khichadi for babies are a healthy choice for mothers to curb the cravings of their babies for junk food, and offer them a flavourful dish whenever they are hungry!