French Beans and Peas Dalia Recipe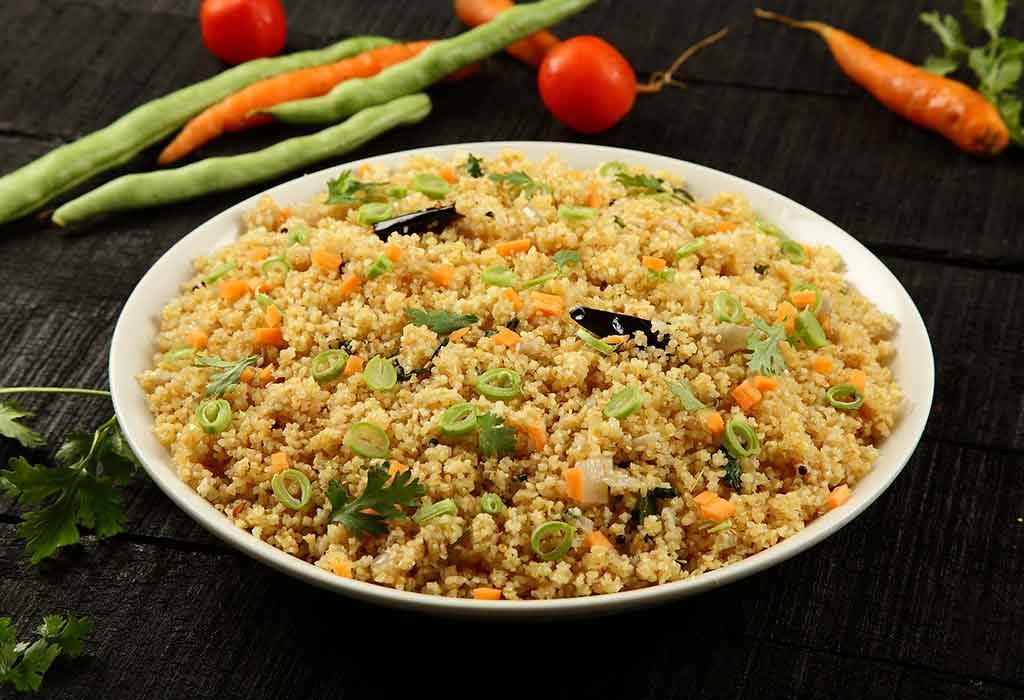 In this Article
When it's time to introduce solids like basic vegetables and grains in your child's daily diet, you can start with broken wheat porridge or dahlia. However, the addition of green vegetables like French beans and peas can make it more tasty and healthy as a one-pot meal. Dahlia is a Hindi term for broken cereals or wheat that is used in making this simple dish with a thick consistency. Easy to make and digest, the dahlia is well-loved comfort food that is recommended not only for babies but for people recovering from illness. Being super-healthy, French beans and peas dahlia can be the best weaning dish for babies. French Beans and peas dahlia for babies is the low-fat traditional dish that can be cooked without much fanfare and enjoyed by your entire family.
Cooking Time
| | |
| --- | --- |
| Type | Time (hh:mm:ss) |
| Preparation Time | 00:10:00 |
| Cook Time | 00:20:00 |
| Total Time | 00:30:00 |
Cooking Method
Gas Stove
Type of Meal
Vegetarian
Suitable For
Any baby above 9 months of age
Meal Schedule
Breakfast or evening snack
Recipe Type
Main Dish
Ingredients
| | |
| --- | --- |
| Ingredient | Quantity and Volume |
| Broken Wheat | ½ cup |
| Ghee/Clarified Butter | 1tsp |
| Ginger Paste | ½ tsp |
| Tomato | 1 |
| Turmeric Powder | ½ tsp |
| Salt | To Taste |
| Peas | 2 tsp |
| French beans | ½ cup |
| Coriander Leaves (fistful) | 1 |
| Onion (medium-sized) | 1 |
| Jeera | 1 tsp |
| Water | 4 cups |
Instructions
For those who are wondering how to make French beans and peas dahlia in the fastest and perfect way, here are the most useful step by step directions to prepare this delicious dish without any hassles.
Heat 1 tablespoon of oil or ghee in a 3-litre pressure cooker.
Add 1 teaspoon of jeera and allow it to crackle.
Add a medium-sized finely chopped onion and sauté till it becomes translucent.
Add ½ teaspoon ginger paste and 1 medium-sized tomato to it.
Stir for a minute and add turmeric powder to it.
Now add the French beans and peas to it.
Mix it well and keep stirring for 2 minutes on low to medium flame.
Rinse 1 cup dahlia in water using a strainer.
Drain out the water properly and add it to the cooker.
Add 4 cups of water and required salt to it.
Now close the cooker with its lid and wait for around 6-8 whistles to soften the dahlia well.
Once done, garnish it with coriander leaves and serve it warm.
Recipe Tips
Make sure you remember the below-mentioned points before you start preparing the healthy and simple French beans and peas dahlia recipe for your baby.
Remember to soak the dahlia before for 20-30 minutes to fasten the cooking process.
Chop the French beans into small pieces so that babies can easily chew them.
Use only clean filtered water for washing and soaking the dahlia.
Always wash your hands well before cooking the dahlia porridge. Utensils used should also be properly cleaned before cooking or serving any food.
You can dry roast the dahlia separately before cooking for a nutty aroma.
Nutrition Information (Per 100 Grams)
| | |
| --- | --- |
| Nutrient | Value |
| Calories | 267 kCal |
| Protein | 6 g |
| Carbohydrates | 57.9 g |
| Fibre | 9 g |
| Fat | 8 g |
| Vitamin B1 (Thiamine) | 0.55 mg |
| Vitamin B2 (Riboflavin) | 0.08 mg |
| Vitamin B3 (Niacin) | 3.6 mg |
| Calcium | 27.7 mg |
| Iron | 3.7 mg |
| Magnesium | 108 mg |
| Phosphorous | 223.5 mg |
| Potassium | 195 mg |
| Sodium | 57 mg |
| Sugar | 4 g |
| Vitamin C | 52.9 g |
Health Benefits
Here are the best health benefits of home-made French beans and peas dahlia baby food recipes that would be a delight to eat at any time of the day.
Cracked wheat used to make dahlia porridge has high iron content that helps to keep weakness, fatigue, and anaemia at bay.
The magnesium content of dahlia helps to maintain a regular heartbeat while the high fibre present in it prevents constipation in babies.
Regular intake of dahlia porridge with French beans and peas ensures a steady release of glucose in the blood which reduces the risk of juvenile diabetes in children.
Giving dahlia porridge for breakfast or dinner keeps your baby's hunger pangs away as it contains complex carbohydrates.
Loaded with vitamins and minerals, it builds muscle mass and boosts heart health.
French bean used in this dish is good for your child's eyesight, skin, hair, and nails.
Buying Guide
Buy organic vegetables that are grown without using harmful pesticides. Good quality products bought from a reputed store ensures maximum nutritive value.
Read the labels, expiry date of the broken wheat before buying.
It should be clean, evenly-sized and free from dust or stones.
Check the softness after opening the cooker lid gently and add more water if required
There's nothing more heart-warming for your child than a bowl of French beans and peas dahlia that is soft, easy to swallow. So instead of buying packaged food from the market, include dahlia porridge in your child's regular diet or during long-distance travel menu as it supports their overall growth and development.