Chole Paratha/Puri Recipe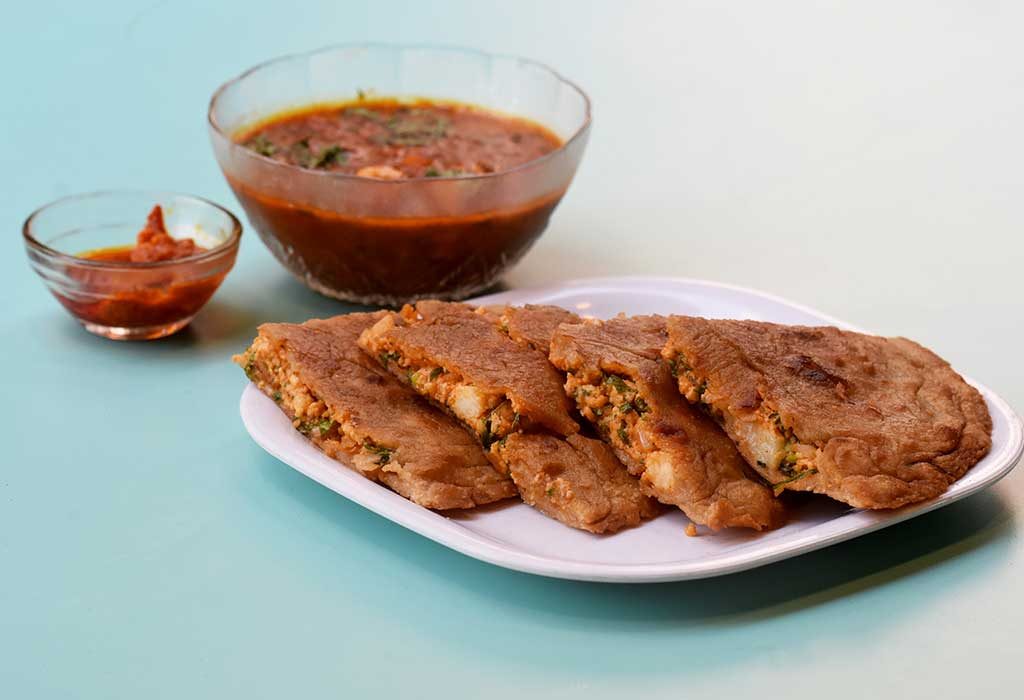 In this Article
Chole paratha is a delicious protein-rich nutritious Indian flatbread made from chickpeas (chole), few spices and wheat flour. Chole Paratha for babies is very healthy and stomach-filling meal and it can be served with curd, raita, pickles or tomato ketchup. This is a North Indian dish and can be ready in minutes. It is also very simple and easy to prepare.
Cooking Time
| | |
| --- | --- |
| Type | Time (hh:mm:ss) |
| Preparation Time | 00:15:00 |
| Cook Time | 00:10:00 |
| Total Time | 00:25:00 |
Cooking Method
Gas Stove
Type of Meal
Vegetarian
Suitable For
Any baby above 12 months of age
Meal Schedule
Breakfast, Lunch or Dinner.
Recipe Type
Main Dish
Ingredients
| | |
| --- | --- |
| Ingredient | Quantity and Volume |
| Whole Wheat or Multigrain Flour | 1 cup |
| Salt | 1 tbsp |
| Oil or Ghee | 2 tbsp |
| Chana Masala Powder | ½ tsp |
| Boiled Chickpeas (Chole) | 1 cup |
| Onion (Finely Chopped) | 1 |
| Carrom Seeds (Ajwain) | ½ tsp |
| Coriander leaves | 1 tbsp |
| Lemon Juice or Amchur Powder | ½ tsp |
| Turmeric Powder | ½ tbsp |
| Water to knead the dough | As per the requirement |
| Sweet Curd | 1 cup |
Instructions
You must be wondering how to make Chole Paratha/Puri! So let us see the step by step directions for the easy and simple Chole Paratha /Puri recipe.
Soak the Chole in water overnight for around 6-8 hours.
Now, take whole wheat flour in a big bowl, add a pinch of salt and a spoon of oil. Add the required amount of water to make it a soft dough. Cover the dough properly and keep it aside for 15 mins.
In a pressure cooker boil the Chole properly and then strain the water. Let it cool for a few minutes.
Mash the Chole properly with a potato masher or spoon.
In the meanwhile, finely chop the onion and coriander leaves.
Add coriander leaves, onions, carrom seeds (ajwain), turmeric powder, amchur powder (Dry Mango Powder) or lemon juice, Chole Masala powder, and salt in the mashed Chole and mix it well.
Make small balls of the mashed Chole mixture to put it inside the Paratha.
Heat the non-stick frying pan on a medium flame.
Now put the stuffed Chole in the dough and fold its edges.
Dust with some flour and roll it flat to make a big circle (just like a Chapati).
Place the Paratha in the frying pan and cook both sides by applying ghee and flipping it on both sides.
Cook till the Paratha shows brown spots on both sides.
Serve it with sweet curd/pickles, sweet chutney, raita or ketchup according to the kid's choice.
Recipe Tips
The yummy, nutritious homemade Chole paratha/Puri baby food recipe is now ready. Remember these tips before preparing.
Always buy fresh Chole from the market.
Soak the Chole in fresh water and clean bowl.
Properly clean your hands before cooking.
Mashed the Chole properly.
Half boiled Chole will be difficult to swallow for babies.
Take multigrain flour instead of whole wheat flour.
Nutrition Information (Per 100 Grams)
| | |
| --- | --- |
| Nutrient | Value |
| Energy | 427 kCal |
| Protein | 10.8 g |
| Carbohydrates | 50.3 g |
| Fibre | 12 g |
| Fat | 20.1 g |
| Cholesterol | 1.5 mg |
| Vitamin B1 (Thiamine) | 0.2 mg |
| Vitamin B2 (Riboflavin) | 0.1 mg |
| Vitamin A | 155.5 mg |
| Vitamin B3 (Niacin) | 2.1 mg |
| Vitamin C | 5.3 mg |
| Vitamin E | 0.3 mg |
| Folic Acid (Vitamin B9) | 79.8 mcg |
| Calcium | 118 mg |
| Iron | 2.8 mg |
| Magnesium | 92.2 mg |
| Phosphorus | 186.6 mg |
| Sodium | 16.2 mg |
| Potassium | 453.6 mg |
| Zinc | 1.5 mg |
Health Benefits
Below are the health benefits of home-made Chole Paratha/ Puri baby food recipe.
It helps improve digestion and it acts as a laxative.
Good for eyesight and hair growth.
Chole is good for blood circulation as it contains polyunsaturated fats.
It helps prevent obesity and strengthens the immune system.
Helps stay full for a longer time and also helps in preventing weakness and anemia.
Rich source of Iron, Folate, Protein, Zinc, Calcium, and Manganese is equal to a cup of milk which helps in growth and development.
Buying Guide
Buy organic Chickpeas (Chole) and good quality of spices from a good store.
Buy fresh coriander that looks green and has its aroma.
Always check the expiry date of the items before buying them.
Make use of fresh sweet curd. Keep the curd at room temperature.
Check the expiry date of flour while buying it.
Serving babies with healthy food is very important. When kids enjoy eating healthy Paratha will make your cooking successful. No one wants to compromise with the baby's growth and development. Therefore, do not depend on the marked packaged foods and instead of it always serve your child homemade fresh food.