Ragi Wheat Pumpkin Soup Recipe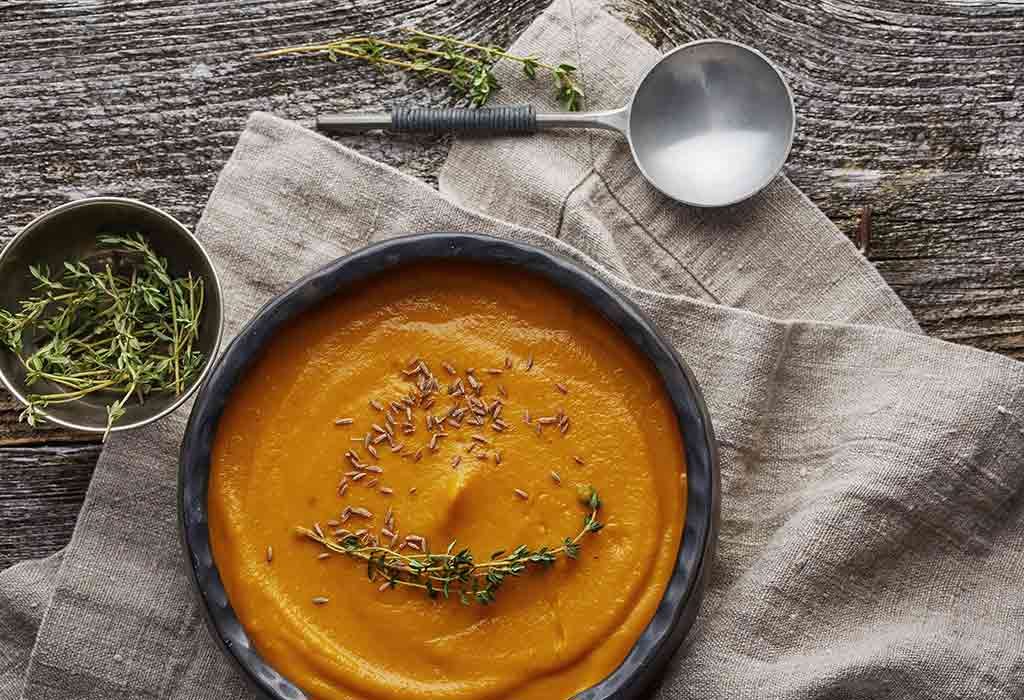 Soups are comfort food for kids and also a great way to introduce solids to babies who are just developing teeth and learning to chew. By combining lentils, vegetables and spices in a watery consistency, you can make sure your toddler is getting the right proportions of nutrition. This easy Ragi Wheat Pumpkin Soup recipe is a fulfilling meal and can be made in a jiffy.
Video : Ragi (Finger millet) Wheat Pumpkin Soup Recipe for Babies & Toddlers
Cooking Time
| | |
| --- | --- |
| Type | Time (hh:mm:ss) |
| Preparation Time | 00:15:00 |
| Cook Time | 00:25:00 |
| Total Time | 00:40:00 |
Cooking Method
Gas Stove, Blender or Mixer Jar
Type of Meal
Vegetarian
Suitable For
Weaning babies older than 9 months of age
Meal Schedule
Breakfast, Lunch or Dinner.
Recipe Type
Main Dish
Ingredients
| | |
| --- | --- |
| Type | Quantity |
| Ragi or Finger Millet flour | One tablespoon |
| Wheat flour | One tablespoon |
| Pumpkin (grated) | ¼ cup |
| Ghee | One tablespoon |
| Pepper Powder | A pinch |
| Salt | As per taste |
Instructions
Wondering how to make Ragi Wheat Pumpkin Soup, then follow this simple step-by-step procedure to make the best soup for your kid:
Add one tablespoon of ragi flour and one tablespoon of wheat powder in a pan. Add ½ cup of water to it.
Add ½ teaspoon of ghee. Mix it all well and give it a good whisk so that no lumps are left.
Take a deep bottomed pan and add some ghee. Saute the grated pumpkin well till it becomes soft and tender.
Once cooked, add the ragi and wheat powder mixture.
Add water and stir continuously until the ragi and wheat powders are cooked. The whole process will take about 10-12 minutes.
Keep stirring continuously so that the mixture does not stick to the sides of the pan. Make sure that the pumpkin combines well with the ragi and wheat.
Switch off the flame once done.
Once done, strain the mixture in a sieve.
Transfer to a serving bowl. Add salt and pepper powder and serve warm.
Recipe Tips
Follow the below steps for homemade Ragi Wheat Pumpkin Soup recipe:
Make sure you mix the ragi and wheat powder well with water without any lumps.
Always mix the ragi and wheat powder with cold water as it will not dissolve in hot or lukewarm water.
Cook the ragi and wheat thoroughly. It may take a few more minutes, but there is no harm in cooking for some extra time. Undercooked ragi and wheat can cause indigestion in kids.
Add ghee to the mixture as it will make the soup more delicious.
Grate the pumpkin finely to make it blend well with ragi and wheat.
Nutrition Information (Per 100 Grams)
| | |
| --- | --- |
| Type | Value |
| Calories | 450 kCal |
| Carbohydrates | 70 gm |
| Protein | 20 gm |
| Fat | 10 gm |
| Fibre | 15 gm |
Health Benefits
There are several health benefits to the Ragi Wheat Pumpkin Soup for toddlers. Read on to find out:
Ragi is loaded with fibre and helps aid indigestion. It also helps to keep the baby's tummy full for longer.
Ragi is packed with calcium, carbohydrates, amino acids and vitamins.
The calcium content in ragi is good for the bones and also helps in the overall development of the infant.
Wheat is one of the best sources of carbohydrates and helps to generate energy in your baby.
Wheat is useful to keep the intestines healthy and also reduces the chance of gastric disorders in babies.
Wheat is rich in Vitamin B and other minerals that help to purify the blood and also aid mental development.
Pumpkins are a powerhouse of minerals, antioxidants, dietary fibre and potassium.
The flesh of pumpkins contains Vitamin B6, Vitamin C, Vitamin E, that is good for the baby's healthy growth.
Buying Guide
Just a few things to remember when sourcing ingredients for Ragi Wheat Pumpkin Soup:
Buy pumpkins which are ripe and ready to use. If they are not ripe, then wait for a day or two before using it.
Buy ready-made ragi flour in sealed form and check the expiry date before use.
If you intend to make ragi flour at home, then buy ragi seeds in packed form and check the expiry date on the packaging.
Buy wheat in sealed form and check the expiry date on the packaging.
Buy organic pumpkins as they will be free from pesticides and chemicals.
You can choose to buy organic ragi flour and wheat flour too.
This homemade soup is a perfect antidote to cold and flu symptoms in kids. It is also a healthy meal in itself and can be served as an appetizer or as a supplement to milk.