Sprout Bhel Recipe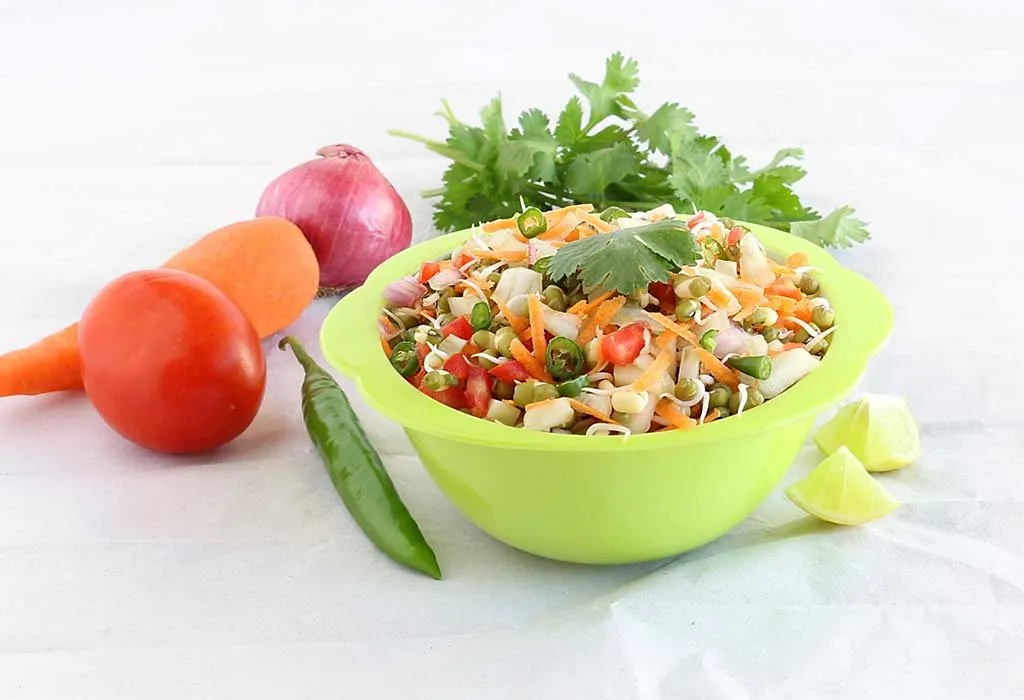 In this Article
Sprouts are full of protein and have antioxidant properties. Sprout bhel is refreshing, very easy and quick to prepare and a healthy snack option. With a few ingredients, it can be prepared easily in no time. Sprouted moong beans are rich in protein, magnesium, zinc, folate, and potassium. It is loaded with dietary fiber and will keep the little tummy full for longer. If you are wondering about how to make sprout bhel at home, don't worry, scroll down and get the easy recipe for making it at home.
Cooking Time
| | |
| --- | --- |
| Type | Time (hh:mm:ss) |
| Preparation Time | 12:15:00 |
| Cook Time | 00:10:00 |
| Total Time | 12:25:00 |
Cooking Method
Gas Stove
Type of Meal
Vegetarian
Suitable for
Toddlers above 18 months of age
Meal Schedule
Mid-morning or Evening snack
Recipe Type
Snack / Side-dish
Ingredients
| | |
| --- | --- |
| Type | Quantity |
| Sprouted Moong | 1 cup or 250 gm |
| Puffed rice | ½ cup |
| Tomato | ½ of a medium size |
| Red Onion | ½ of a medium size |
| Boiled potato | 1 medium-size |
| Cucumber | 1 small size |
| Lime Juice | ½ tsp |
| Turmeric powder | ¼ tsp |
| Sev or Bhujia (Optional) | ½ cup |
| Salt | to taste |
| Mustard oil | 1 tsp |
| Chopped Coriander | for garnishing |
| Chaat Masala | a pinch |
| Sweet Chutney (optional) | ½ tsp |
Instructions
Here are step by step directions to make Sprout bhel for babies.
If you are using readymade sprouted moong beans, you can skip the first step. But it is always recommended to sprout the beans at home.
To sprout moong beans:
Take half a cup of green moong beans and wash them thoroughly.
Put them in a container and pour an adequate amount of water to it.
Now let them soak in water for almost 12 hours or overnight.
Next day, discard the water and tie all the soaked moong beans in a muslin cloth and let it rest for 1-2 days. After 1-2 days, you will see sprouts germinating from the moong.
To make bhel:
Take half a cup of sprouted moong beans.
Cook it with salt and turmeric in a pressure cooker for one whistle.
Chop tomato, red onion, boiled potato, and cucumber into small pieces.
Take a large bowl and add all the ingredients one by one (except sev and lemon juice).
Squeeze a small amount of lemon juice and add few drops of mustard oil to the mixture and mix it again.
Toss it with puffed rice.
Add sev, chopped cilantro/ coriander leaves and sprinkle chaat masala to the mixture while serving.
If you want, you can also add sweet chutney (date and tamarind chutney) to the bhel but this is completely optional.
To add extra taste and nutrition, you can also add roasted and crushed peanuts.
Recipe Tips:
You can skip adding puffed rice if you want.
This easy sprout bhel recipe can be made more simple and quick if you avoid boiling the sprouts.
Here moong beans are used for making this bhel, you can also use different sprouts like Bengal gram sprouts, red lentil sprouts or chickpea sprouts.
Avoid buying packed sprouts, instead, sprout your favorite beans at home.
Nutritional Information (Serving Per 100 Gram):
| | |
| --- | --- |
| Type | Value |
| Energy | 226 Cal |
| Protein | 13.1 gm |
| Carbohydrates | 41.5 gm |
| Fibre | 8.9 gm |
| Fat | 0.8 gm |
| Vitamin A | 388.7 mcg |
| Folic Acid (Vitamin B9) | 330.7 mcg |
| Vitamin C | 22.5 mg |
| Calcium | 100.6 mg |
| Iron | 3.4 mg |
| Magnesium | 73.5 mg |
| Phosphorous | 193.4 mg |
| Sodium | 159.9 mg |
| Potassium | 525.1 mg |
| Zinc | 1.6 mg |
Health Benefits
You must be wondering how healthy this flavourful bhel is for your baby? Scroll down to find it out.
Sprouts contain a high number of enzymes that help in boosting various metabolic processes.
It improves the digestive function of the body.
Dietary fibre present in the sprouts stimulates gastric juices and relives constipation as well as diarrhoea.
Spouted beans, being an important source of protein improve the overall functioning of the body and helps in proper growth and development of a child.
Sprouts are easily digestible.
Vitamin A and Vitamin C content of the bhel makes this recipe a powerful booster for the immune system.
Buying Guide
Buy moong beans from the market that are clean and dry. The beans should not have holes.
Check the expiry date of sev or bhujiya and chaat masala before buying it.
Always buy fresh and organic (if possible) veggies.
Your little one will love this crunchy and flavorsome sprout bhel. Instead of giving them chips or fried food as snacks, you can replace them with this healthy and nutritious homemade sprout bhel baby food recipe.