Methi (Fenugreek) Muthia Recipe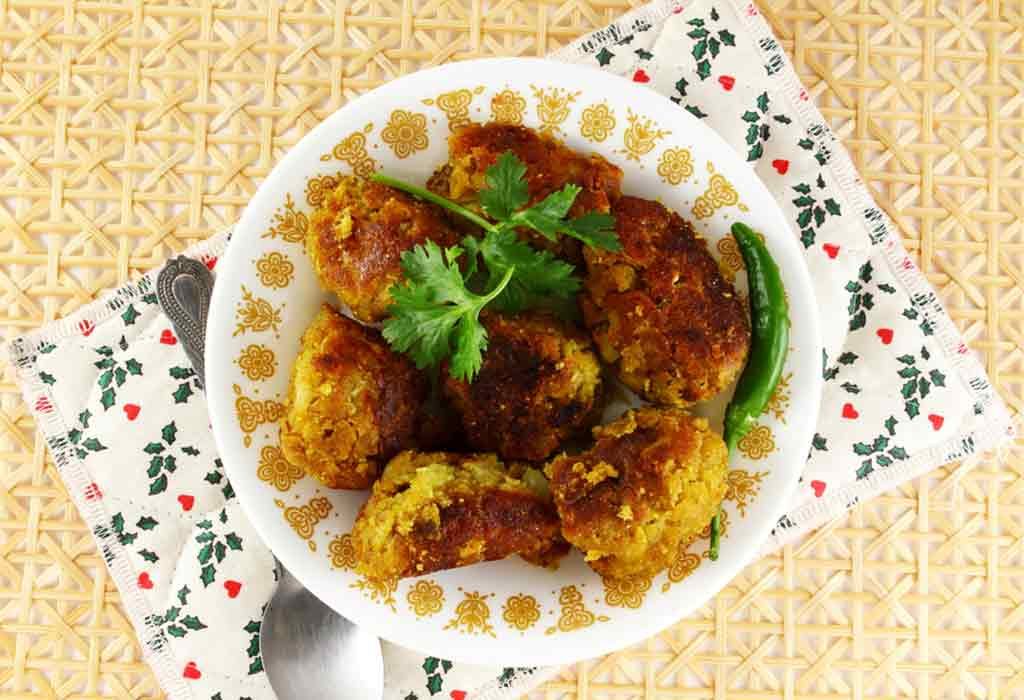 In this Article
As babies grow, they may like to experiment with different flavours and textures in food. Methi muthia is a fist-shaped treat from Gujarat that offers tongue-tickling flavours for all age-groups and for your growing baby too! If you have not tried making this snack until now, you must give it a try as this is fairly simple to make and tastes divine too. Read this blog to learn easy methi (fenugreek) muthia recipe!
Cooking Time
The following table shows the amount of time you may require to make this snack:
| | |
| --- | --- |
| Type | Time |
| Preparation Time | 00:15:00 |
| Cook Time | 00:20:00 |
| Total Time | 00:35:00 |
Cooking Method
Frying
Type of Meal
Vegetarian
Suitable For
Any Babies above 11 months of age
Meal Schedule
Mid Morning Snack or Evening Snack
Recipe Type
Appetizers
Ingredients
The table below shows the list of ingredients that you need to make methi (fenugreek) muthia for toddlers:
| | |
| --- | --- |
| Type | Quantity / volume |
| Fenugreek leaves | 1 ½ cup |
| Besan | ¼ cup |
| Whole wheat flour | ¼ cup |
| Ginger, pounded | 1 teaspoon |
| Sugar | 1 tablespoon |
| Turmeric powder | ¼ teaspoon |
| Pepper powder | ¼ teaspoon |
| Lemon juice | 1 tablespoon |
| Water | As required |
| Salt | To taste |
| Oil | For frying |
Instructions
Here is the step by step procedure that you can follow to make this yummy muthia:
Wash fenugreek leaves nicely, drain excess water, and dry them before chopping them finely.
Sieve besan and whole wheat flour together and put in a deep bowl.
Add pounded ginger, sugar, turmeric powder, pepper powder, lemon juice, and salt. Mix all the ingredients well.
Add water slowly as you keep mixing it with the rest of the ingredients to make a soft dough.
Divide the dough into 16 to 18 equal parts. You can give an oval or round shape to the dough, as per your choice.
Heat oil in a wok.
Fry the muthias on medium flame until they turn crispy and brown.
Place fried muthias on a paper towel to get rid of excess oil.
Serve at room temperature with any homemade dip or sauce!
Recipe Tips
Keep in mind these tips when making homemade methi (fenugreek) muthia baby food recipe:
You may add a pinch of baking powder or fruit salt to make softer methi muthia.
If you wish to make crunchier muthias, you may add half a tablespoon of semolina to the dough.
Kneading dough with curd in place of water will lend more flavour to the dish.
Instead of frying the muthias, you can steam the muthias too. For tempering, you will require some oil, mustard, and sesame seeds.
You can make this recipe with dried fenugreek leaves too, however, fresh leaves are a more nutritious option.
Nutrition Information (Serving Per 100 Grams)
The table below states the approximate nutritional content present in 100 grams methi muthia:
| | |
| --- | --- |
| Type | Value |
| Energy | 410 calories |
| Carbohydrates | 27 grams |
| Protein | 8 grams |
| Fats | 4 grams |
| Fibre | 5 grams |
| Sugar | 7.9 grams |
| Potassium | 250 milligrams |
| Sodium | 1190 milligrams |
Table Source: https://www.spiceupthecurry.com/methi-muthia-recipe-steamed-fried-muthia/
Health Benefits
Now that you have mastered how to make methi (fenugreek) muthia, learn about some of the health benefits of this recipe:
Methi or fenugreek leaves work wonders for the digestive system because they are rich in fibre and pectin.
The anti-bacterial and anti-fungal properties of methi leaves keep skin conditions at bay by keeping the skin germ free. In many old cultures, such as Chinese cultures, these leaves have been used for its medicinal properties to cure various kinds of skin ailments.
Regular intake of these miraculous leaves may help in regulating blood sugar levels.
These leaves make a healthy eating alternative for your little one as they are loaded with iron, magnesium, fibre, and other important micro and macronutrients.
Buying Guide
Keep in mind some of these important buying guidelines when picking up ingredients for the dish:
When buying fenugreek leaves, pick up the ones that look fresh, clean, and crisp. Do not pick up the ones that look wilted and have too much dirt on them.
Buy organic vegetables from a supermarket or any trusted source to be assured that you are picking up authentic organic vegetables.
Never buy frozen or tinned products to make any recipe for your munchkin and the same rule applies when you buy ingredients for methi muthia.
Try this simple snack recipe for your little one that comes with the added goodness of fenugreek leaves!