Almond Anjeer Milkshake Recipe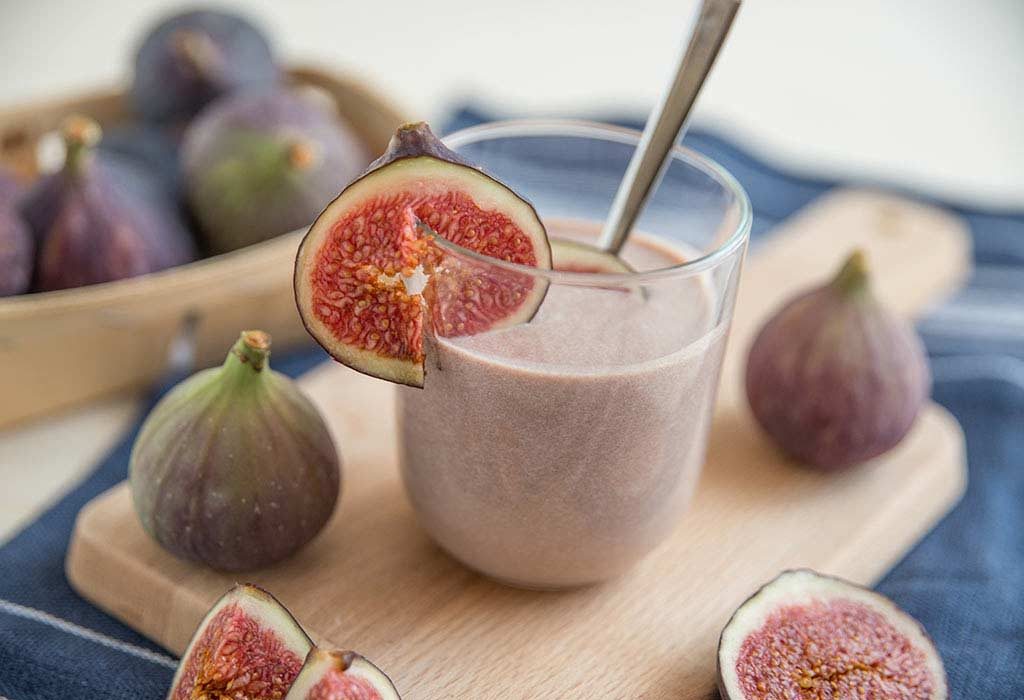 In this Article
Almonds are one of the super dry-fruits that contain healthy fats, protein, magnesium and Vitamin E. Figs are rich in fibre and alleviate constipation issues. Both almonds and figs help to keep the stomach full for longer, and the Almond Anjeer Milkshake for babies is a perfect recipe for toddlers or infants who cannot chew. The dish includes essential minerals and nutrients for their healthy growth.
Cooking Time
| | |
| --- | --- |
| Type | Time (hh:mm:ss) |
| Preparation Time | 02:00:00 |
| Cook Time | 00:15:00 |
| Total Time | 02:15:00 |
Cooking Method
Gas Stove
Type of Meal
Vegetarian
Suitable For
For toddlers above 20 months of age
Meal Schedule
Breakfast, mid-morning, evening snack
Recipe Type
Main Dish for breakfast or a snack in between meals
Ingredients
| | |
| --- | --- |
| Ingredients | Quantity and Volume |
| Anjeer or Figs (Dried) | 10-12 |
| Almond | 12-15 |
| Chilled or cold milk | 2.5 cups |
| Sugar or Jaggery | 1-2 teaspoon |
Instructions
It is not rocket science to figure out how to make Almond Anjeer Milkshake! The dish needs a little bit of preparation in advance. The almonds and figs need to be soaked. Soaking will make them softer. Read on the step by step direction to prepare.
Rinse and soak the 12-15 almonds in a cup of water. Rinse the 10-12 figs and soak them in water.
Make sure the figs are soft after you soak them.
The almonds must soak well and become soft, especially the skin. Peel the skin off.
Chop the figs and almonds into tiny pieces after soaking and peeling the almonds.
Put the pieces in a blender. And blend well.
Once the mixture becomes a paste, add the milk.
Blend it in the blender until the fig and almond mixture mix well with the milk.
Stir occasionally to see if the mixture is blending with the milk.
Once the drink is prepared. Pour it into a jug.
Add the sugar or jaggery and stir well.
Pour it in a glass. And serve chilled.
Recipe Tips
Although the homemade Almond Anjeer Milkshake baby food recipe sounds simple, there are a few points to remember before you attempt it.
Soak the almonds and figs in water before preparing.
You could choose to soak them in warm water. This way, they will become soft faster.
Chop the figs and almonds into tiny pieces before you blend them. Chopping them help to blend them easily and ensure they become a fine paste.
Use good quality milk with full fat as only then it will taste good.
Boil the milk and cool down before adding it to the fig and almond mixture.
Keep blending the mixture for a couple of time till the dry-fruit paste and milk assimilate. This way, the taste of the almonds and figs are infused into the milk.
Wash your hands and dishes before preparing the dish.
Nutrition Information (Per 100 Grams)
| | |
| --- | --- |
| Nutrient | Value |
| Energy | 241 kcal |
| Protein | 9 g |
| Carbohydrates | 31 g |
| Fibre | 7 g |
| Fat | 10 g |
| Cholesterol | 20 mg |
| Vitamin A | 329 IU |
| Sodium | 91 mg |
| Potassium | 465 mg |
| Sugar | 26 g |
Health Benefits
Health benefits of easy Almond Anjeer Milkshake recipe are listed here.
Almonds are a great source of Vitamin E. They are rich in antioxidants. Therefore, they are an excellent source of foods that are integral for a vegetarian diet to compensate for the non-intake of meat.
Almonds prevent anaemia and are a rich source of iron. They help carry oxygen to the other parts of the body.
Regular intake of almonds improves skin conditions, and it is good for children who have dry skin problems.
Figs are rich in fibre, Vitamin B1, Vitamin B2, Vitamin A, calcium, sodium and potassium.
The high fibre content in figs serves as a good laxative.
The vitamins in figs help to strengthen bones and bone density.
Figs are also great to prevent anaemia and improve immunity.
Almond Anjeer Milkshake is a perfect recipe for breakfast or a mid-evening snack that can be followed by a light dinner.
Buying Guide
Make sure to rattle the almond shells before buying them. If they rattle a lot, then they are older. It is advisable to buy organic almonds. Only buy almonds with the skin. We peel the skin for this recipe. You get the benefits of the skin when it is soaked in water.
Buy organic figs or of a reputed brand.
Ensure that you buy whole milk with full fat. The fat enhances the taste in the milk.
This is one of the easy Almond Anjeer Milkshake recipes for babies. Once your baby starts intake of cow's milk, you do not want to rely on store-bought items to add to the milk. Opt for almonds and figs to make a healthy drink that will serve as a wholesome meal in itself.