Poha Recipe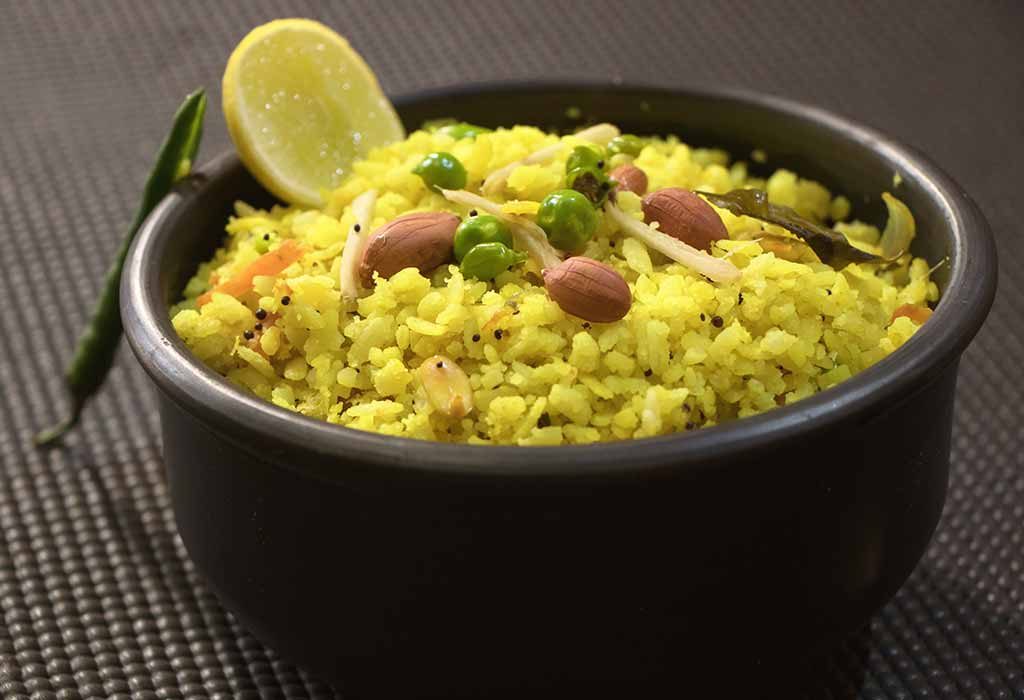 In this Article
Poha, a common Indian name for flattened rice or beaten rice, is Indian's much-loved snack. It can be consumed as dinner too and it is usually served with toppings like raw onion, sev, peanuts and sometimes grated coconut. As you prepare your baby for weaning, introducing poha is an idea that will surely work its magic for your little one, and we are sure they will love it! Poha is an easy to chew food item, and it's salty, tangy and sweet flavours together make it a fantastic food item.
Wondering about how to make poha? It is a quick and easy to prepare recipe. So let's get started:
Cooking Time
| | |
| --- | --- |
| Type | Time (hh:mm:ss) |
| Preparation Time | 00:05:00 |
| Cook Time | 00:20:00 |
| Total Time | 00:25:00 |
Cooking Method
Gas Stove
Type of Meal
Vegetarian
Suitable For
Toddlers above 12 months of age
Meal Schedule
Breakfast, Mid Morning Snack, Lunch, Evening Snack or Dinner
Recipe Type
Main Dish (in terms of serving to a toddler)
Ingredients
| | |
| --- | --- |
| Ingredient | Quantity |
| Poha (medium to thick flakes) | 1.5 cups |
| Curry Leaves | One sprig |
| Onion (finely chopped) | One medium-sized |
| Peas | ½ cup |
| Potato (Cubed to small size) | ½ cup |
| Mustard seeds | ¾ tsp |
| Cumin Seeds | ¾ tsp |
| Turmeric powder | ½ tsp |
| Oil | 2 tbsp |
| Sugar | 1 tbsp |
| Salt | As per taste |
| Red Chilli Powder(optional) | ½ tsp |
| Lemon Juice | As per taste |
| Coriander Leaves(finely chopped) | 2 tbsp |
Instructions
Following is the step by step procedure to prepare this quick recipe:
Wash the poha nicely with 4 to 5 cups of water and then rinse the water thoroughly.
Keep the poha aside so that it softens and meanwhile cook onion, potato and peas.
Place a pan on the burner and pour in the oil.
When the oil gets hot, add mustard seeds and cumin seeds.
When they start to crackle, add curry leaves and onion. Saute the onions till they turn light pink.
Now add peas and potato. Add salt just for the vegetables to cook. Cover the pan and let them cook. Keep stirring in between. It might take 2-3 minutes to cook. You can add water as well so that they do not burn.
Once the peas and potato are done, add turmeric powder and red chilli powder (optional).
Now add the poha to the pan. Add salt, sugar and lemon juice for poha.
Mix everything properly—Cook for 1 to 2 minutes on very low heat.
Add the chopped coriander leaves and switch the flame off.
Poha is ready to serve.
Recipe Tips
Do keep the following things in mind while preparing easy poha recipe for your kids:
You can sprinkle a little bit of water just before adding the poha to the pan. This ensures the poha doesn't turn out dry.
You can skip adding peas and potato, but we have included both because it is good to feed vegetables to kids. Also, if you are running short of time, you can add boiled potatoes and skip peas.
Wash your hands properly before preparing the recipe.
Nutrition Information (Per 100 Grams)
| | |
| --- | --- |
| Type | Quantity |
| Energy | 298 kCal |
| Carbohydrates | 44 grams |
| Protein | 5.5 grams |
| Fat | 11.2 grams |
| Dietary Fibre | 4.7 grams |
| Sodium | 39 mg |
| Potassium | 600 mg |
| Vitamin C | 46 mg |
| Iron | 8.3 mg |
| Calcium | 74 mg |
Health Benefits
There are many health advantages of serving homemade poha baby food recipe to your kids. Some of the benefits are listed here:
The carbohydrate content of this quick recipe is quite high. It is a healthy source of providing carbohydrates to your kid. Also, this ensures that the child is energetic and full for long. You do not need to feed him/her again and again.
The recipe is easy to chew and is light on the stomach. It can be digested easily.
The recipe is rich in iron and calcium as well.
Buying Guide
Following ingredients need to be bought carefully for poha recipe for toddlers:
To avoid the poha getting mushy, buy thick or medium flaked poha. The thinner one will turn mushy as soon as you rinse it under the water and is not suitable for this recipe.
Try to buy the vegetables used in this recipe from organic stores. This ensures safer ways of farming.
This recipe is easy to cook and can be consumed by everyone. There is no need to cook different meals for the elders and the juniors. Poha is eaten and loved by all! Happy Motherhood.