Methi Tinda Pulav Recipe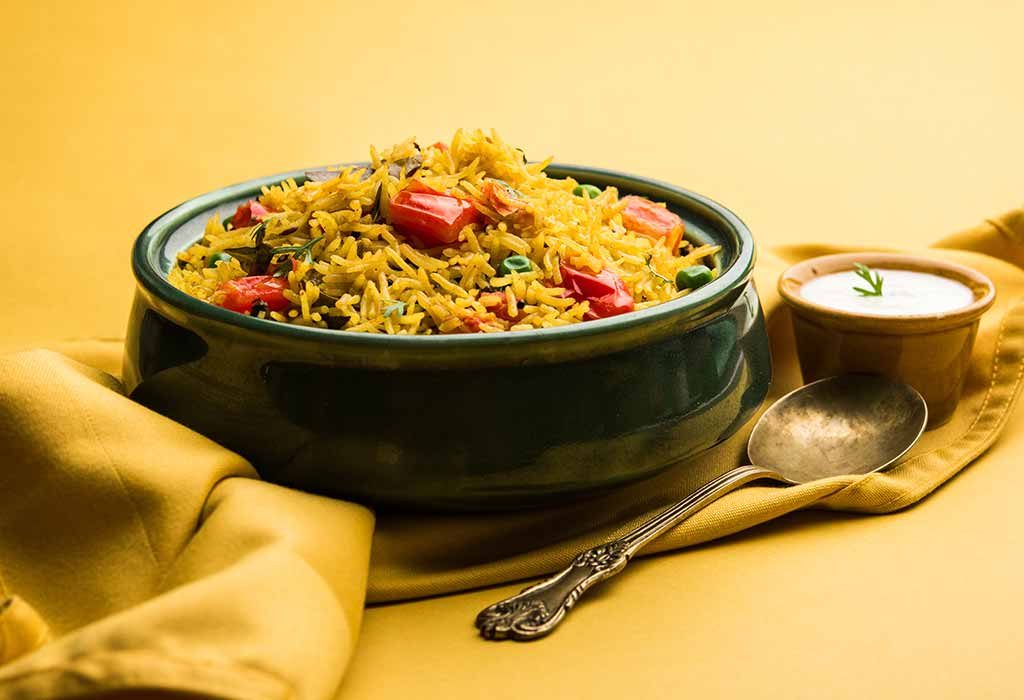 In this Article
This variation of methi pulav with fenugreek leaves, rice, mix vegetables, including tinda, and spices is an excellent methi tinda pulav recipe. Easy, healthy and tasty it is filled the richness of methi and other vegetables that your toddler will love. It is a great food to introduce to toddlers who are learning to chew and getting introduced to new food dishes.
Cooking Time:
| | |
| --- | --- |
| Type | Time (hh:mm:ss) |
| Preparation Time | 00:30:00 |
| Cook Time | 00:20:00 |
| Total Time | 00:50:00 |
Cooking Method: Stovetop
Type of Meal: Vegetarian or vegan
Suitable For: Babies older than 10 months of age
Meal Schedule: Main course- Lunch or Dinner
Recipe Type: Lunch or Dinner
Ingredients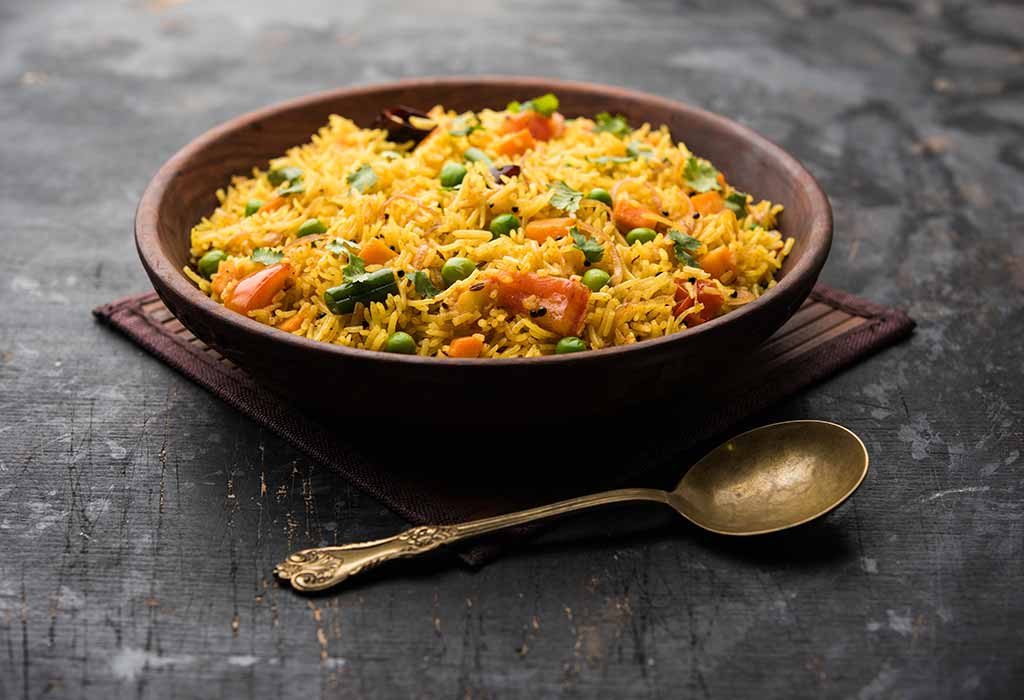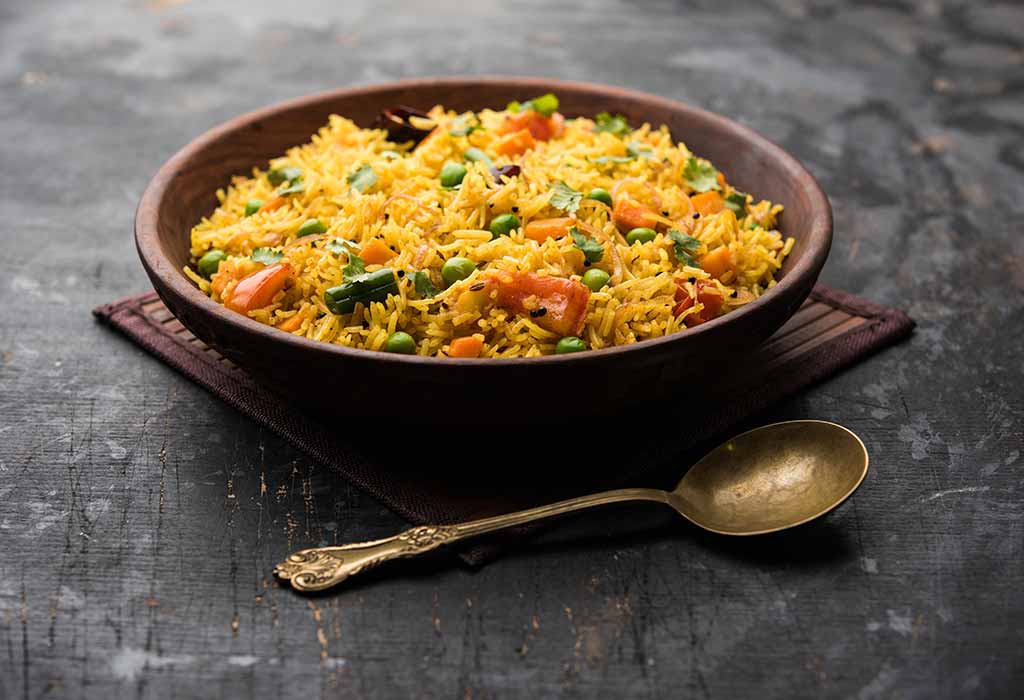 | | |
| --- | --- |
| Type | Quantity |
| Basmati Rice | 1 cup |
| Methi Leaves ( finely chopped) | 2 cups |
| Mix vegetables finely chopped ( carrot, tinda, peas, potatoes) | ¾ cup |
| Onion finely chopped and minced | 1 |
| Turmeric Powder | ½ tsp |
| Coriander Powder | ½ tsp |
| Salt | To taste |
| Water | 2 cups |
| Oil or Ghee | 2-3 tbsp |
| Cumin Seeds | 1/2 tsp |
| Black Cardamom | 1 |
| Green Cardamom | 2 |
| Cinnamon | 1 |
| Cloves | 3-4 |
| Mace | 1-2 strands |
Instruction
Follow these step-by-step directions to make simple methi tinda pulav baby food recipe in a jiffy.
Rinse the basmati rice in cold water and soak it in water for 30 minutes. After 30 minutes, drain the water.
When the rice is soaked, chop the methi leaves and the vegetables.
Grind the ginger and garlic into a fine paste.
Heat 2 tbsp of ghee in a pressure cooker. Add the cumin seeds, black cardamom, green cardamom, cinnamon and mace.
Once they turn golden brown, add the onions and saute them until golden brown.
Now, add the ginger, and garlic paste. Saute it until the raw aroma goes away.
Next, add the finely chopped methi leaves. Saute it on a low flame for about 2-3 minutes.
Now, add the chopped vegetables.
Add the turmeric powder and coriander powder. Stir well until it is mixed together.
Add the soaked basmati rice and stir well. Saute it for a minute.
Pour two cups of water and add salt. Stir all the ingredients well.
Pressure cook on a slow flame for 2-3 whistles. When the pressure cools down, remove the lid.
Open the lid of the pressure cooker and gently fluff the rice.
Serve the pulav with curd.
Recipe Tips
Add ginger and garlic paste.
Make sure to soak the basmati rice, as it will cook faster.
Try to cook it in the pressure cooker as all the ingredients will cook well, and it will be easy for your baby to chew.
Nutrition Information (Per 100 Grams)
| | |
| --- | --- |
| Type | Value |
| | |
| Energy | 330 Kcal |
| Protein | 9 gm |
| Carbohydrates | 52 gms |
| Fibre | 4 gms |
| Fat | Nine gms |
| Cholesterol | 0 mg |
| Vitamin A | 1845 mcg |
| Vitamin C | 5.3 mg |
| Calcium | 503 mg |
| Iron | 3.5 mg |
Health Benefits
Now that you know how to make methi tinda pulav, you could do with knowing about its innumerable benefits:
Methi leaves are a rich source of Vitamin K, fibre and antioxidants. Methi is known to boost immunity and also aids digestion
Tinda is also a tasty vegetable which helps indigestion. It contains a lot of water and fibre that helps to clean the digestive tract.
Basmati rice is full of carbohydrates and also contains minerals and vitamins. It is also rich in copper, zinc, potassium and Vitamin E
Buying Guide
This homemade methi tinda pulav recipe is an ideal addition to your toddler's meal chart. Just a few tips to bear in mind while sourcing the ingredients:
Methi is a winter vegetable and best when cooked during the season. Ensure that you buy fresh methi leaves. Separate the leaves from the stalk and chop them finely. Make sure there are no holes in the leaves as this may be a sign of decay.
Buy organic vegetables that you will be mixing with the dish, as they will be free of pesticides and chemicals.
Buy good quality of basmati rice in sealed form. You could buy the loose basmati rice available in the shops because they may be adulterated. Always buy branded basmati rice as it will enhance the flavour of the dish.
Methi tinda pulav recipe is a nutritious one-pot meal that is packed with the goodness of fenugreek leaves and vegetables. The vegetables help in reducing the bitterness of the methi leaves and also packs in more nutrition.
References:
?>