Multigrain Toast Recipe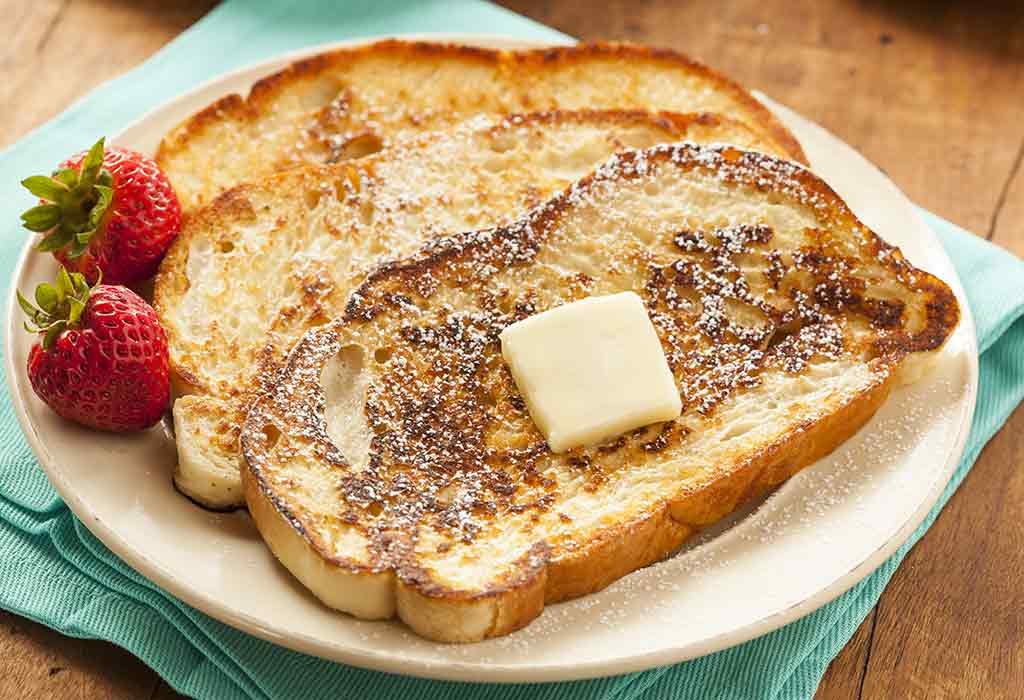 In this Article
If you have a baby who's turning 14 months in a few days, then mastering the art of making a multigrain toast is a good idea! It's a dish that even the pickiest eater would like. It can turn out to be a sanity saver for most of the mothers whose babies might turn out to be a fussy eater. This amazing multigrain toast for babies/toddlers is simple to make and a winner baby food.
Homemade multigrain toast is one of the healthiest as well as tasty means to introduce some good solid food to your baby. This protein-packed food can be easily topped with milk, hummus, fruit, yoghurt, and peanut butter. It is one of the best options for baby-led weaning and an all-time breakfast favourite for all. But do you know it is one of the best finger-foods for a baby?
Cooking Time:
| | |
| --- | --- |
| Type | Time(hh:mm:ss) |
| Preparation time | 5 min |
| Cooking time | 5min |
| Total time | 10min |
Cooking Method:
Gas stove
Type of Meal:
Non-vegetarian.
Suitable For:
Toddlers above 14 months of age.
Meal Schedule:
Breakfast or mid-morning
Recipe Type:
Main dish
Ingredients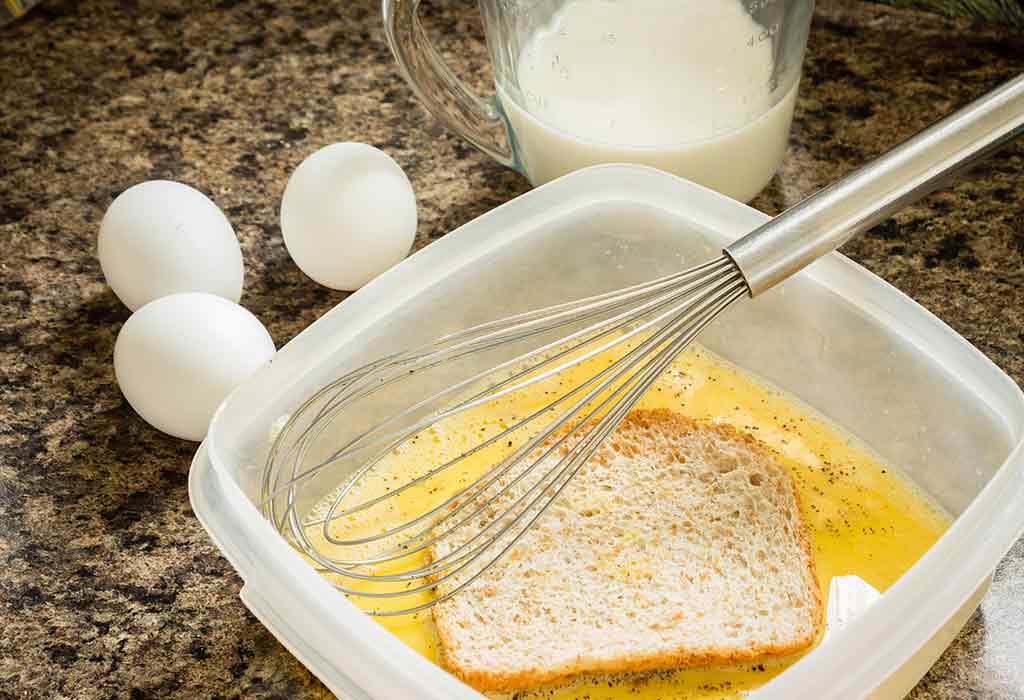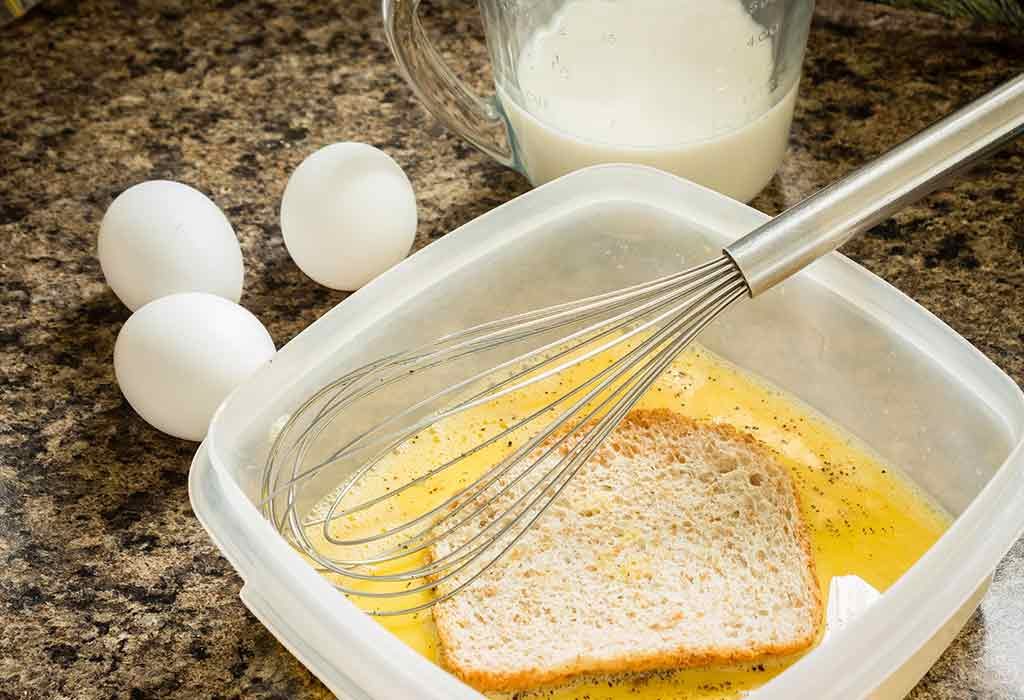 | | |
| --- | --- |
| Ingredients | Quantity and Volume |
| Egg yolk | 1 large |
| Multigrain bread | 1 slice |
| Unsalted butter | 1 tablespoon. |
Instructions
If you are looking for how to make multigrain toast for your baby/toddler, then here is a complete step-by-step direction for making multigrain toast.
Take a slice of multigrain bread and cut off the crust.
Crack an egg and separate the egg white from the yolk. The egg white can easily be used in other recipes.
Whisk the yolk for 1-2 minutes.
Now, dip the slice of multigrain bread into the bowl and flip it so that the bread soaks up the egg yolk fully.
Put some butter in a frying pa,n keeping the flame on medium heat.
Cook the bread for at least 2 mins on both sides, until they brown.
Take the bread off the flame and allow it to cool down before you serve it to your baby.
Recipe Tips
You can cut it into sticks and easily serve it to your baby or you can dip it into some vegetable or fruit puree.
This makes great food for a baby on the run. You can simply carry this super delicious and nutritious food in a container and serve it as a snack for the baby.
Even older kids enjoy this food. Serve this to them with some drizzled honey along with some sauteed vegetables.
Nutritional information (Per 100 gms)
Energy
554.26 kJ

132.47 cal

Total fat
6.71 g
Saturated fat
2.74 g
Protein
5.72 g
Fibre
1.95g
Carbohydrates
11.44 g
Sodium
145.96g
Calcium
45.77 mg
Total sugars
1.26g
Cholesterol
153.05g
Zinc
0.77g
Calcium
45.77g
Zinc
0.77g
Iron
1.17mg
Health Benefits
Multigrain bread used in this homemade multigrain toast is highly nutritional and carry varied nutritional values. It is high in fibre, magnesium, chromium, Vitamin B6, folic acid and magnesium.
High fibre food helps in keeping your baby heart-healthy and also helps in easy digestion.
Multigrain toast is also good for your baby's weight as it helps in gaining healthy weight.
In comparison to the regular wheat bread, this is healthier and can add a lot of nutrition in your little one's diet.
Adding this to the daily meal routine lets you easily feed fussy-eaters.
Buying Guides
While buying multigrain bread to prepare the multigrain toast for babies/toddlers, the ​​​​colour of the bread is one of the best clues. White bread is bleached, hence giving it its white colour. Multigrain bread is slightly brown.
Don't you feel this multigrain bread is an amazing recipe for your baby? It is delicious, healthy and, above all, very easy to prepare. So, prepare multigrain toast and let the smell of it fill your house as well as your heart.
References:
https://www.tarladalal.com/Multigrain-Bread-Homemade-Multigrain-Bread-40829r