Stuff Paratha Recipe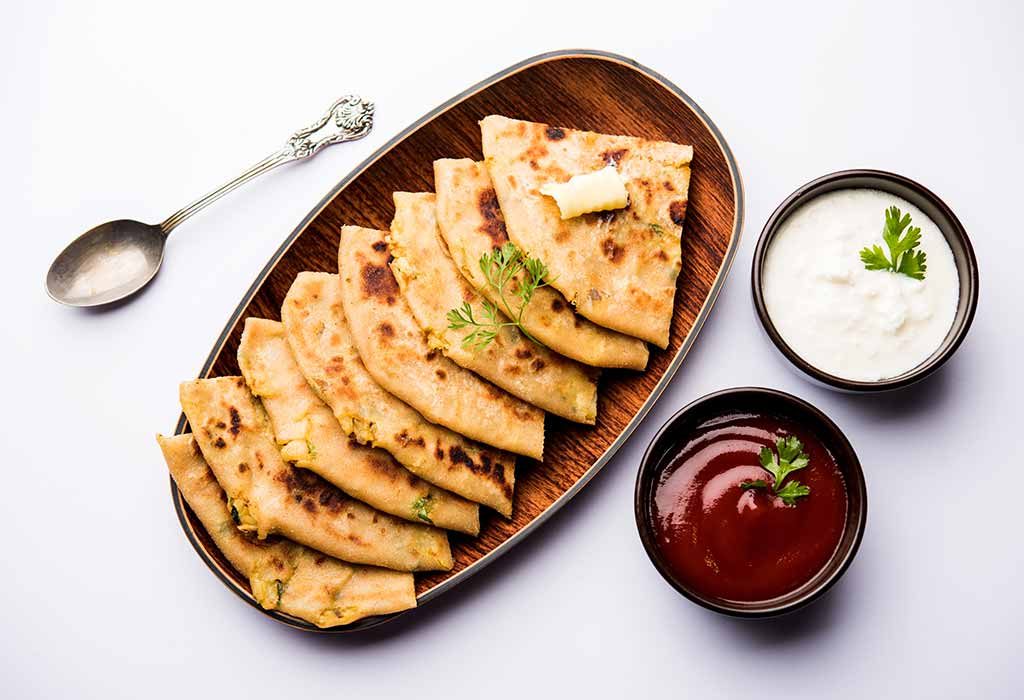 In this Article
Considered as a popular breakfast meal in North India, stuffed paratha is a category of flat-bread that has a filling of spiced mashed seasonal vegetables or lentils of your choice. Usually served with pickle, dal or raita, parathas make a good tiffin snack item or finger food for babies. This versatile food item is very satiating and makes a wholesome meal idea for your entire family. Tava –cooked stuffed parathas cooked in ghee or oil can be very crisp and soft. This easy to make recipe is highly delicious and adds the essential fiber and protein into your child's diet. Find out the secret of how to make stuffed paratha by noting down the recipe given below.
Cooking Time
| | |
| --- | --- |
| Type | Time (hh:mm:ss) |
| Preparation Time | 00:25:00 |
| Cook Time | 00:25:00 |
| Total Time | 00:50:00 |
Cooking Method
Gas
Type of Meal
Vegetarian
Suitable For
Toddlers older than 14 months of age
Meal Schedule
Breakfast, Snack, Lunch or dinner
Recipe Type
Main Dish
Ingredients
| | |
| --- | --- |
| Type (For Wheat Dough) | Quantity |
| Whole Wheat Flour | 3 Cups |
| Water | 1 Cup |
| Salt | As Per Taste |
| For Stuffing | |
| Finely grated veggie or mashed potato | ½ Cup |
| Garam Masala | ½ tsp |
| Salt | To Taste |
| Amchur Powder | ½ Teaspoon |
| Turmeric Powder | ½ Teaspoon |
| Coriander Powder | ½ Teaspoon |
| Coriander Leaves | 1-2 tablespoon |
| Ginger Paste | 1 Teaspoon |
| Oil/ Ghee | For Roasting |
| Cumin Seeds | 1 Teaspoon |
Instructions
Follow the step by step directions given here to make flavourful stuffed parathas with most of the ingredients available at home:
Take 2 to 2.25 cups whole wheat flour, ½ tsp salt, 1 tsp of oil in a bowl.
Pour ½ cup of water and mix everything to knead into a smooth dough.
Cover and allow the dough to rest for 20-30 minutes.
For the stuffing of the paratha, take grated cabbage, grated radish, methi leaves, and mashed potatoes, boiled green peas, chopped spinach, cottage cheese or any other stuffing of your choice.
Heat oil in a non-stick pan, add cumin seeds.
Once it crackles, add ginger paste. Saute for a few seconds.
Add the veggies and sprinkle some salt.
Let it cook for a few minutes. Add the dry spices and stir till the mixture turns dry.
Once cooked add chopped coriander leaves. Turn off the gas and let it cool.
Divide the dough into 6 equal portions. Roll each one of them as a flatten discs.
Put the stuffing at the center and start gathering its edges.
Flatten it out and roll it gently into the diameter circle.
Heat the Tava and cook the paratha on medium heat for a few seconds.
Once one side is done, flip it over. Apply oil till it turns golden brown.
Drizzle some ghee on both sides and serve hot.
Recipe Tips
The addition of green chilies or red chili powder to this simple stuffed paratha recipe can spike up the flavor for older children.
You can put some rice flour to the dough to make the parathas crispier.
This homemade stuffed paratha baby food recipe is so versatile that it can be made with just about any vegetables while adding or subtracting ingredients and spices.
Adding coriander leaves or mint leaves to the dough make the parathas more aromatic.
The edges of the parathas should be well sealed.
Nutrition Information (Per 1 Paratha)
| | |
| --- | --- |
| Type | Value |
| Carbohydrates | 22 gm |
| Calories | 142 gm |
| Protein | 4 gm |
| Sodium | 18 mg |
| Fiber | 3 gm |
| Fat | 5 gm |
| Potassium | 125 mg |
| Calcium | 11 mg |
| Vitamin C | 2.6 mg |
| Calcium | 11 mg |
| Iron | 1.1 mg |
| Vitamin A | 185 Iu |
| Cholesterol | 11 mg |
Health Benefits
Laden with freshly made butter, classy stuffed parathas offers an abundance of health benefits for your child:
Each of the vegetables used as stuffing has its nutritive value, minerals, and antioxidants that contribute to the overall growth of your child.
The carbohydrate content of whole wheat flour gives instant energy to your child for the day to day activities.
Ghee warms the body in winter and provides stamina. Rich in omega 3 fatty acids, ghee helps in brain development for a child.
Cumin seeds improve digestion, improves immunity and prevent respiratory infections. Turmeric is an excellent antibiotic.
Buying Guide
Refer to this buying guide before buying the ingredients for making the most delicious stuffed parathas :
It is recommended to buy oil with a neutral taste that does not add flavor to the original taste.
Spices need to have a strong aroma and bright color. Buy them in small quantities and check the expiry date in the pack.
Buy 100% whole wheat flour in the pack. Look for 100 calories or less per slice, 2 grams or more fiber, 225 mg sodium or less per slice.
Use freshly grown local produce or organically grown produce.
Parathas have stood the test of time-fighting through the modern century's fast food blitz. Homemade stuffed paratha for babies is a tasty treat for children traditionally synonymous with mother's love and warmth while satisfying their hunger at any time of the day.
?>