Coconut and Mava Ladoo recipe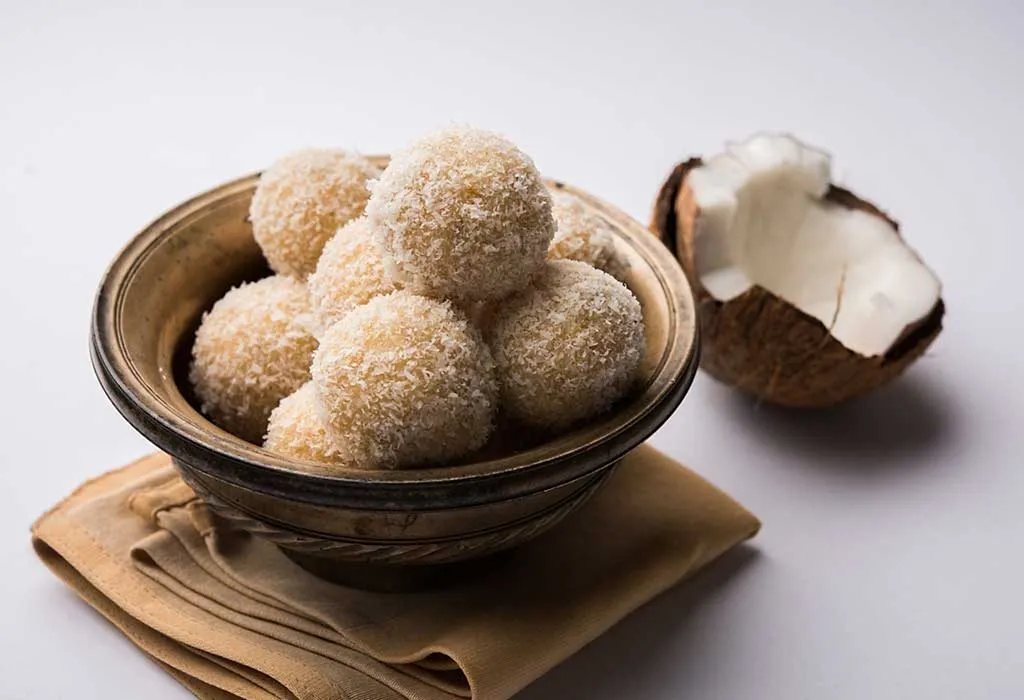 In this Article
Coconut and Mava Ladoo is a delicious and nutritious Indian sweet. This ladoo is protein-rich and full of nutrients and can be easily stored for a week or more at room temperature. Coconut and mava ladoo for babies are very healthy as coconut is rich in copper and manganese and it is vital for bone health. Mava is a very good source of Vitamin D, Vitamin K, Vitamin A, Vitamin B12, and Calcium. It has been proved that the consumption of milk products by children, results in increased bone density and reduced risk of osteoporosis. Mawa is equal to two cups of milk.
Cooking Time
| | |
| --- | --- |
| Type | Time (hh:mm:ss) |
| Preparation Time | 00:10:00 |
| Cook Time | 00:10:00 |
| Total Time | 00:20:00 |
Cooking Method
Gas Stove
Type of Meal
Traditional Indian Sweet
Suitable For
Any toddler above 21 months of age
Meal Schedule
Mid-Morning or Evening Snack.
Recipe Type
Dessert
Ingredients
| | |
| --- | --- |
| Ingredient | Quantity and Volume |
| Mava | 1 Cup |
| Brown Sugar | ½ Cup |
| Kesar | 5-6 pieces |
| Grated Coconut | 1.5 Cup |
Instructions
You must be wondering how to make Coconut and Mava Ladoo! This is a very easy coconut ladoo recipe and is loved both by kids and adults. Let us see the step by step directions to prepare Coconut and Mava Ladoo.
Heat the non-stick pan and put the Mava in the pan and start heating it.
Stir the Mava and add the sugar in it. Now stir and heat both until it gets a liquidy.
Slowly add the grated coconut and Kesar into the mixture.
Cook until it leaves the sides and forms a fluffy pastry.
Let the mixture cool down and take a small amount of this and make a roll of it.
Roll each ladoo in more grated coconut and arrange them on a plate.
Leave it as it is for 30 minutes before serving.
Keep the ladoos in an airtight container at room temperature.
Recipe Tips
The Coconut and Mava Ladoo baby food recipe can be serves as a grab-and-eat snack for a good number of days. Please keep in mind the below tips before preparing the recipe.
The coconut must be grated nicely. There should not be any big pieces left. If required you can also make the coconut grind in the grinding machine.
Use good quality of Brown Sugar. Stir until the sugar melts and mix it well.
Buy fresh mava and it should smell good.
Nowadays, Mava is available in any Indian Sweet Shop. You can buy Mava from a reputed sweet shop or it can be also prepared at home.
Get good quality of Kesar. You can soak the Kesar in a small amount of water overnight and use the water and the Kesar in the recipe. This will add colour to the Ladoo.
Make sure you wash your hands properly before preparing the food. Also, all the utensils used should be clean.
Nutrition Information (Per 100 Grams)
| | |
| --- | --- |
| Nutrient | Value |
| Energy | 132 kCal |
| Protein | 1 g |
| Carbohydrates | 16.1 g |
| Fibre | 1.1 g |
| Fat | 7.1 g |
| Cholesterol | 0 mg |
| Vitamin B1 (Thiamine) | 0.1 mg |
| Vitamin B2 (Riboflavin) | 0.1 mg |
| Vitamin A | 32.5 mcg |
| Vitamin B3 (Niacin) | 0.2 mg |
| Vitamin C | 0.3 mg |
| Vitamin E | 0 mg |
| Folic Acid (Vitamin B9) | 5.3 mcg |
| Calcium | 2.2 mg |
| Iron | 0.3 mg |
| Magnesium | 7.1 mg |
| Phosphorus | 26.8 mg |
| Sodium | 2.8 mg |
| Potassium | 37.7 mg |
| Zinc | 0.2 mg |
Health Benefits
Let us see what are the benefits of homemade Coconut and Mava Ladoo baby food recipes.
Dairy products are full of Vitamin D, Vitamin K, and Calcium which promotes good bone health.
These are also a good source of Vitamin A, Vitamin B12 and Vitamin B which is again necessary for Cardiovascular health.
It also consists of good unsaturated fats.
It acts as an immunity booster.
It improves digestion and fulfils the sweet cravings with good fat.
Buying Guide
Keep a habit of checking the expiry date of the product you are purchasing.
Make sure the packaging is sealed well and hygienic.
Check the Mawa is fresh and there are no insects in it.
Grate the coconut nicely with the grater and wash it properly before use.
Our babies are very precious to us. When it comes to food they always deserve the best, so instead of buying snacks or sweets from the market, prepare homemade sweets like Coconut and Mava Ladoo and store it for a week and serve them regularly.