Dalia Khichadi Recipe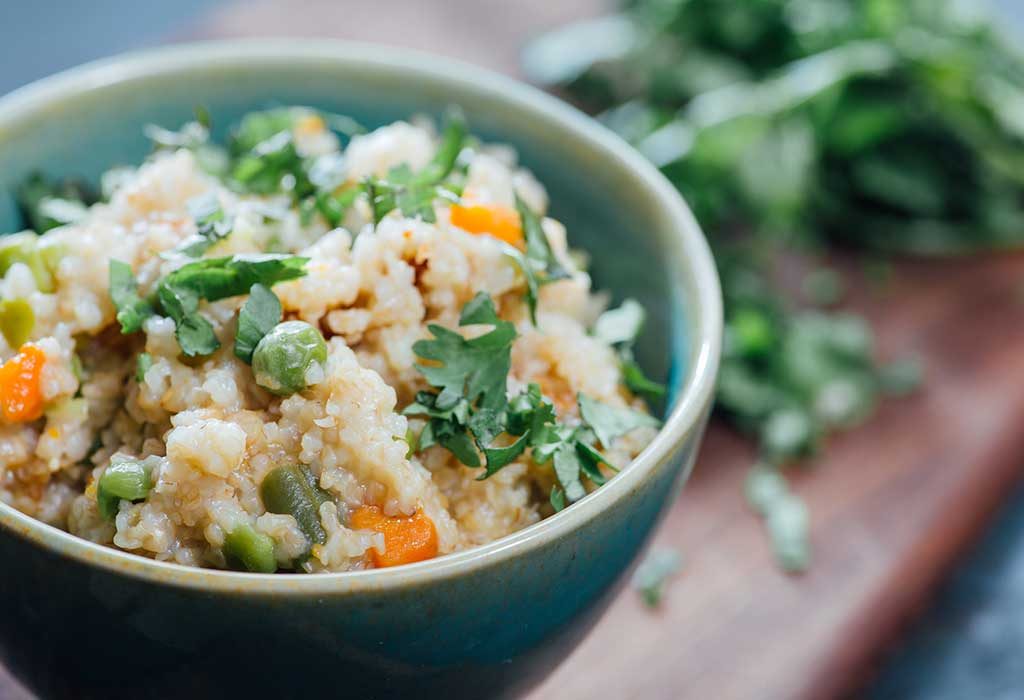 In this Article
A nutritional, power-packed one-pot dish, Dalia Khichadi for babies is probably the best food you can give your kids. Packed with essential nutrients and enriched with the goodness of vegetables, the dish is the perfect choice for the main meal for your little ones. Feed them with the wholesome meal to improve their immunity and resistance.
Cooking Time
| | |
| --- | --- |
| Type | Time (hh:mm:ss) |
| Preparation Time | 00:15:00 |
| Cook Time | 00:15:00 |
| Total Time | 00:30:00 |
Total Servings: 3-4
Cooking Method: Gas stove or induction
Suitable For: Any Baby above 10 months of age
Type of Meal: Great for vegans, Suitable for vegetarians too
Meal Schedule: Breakfast, Lunch or Dinner
Recipe Type: Main Dish for breakfast, lunch and dinner
Ingredients
| | |
| --- | --- |
| Ingredients | Quantity & Volume |
| Broken Wheat or Dalia | ¼ cup |
| Moong Dal or Toor Dal ( as per your choice) | ¼ cup |
| Water | 2 cups |
| Mixed Vegetables ( Carrot, peas, corn and potato) | ¼ – ½ cup |
| Turmeric | ¼ teaspoon |
| Black Pepper Powder | A pinch |
| Ghee/Oil | 2 tablespoons |
| Ginger paste ( optional) | ½ tsp |
| Cumin seeds | ¼ tsp |
| Salt | As per taste |
Instructions
If you are wondering on how to make Dalia Khichadi, then this is the easiest recipe to follow. Read on to find the step by step guide for Dalia Khichadi
Soak the dal and broken wheat in water for one hour. Rinse thoroughly before soaking.
Drain off the water.
Chop the vegetables in tiny pieces and add them to the dal and broken wheat.
Add 2 cups of fresh water, turmeric powder and pressure cook on a medium flame for two whistles.
Let the steam cool off and open the pressure cooker to see the mixture.
The mixture should be of a gooey consistency as babies will find it easy to eat.
Add salt and stir well.
Take ghee in a small pan, add the cumin seeds. Once they start spluttering add the pepper powder and chopped ginger and pour over the mixture.
Serve hot and add a dollop of ghee before serving
Recipe Tips
Dalia can be introduced to a baby's diet after 8 months.
During winters, you can use some ajwain to season the khichadi. This adds to the taste and also aids in digestion
You can dry roast the dal and broken wheat in large quantities. Store in an air-tight glass container and use as required. Dry roasting the dal and broken wheat lends a good aroma to the dish.
The dish tastes best with moong dal and it digests quickly. Toor dal can make it a little heavy but you can choose to alternate it each time you prepare the dish.
Easy Dalia Khichadi recipe can be prepared with a variety of vegetables. You can add onions, tomatoes, spinach and cauliflower to enhance the taste and introduce your child to new tastes.
Wash the vegetables well before cooking them. Chop the vegetables finely but ensure that they are large enough for your toddler to bite with their tiny teeth. It is a good option to add vegetables as your child will learn to chew their food.
Try to chop the vegetable into one-inch julienne pieces.
The dish is ideal to be served for lunch as it is heavy and will take time to digest. Try not serving it for dinner.
If you think that your toddler will not like the seasoning with cumin seeds then you can avoid it. It tastes good without the seasoning too.
The texture of the dish will be slightly grainy unlike mashed rice. You can try to use a potato masher and mash it well once it is cooked.
It is an ideal dish to be served during winters as it is packed with proteins and calcium that provide resistance from cold and flu symptoms.
Nutritional Facts Per Servings
| | |
| --- | --- |
| Nutrient | Value |
| Calories | 466 kCal |
| Fats | 11 gm |
| Carbohydrates | 72 gms |
| Protein | 20 gms |
| Cholesterol | 25 gms |
| Calcium | 82 mg |
| Iron | 7.9 mg |
| Vitamin C | 18.4 mg |
| Sodium | 358 mg |
Health Benefits
Broken wheat or dahlia is filled with fibre, minerals and vitamins. It is easy to cook and also digests easily. It is also beneficial to improve the gut.
If you use carrots, peas, corn and potato then you are loading the dish with Vitamin A, Vitamin C and carbohydrates for energy.
Moong dal is packed with protein. Even if you swap it with toor dal, the dish will be packed with an adequate amount of protein.
Buying Guide
Homemade Dalia Khichadi baby food recipe is a simple recipe for babies over 8-9 months of age and can be easily made at home with ingredients in your shelf
Make sure you buy broken wheat that comes in packaged form. Make sure you check the expiry date on the packaging.
Buy fresh vegetables and add seasonal vegetables if available.
Ensure that you buy dal or lentils in packaged form. Do not buy loose quantities as they may be adulterated.
Try to use homemade ghee for seasoning. If you do not have it then go for branded products available in supermarkets.
Vegans can use vegetable oil, olive oil or any other refined oil.