Phirni Recipe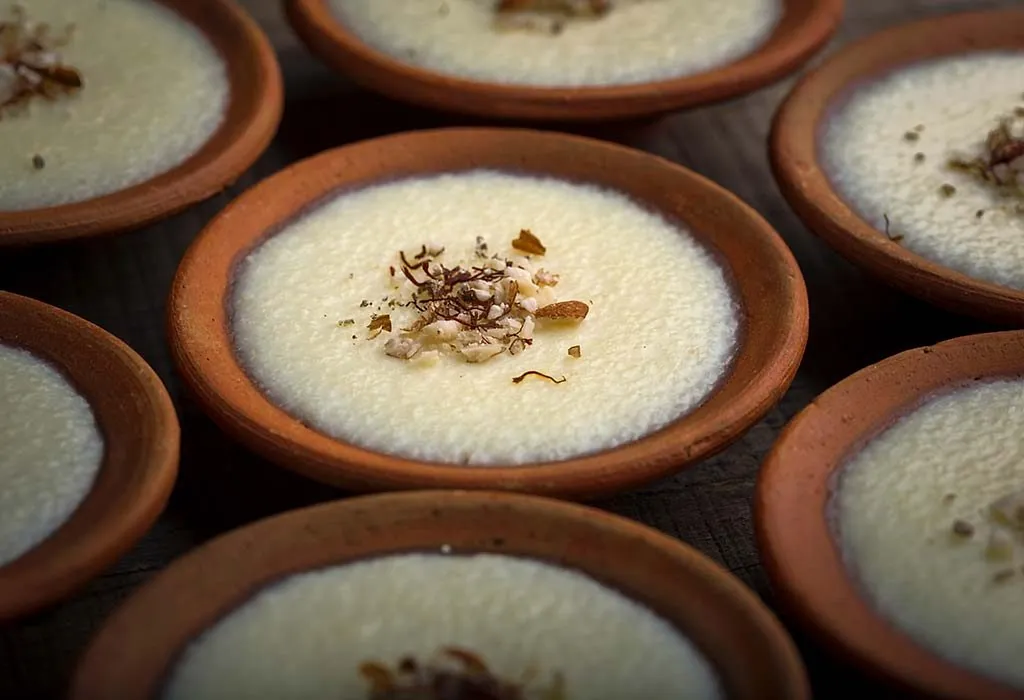 In this Article
India is known for its variety of sweets and desserts. The diversity of our country is evident when it comes to food as well. Consider phirni, for instance. This creamy, milk and rice-based dessert is popular in most parts of the country, although with a slight variation in the preparation. You can also add different ingredients to enhance its taste. Refrigerate, and it will taste even better. This recipe is easy to make, and the toddler in your house won't stop asking for more. Phirni is one dish you should include in your child's menu.
Cooking Time
| | |
| --- | --- |
| Type | Time (hh:mm:ss) |
| Preparation Time | 00:05:00 |
| Cook Time | 00:35:00 |
| Total Time | 00:40:00 |
Cooking Method: Gas
Type of Meal: Vegetarian
Suitable For: Any toddler above 16 months of age
Meal Schedule: Breakfast, Mid Morning Snack, Evening Snack, Lunch or Dinner.
Recipe Type: Main Dish
Ingredients
| | |
| --- | --- |
| Ingredients | Quantity and Volume |
| Long-grained Rice (basmati) | 4 tbsp |
| Milk (full fat) | 5 cups |
| Sugar | 6 Tbsp |
| Cardamom powder | 1 tsp |
| Badam Slivers | 1 tsp |
Instructions
Learning how to make phirni is quick and easy. Making an Indian dessert was never so convenient. Just follow our step-by-step directions, and this delicacy is ready in no time for your toddler.
1. Start with soaking the rice in lukewarm water for at least 60 minutes.
2. Now drain the rice and add it to the mixer. Make a coarse paste without adding any water.
3. Take a non-stick pan and boil the milk on medium flame.
4. Once the milk boils, add the coarse rice paste to it and mix it well.
5. Cook it on low flame for another 15 minutes. Keep stirring and scraping the bottom and sides of the pan or else the milk will stick to the pan and get burnt.
7. Now increase the flame to medium and cook it for another 10 minutes. Keep stirring and scraping the sides.
8. Add sugar, mix it well and cook on a medium flame for another 4-5 minutes.
9. Then, switch off the flame and add cardamom powder. Mix it well and let it cool.
10. Garnish the phirni with some almond slivers.
11. You can feed the pudding to your little one immediately after it cools down, or refrigerate it at least for an hour.
With this simple phirni recipe, you are ready to serve a wholesome dessert to your family as well as guests. But, to ensure your recipe is the perfect one, you need to take some measures. Refer to the recipe tips given below.
Recipe Tips
These vital points will help you prepare the best recipe every time you make it.
Ensure that the rice is ground to a coarse texture.
Do not add any water while grinding the rice.
While cooking the phirni, always keep stirring and scraping the bottom and the sides of the pan to prevent the milk from sticking to it and getting burnt.
You can add a little variation to the recipe by adding mango puree to it.
Use only full-fat milk to ensure that your phirni gets the right consistency.
Before putting it into the refrigerator, let it cool down at room temperature first.
Although the recipe is relished as a dessert, it is quite nutritious for babies. Read on to know its nutritional value and health benefits.
Nutritional Information (Per 100 Grams)
| | |
| --- | --- |
| Nutrient | Value |
| Energy | 126.4 kCal |
| Protein | 7.6 g |
| Carbohydrates | 25.3 g |
| Fibre | 0.3 g |
| Fat | 4.7 g |
| Vitamin A | 8.1 mcg |
| Vitamin C | 1 mg |
| Vitamin B2 (Riboflavin) | 0.0 mg |
| Vitamin C | 1 mg |
| Vitamin E | 0.3 mg |
| Calcium | 25.3 mg |
| Copper | 1.1 mg |
| Folate | 1.6 mg |
| Iron | 1.6 mg |
| Magnesium | 0.9 mg |
| Manganese | 10.2 mg |
| Phosphorous | 1 mg |
| Thiamin | 1.7 mg |
| Zinc | 0.7 mg |
Health Benefits
With this home-made phirni baby food recipe, your child can gain the following health benefits:
The dish is rich in Vitamin A and calcium, which keep the body and bones healthy.
Phirni helps get rid of the burning sensation in the stomach when it is upset.
The proteins and calcium in phirni can provide energy to your kid all day long.
The dish is a wholesome addition to your toddler's diet.
If your baby doesn't drink milk for some reason, phirni can be an excellent way to add milk to his diet.
Buying Guide
While making phirni for your toddler or kid, prefer cow's milk over the regular one.
Furthermore, always buy milk from a trusted source to avoid using contaminated milk.
Use organic rice if possible for making the dish.
Did you know that this delicacy was introduced to India by the Persians? It is a popular sweet dish in the Middle East and is extensively made during Ramadan. As far as your kid or toddler is concerned, he/ she is going to love the taste. During summers, it can be a pleasant addition to your child's diet plan.