Tomato Chutney Recipe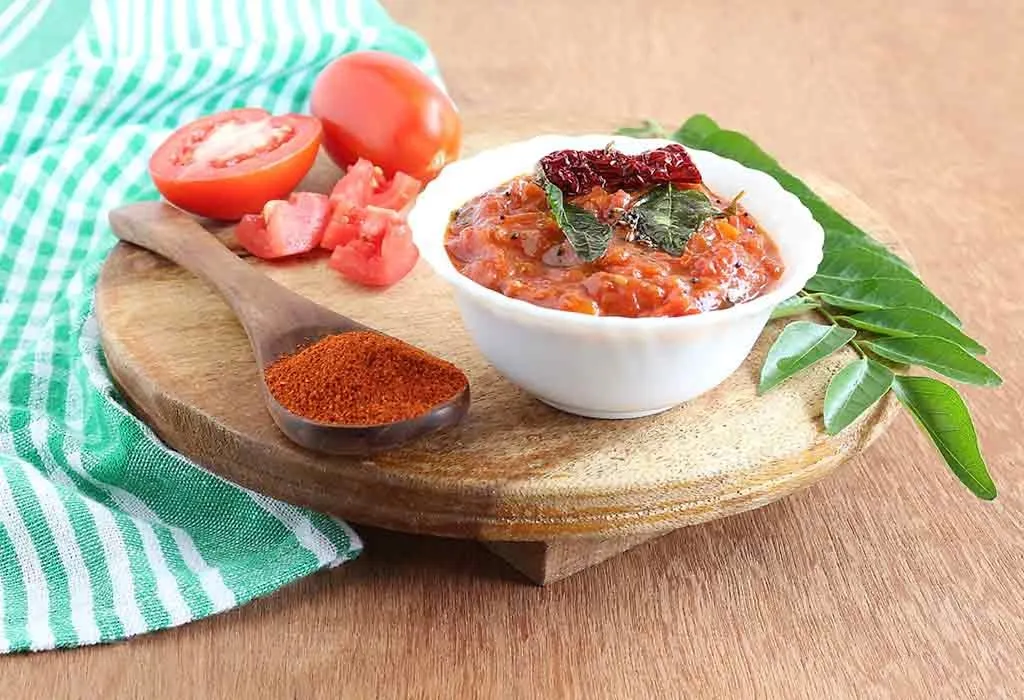 In this Article
Your south Indian breakfast is incomplete without tomato chutney. This traditional recipe is a savoury gluten-free condiment originating in India. It provides a balance to an array of dishes, highlights a specific flavour like idlis, dosas or even dishes like kebabs, sandwich and burgers. The irresistible taste of this chutney comes from its spicy and tangy flavour which makes it an all-time favourite dip for your babies and toddlers alike. Made with tomato, spices and curry leaves, it is sure to become an integral part of your child's food habits. If you're keen to know how to make tomato chutney in the simplest way, check the recipe given below.
Cooking Time
| | |
| --- | --- |
| Type | Time (hh:mm:ss) |
| Preparation Time | 00:05:00 |
| Cook Time | 00:10:00 |
| Total Time | 00:15:00 |
Cooking Method
Gas Stove
Type of Meal
Vegetarian
Suitable For
Toddlers older than 12 months of age
Meal Schedule
Breakfast, Lunch or dinner
Recipe Type
Side Dish
Ingredients
| | |
| --- | --- |
| Type | Quantity |
| Oil | 1 Tbsp |
| Tomatoes | 3 Large |
| Garlic Cloves | 1-2 |
| Salt | As Per Taste |
| Chana Dal | 1 Tbsp |
| Jeera | ½ Tbsp |
| Turmeric Powder | ¼ Tsp |
| Urad Dal | ½ Tbsp |
| Curry Leaves | 5 |
| Mustard | ¼ Tbsp |
| Asafoetida | 1 Pinch |
| Onion | 1 Small |
Instructions
The step by step directions given here will assist you in making the yummiest tomato chutney your child has ever tasted.
Heat oil in a pan. Roast 1 tablespoon of chana dal on medium flame and half teaspoon of urad dal until it turns aromatic and golden in colour.
Remove from the pan and set it aside.
Add garlic, onion and stir fry till it turns translucent in colour.
Add in the tomatoes, turmeric powder and sprinkle salt from top.
Cook for 5-6 minutes until they turn soft and mushy.
Let it cool down and transfer to the blender along with the roasted chana dal.
Grind into a smooth paste adding little water. Transfer it into a bowl.
Heat 1 teaspoon of oil in a small pan.
Once the oil is hot, add a pinch of asafoetida, mustard seeds and let it crackle on medium flame. Throw in in some curry leaves.
Pour in the tempering into the tomato chutney in the bowl and mix it well.
Your thick and pulpy chutney is ready to be served.
Recipe Tips
This simple tomato chutney recipe can be made spicier by adding chilli powder for older children.
You can add roasted peanuts to the chutney for a nutty flavour.
Instead of garlic, you can opt for grated ginger.
You can make this chutney and refrigerate it for 2 days before tempering it just before serving.
Use sesame oil for a more authentic flavour.
This homemade tomato chutney baby food recipe can be made tangier by adding tamarind paste to it.
Most importantly the ingredients used in making this chutney are mostly available in your kitchen shelf.
You can use 3 tablespoons of sesame seeds as a substitute for chana dal.
Nutrition Information (Per 1 Serving)
| | |
| --- | --- |
| Type | Value |
| Calories | 120 kCal |
| Carbohydrates | 19 gram |
| Protein | 4 gram |
| Sodium | 13 mg |
| Fibre | 4 gram |
| Fat | 3 gram |
| Potassium | 410 gram |
| Calcium | 33 gram |
| Vitamin C | 113.2 gram |
| Calcium | 33 gram |
| Iron | 2.1 mg |
| Sugar | 2 gram |
| Vitamin A | 600 IU |
Health Benefits
Juicy and pulpy, this tomato chutney not only has a superb taste, texture and colour but exceptional health benefits for babies that would amaze you:
Rich in Vitamin C, tomatoes provide maximum immunity from cold and cough. It also helps in the absorption of iron in your child's body.
Being totally cholesterol and fat-free, tomatoes are good for a weight check and keeps the heart-healthy.
As this chutney is a calcium-rich food, it helps to make your child's bones strong.
The fibre content of tomatoes keeps your baby's bowel movements regular.
Curry leaves help to treat dysentery, constipation and diarrhoea. It heals wounds, burns as well as skin eruptions. The antioxidants in curry leaves boost the immunity levels of children.
Chana dal provides energy and is an excellent source of vegetarian protein.
Urad or split black gram has the richest source of Vitamin B and protein. It is good for digestion and boosts energy level for an active lifestyle.
Buying Guide
This trusted shopping guide will help all parents looking to buy the best quality ingredients from their trusted store.
Buy tomatoes from organic grocery stores that are not artificially ripened. Look for plump bright tomatoes that have smooth skins. They should be free from blemishes and spots.
It is better to buy whole spices that have a fuller flavour and stay fresh longer. Quality spices are generally free from contaminants.
While choosing the lentils, look for insects, stones and dry dal. Check for the seal and date of packaging.
Fresh homemade tomato chutney for babies are always better than pre-packed chutneys available in supermarkets or bought from restaurants as the ingredients used in them exceed calorie recommendations and use preservatives. Hence make sure you follow all the required hygiene needed before preparing this chutney for your little one.