Wheat Walnut Ladoo Recipe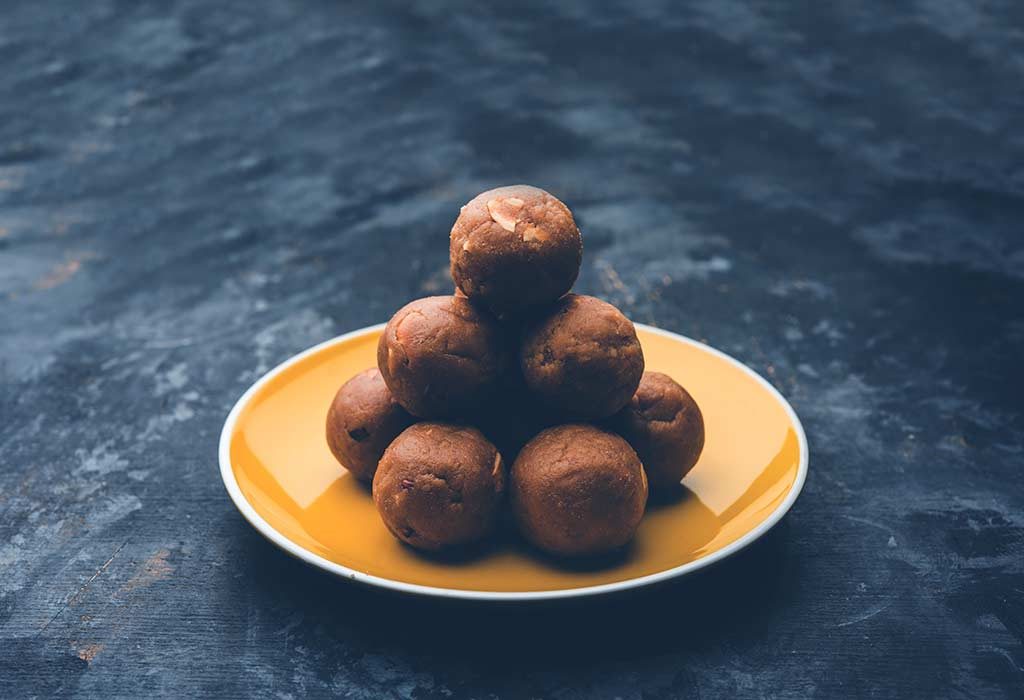 In this Article
Need a kid-friendly snack idea for your kid's lunch-box or quick breakfast to satisfy the hunger pangs? Wheat walnut ladoos are golden brown spherical sweets with a nutty fragrance. This wholesome and nutritious finger food is best-loved while basking in the winter sun. The traditional Indian style recipe of this dish can be made with walnut, sugar and wheat flour that offers the perfect combination of fiber, carbohydrates, fat, vitamins and minerals needed to fuel your active child. Find out how to make wheat walnut ladoo in the perfect way and delight your child with sweet tooth during festivals or any happy occasion.
Cooking Time
| | |
| --- | --- |
| Type | Time (hh:mm:ss) |
| Preparation Time | 00:10:00 |
| Cook Time | 00:10:00 |
| Total Time | 00:20:00 |
Cooking Method
Gas
Type of Meal
Vegetarian
Suitable For
Toddlers older than 15 months of age
Meal Schedule
Breakfast, Evening Snack
Recipe Type
Dessert, Snack Dish
Ingredients
| | |
| --- | --- |
| Type | Quantity |
| Wheat Flour | 1 Cup |
| Walnuts | ½ Cup |
| Refined sugar/Jaggery | 1/2 Cup |
| Butter/Ghee | 4 Tbsp |
| Cardamom Powder | 1/8 Tsp |
Instructions
The step by step directions given here will help mothers to become an expert cook for making this mildly sweet and flavourful ladoos with a healthy touch.
Dry roast walnut on low flame for 2-3 minutes until the raw smell disappears. Transfer into a bowl and let it cool down.
Melt butter in the pan and add wheat flour and saute for a while till the raw smells go.
Grind the nuts in a blender. Add the fine powder to the wheat flour.
Pulse the sugar in the blender and add it to the wheat flour and walnut powder.
Add cardamom powder to it. Mix everything well and transfer everything in a wide plate.
When it cools enough, make small laddoos of the desired size.
Serve or store them in an air-tight container.
Recipe Tips
This simple wheat walnut ladoo recipe can be used to make this fun snack that can be a great finger-food for your child.
Add any variety of sugar like brown sugar, grated jaggery, palm jaggery for sweetness.
Add poha or dry roast oats or beaten rice crisps to the mixture for added crispness and nutrition value.
Instead of processed sugar, add a natural sweetener like jaggery. Condensed milk can also make it creamier.
This homemade wheat walnut ladoo baby food recipe can be made with almonds, cashews, peanuts for extra crunchiness.
Don't grind walnuts until it needs to be added to your dish in order to maintain its great flavour.
It is always advisable to make butter at home or ghee for making the healthiest recipes for babies.
You can roll these ladoos in grated coconut as a sweet coating.
Nutrition Information (Per Ladoo)
| | |
| --- | --- |
| Type | Value |
| Carbohydrates | 16.8 gm |
| Energy | 218 Kcal |
| Protein | 3 gm |
| Sodium | 2.7 gm |
| Fibre | 0.4 gm |
| Fat | 15.3 gm |
| Calcium | 112 mg |
| Iron | 1.5 mg |
Health Benefits
Wheat walnut ladoos are the most gratifying quick bites with immense health benefits for small children:
These ladoos are greatly filling and make your child feel full for longer hours.
Apart from adding an extra flavour, butter contains omega 3 and omega 6 fatty acids that promote brain development for a child.
Wheat flour is a rich source of carbohydrates that generates energy for any physical activity. As it is easily digestible, wheat helps to reduce constipation and flatulence in children.
Wheat contains chlorophyll that is good for blood purification and Vitamin B that contributes towards mental development.
Walnuts are packed with essential nutrients like potassium, magnesium, sodium, folate, calcium and protein that are required for the optimal growth of babies and improved neuro-cognitive functioning.
Walnuts induce deep sleep and helps to maintain optimal body weight.
Buying Guide
This buying guide will help you to make wise choices when you're venturing out to buy the right ingredients to make these wheat walnut ladoos.
Shelled walnuts are available in your local grocery stores or supermarkets in different forms. If you're buying packed walnuts, then check for its expiry date. Walnuts with shell are cheaper.
You can choose between salted or unsalted butter. Get your pastured butter for this recipe.
Go refined sugar-free and choose brown sugar or organic jaggery.
Look for sealed packs with details of its nutrition content while buying branded wheat flour.
Homemade wheat walnut ladoo for babies can be an interesting way to pique your kid's interest in food. If you're travelling or just in a hurry, just pack this snack in your bag and it will be the super-special anytime treat for your child. So instead of sugar-coated candies and fried snacks, this delicious recipe is the ideal choice for creating happy memories of childhood.