Gud Papdi Recipe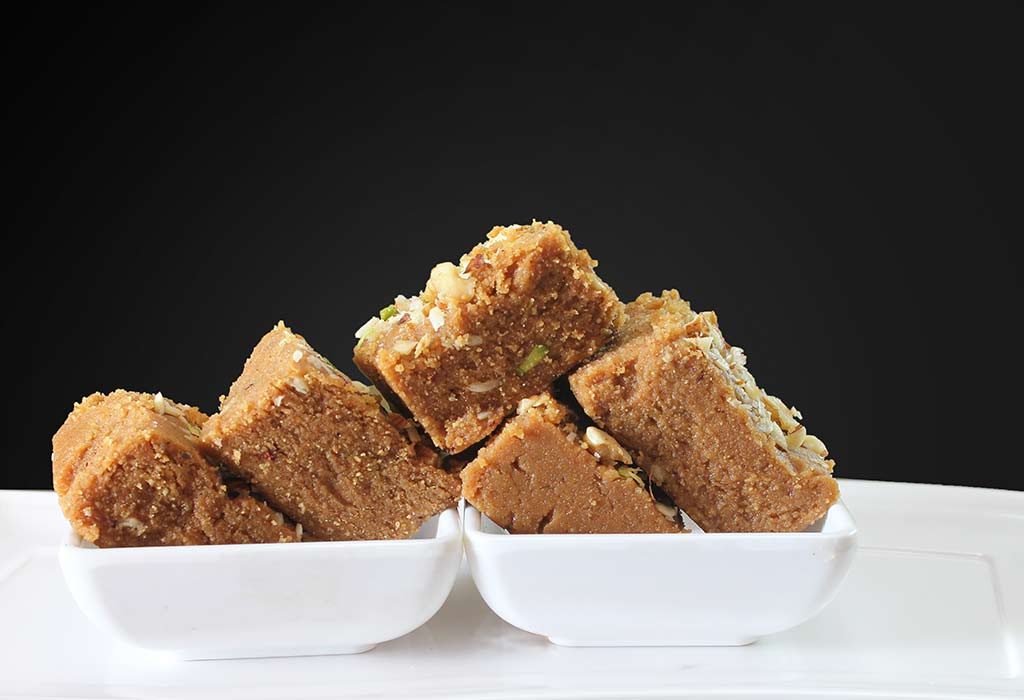 In this Article
Relished during the winter months, Gud Papdi is a sweet delicacy that is loved in most parts of our country. This tasty delight is also a great snacking option for your little one because it comes with the goodness of whole wheat flour and jaggery. If you wish to know how to make Gud Papdi for your baby, well, you are at the right place as in this blog we are sharing a very simple and easy to make gud papdi recipe!
Cooking Time
| | |
| --- | --- |
| Type | Time (hh:mm:ss) |
| Preparation Time | 00:05:00 |
| Cook Time | 00:10:00 |
| Total Time | 00:15:00 |
Cooking Method
Gas Stove
Type of Meal
Vegetarian
Suitable For
Babies over 16 months of age.
Meal Schedule
Mid Morning Snack
Recipe Type
Desserts
Ingredients
Before learning the step by step procedure of making gud papdi, let's see what all ingredients you need to assemble:
| | |
| --- | --- |
| Type | Quantity and Volume |
| Wheat flour | 1 cup |
| Jaggery | 1/2 cup |
| Cardamom powder | 1/2 teaspoon |
| Ghee | 1/2 cup |
| Almonds | 10 to 12 |
Instructions
Following the instructions to make easy Gud Papdi recipe:
Take a heavy-bottomed wok. Add ghee and turn on the heat.
Throw in the almonds and fry them until they turn brown and crispy.
Remove the almonds and leave them to cool down. Once cooled, chop them finely and keep aside.
In the same ghee, add wheat flour and keep roasting it until it becomes fragrant and changes colour.
Remove from heat. Add jaggery and chopped almonds and mix them thoroughly.
Grease a round-edged plate and spread the jaggery and flour mixture on it.
Pat the mixture with a spatula to even it out.
On cooling down, cut it into small square or diamond shapes by running a knife through the set mixture.
The yummy Gud Papdi is ready to be served.
Recipe Tips
Here are some recipe tips that you can follow when making homemade Gud Papdi baby food recipe:
You can replace jaggery with powdered brown sugar if you do not have jaggery at home.
Adding 1/4 cup gram flour and a tablespoon of semolina will not only add to the flavour,, but it will also give more texture to the papdi.
You can also add nuts like cashew, pistachios and other such kinds of nuts to add a crunchier twist to the papdis.
Gud papdi can be stored in an airtight container for a few days. You can store them in the fridge too if you wish to save them for long. Make sure to let the papdi come to room temperature before serving it to your munchkin.
Nutrition Information (Per 100 Grams)
The following table shows the nutritional information present in Gud Papdi for toddlers recipe:
| | |
| --- | --- |
| Nutrition | Value |
| Energy | 240 Cal |
| Carbohydrates | 33 g |
| Protein | 4 g |
| Fat | 12 g |
| Sodium | 5 mg |
| Fibre | 3 g |
The table above indicates only approximate nutritional content present in 100 grams of Gur Papdi; actual values may vary slightly.
Health Benefits
Yummy and irresistible that your baby will ask for more, Gur Papdi is not only delicious, but it also offers hosts of benefits for your munchkin. Here are some of the health benefits:
Whole wheat flour is a good source of phosphorus, which helps in the development of bones in kids.
The presence of Niacin in whole wheat flour helps in proper brain functioning and also improves mental ability in kids.
Fair source of iron, flour is great for keeping iron deficiencies at bay by maintaining good iron levels in the body.
Jaggery helps in aiding smooth bowel movements in babies because the unrefined sugar helps in activating digestive enzymes in your baby's body.
Jaggery acts as a great detoxifier by flushing out toxins from your baby's body.
Rich source of calcium and phosphorus in jaggery is great for your baby's bones and teeth development.
Buying Guide
Make sure to keep following tips in mind when picking up ingredients to make this mouth-watering delicacy for your munchkin:
Pick up packed jaggery from a renowned food grade brand. Never pick up the unpacked ones by street vendors who claim to get it straight from the farms.
Jaggery becomes dark as it ages; however, it may not lose its nutritional content. But make sure that you check the manufacturing information on the label.
Pick up whole wheat flour because it contains more nutrition than regular flour.
This simple Gud Papdi recipe is easy to make and will be loved by your kids! Serve this healthy and nutritious dessert for your kids after every meal.