Boiled Corn And Sprout Chaat Recipe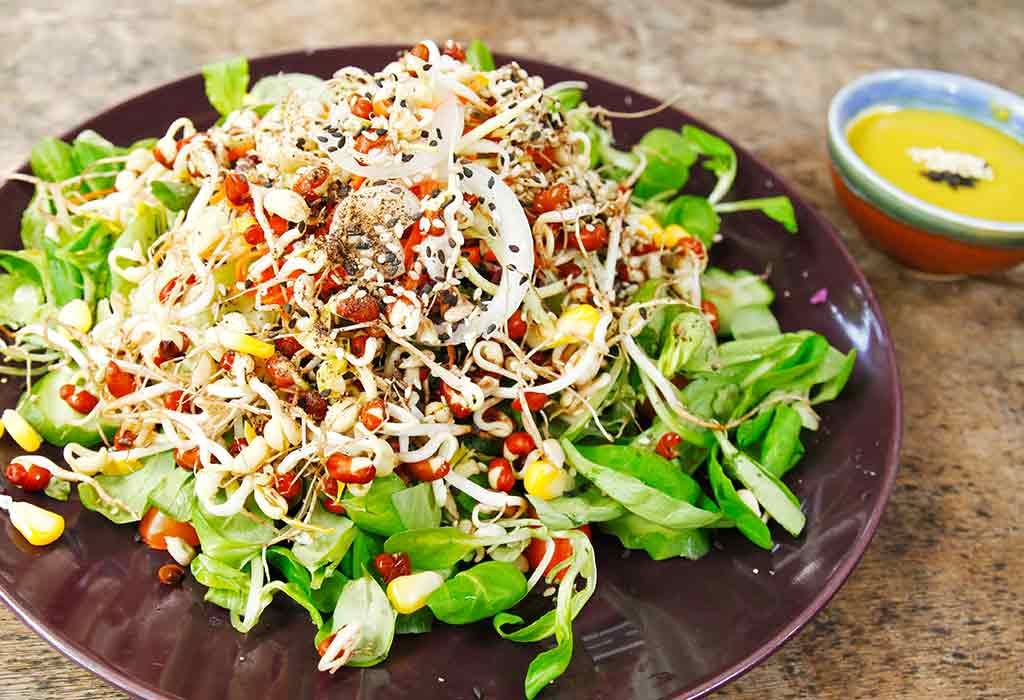 In this Article
Are you a fan of chaat? Here is one very simple and tasty kind of chaat, which is also healthy for you and loaded with high nutrients. It's full of fibre content and it has a lot of Vitamin C and K, proteins and folate. The time needed to prepare for this mouth-watering chaat is minimal. Boiled Corn and Sprouts Chaat for babies only requires mixing of various ingredients and very little cooking.
Cooking Time
| | |
| --- | --- |
| Type | Time (hh:mm:ss) |
| Preparation Time | 00:10:00 |
| Cook Time | 00:10:00 |
| Total Time | 00:20:00 |
Cooking Method
Gas Stove
Type of Meal
Vegetarian
Suitable For
Any toddler above 16 months of age
Meal Schedule
Mid-Morning or Evening Snacks
Recipe Type
Appetisers, salads, desserts
Ingredients
| | |
| --- | --- |
| Ingredients | Quantity and Volume |
| Boiled Corn | 20 gm |
| Boiled Moong (green gram) | 10 gm |
| Boiled Chana | 10 gm |
| Tomato | 1 Pc |
| Onion | 1 Pc |
| Salt | ½ Tsp |
| Coriander | 1 Tbsp |
| Lemon Juice | ½ Tsp |
| Nylon Sev (Optional) | 2 Tbsp |
| Sweet chutney | ½ Tsp |
Instructions
Wondering how to make Boiled Corn and Sprouts Chaat! It's very easy and simple to prepare this dish. Here are the step by step directions to prepare Boiled Corn and Sprouts Chaat.
Firstly, Soak green gram and black chana in a bowl of water overnight for 6-8 hours to allow them to sprout.
Take a pressure cooker to boil the corn kernels. Put the corn kernels in the cooker. Leave the stove on medium flame. Boil for 10 minutes. Once boiled, remove the corn from the cooker. Drain the water from the corn after it has cooled a bit and keep aside. Now do the same with the sprouts. Now we have boiled corn and boiled sprouts ready.
While boiling the corn and sprouts you can use the time to finely chop the tomatoes and onions. Chop them into pieces as big as the corn and sprouted seeds so that they are in proportion; not too big or too fine. Keep these aside in separate bowls.
Now add the above mix to the bowl of boiled corn and sprouts. Mix them well. Add the right amount of salt to taste. Your tasty boiled corn and sprouts chaat salad is almost ready.
Garnish it with some fresh coriander leaves which will enhance the taste and give it a very appetising coriander aroma. It's an anti-oxidant rich herb that greatly enhances the taste of salads.
The chaat is ready to eat. Now to make it more tasty and crunchy, you can spread sweet chutney and nylon Sev on the top of the chaat.
Recipe Tips
Your mouth-watering, nutritious homemade boiled corn and sprouts chaat baby food recipe is now ready. Remember some below tips before preparing.
Remember to buy fresh kennels corn from the market.
Soak the Channa and Moong in freshwater.
Properly clean your hands before cooking and make sure the utensils used should also be properly cleaned.
Half boiled Corn and Sprouts will be difficult to swallow for babies.
Mix only the main ingredients in a large quantity and store it in the refrigerator as a ready-to-serve easy boiled corn and sprouts chaat. This can be stored and consumed for up to a week. Simply microwave the required quantity to be eaten and serve. Or make a complete chaat with all the Sev, Chutney and Salt and then serve.
Nutrition Information (Per 100 Grams)
| | |
| --- | --- |
| Nutrient | Value |
| Energy | 150 kCal |
| Protein | 6g |
| Carbohydrates | 25.6g |
| Fibre | 4.8g |
| Fat | 2.8g |
| Cholesterol | 0 mg |
| Vitamin A | 182.6 mg |
| Vitamin B3 (Niacin) | 0.7 mg |
| Vitamin C | 6.4 mg |
| Vitamin E | 0.1 mg |
| Folic Acid (Vitamin B9) | 26 mcg |
| Calcium | 50.7 mg |
| Iron | 1.8 mg |
| Magnesium | 37.8 mg |
| Phosphorus | 72 mg |
| Sodium | 79.6 mg |
| Potassium | 206.6 mg |
| Iron | 0.5 mg |
Health Benefits
Here are the health benefits of home-made Boiled Corn and Sprouts Chaat baby food recipe.
Helps improve digestion.
Very good for eyesight.
Chana and Moong are good for blood circulation.
Helps prevent obesity.
Buying Guide
Buy organic Corn, Chana and Green gram (Moong) and good quality products from a good store.
Buy fresh coriander that looks green has that aroma. Don't buy withered stale looking coriander.
Check the expiry date of the items before buying it.
Sev and sweet chutney are also available in Indian sweets shops these days.
Serve the right amount of healthy homemade nutrients rich foods to your precious little ones. When it comes to baby food, we always look for the best options. So, instead of depending on the ready-made supermarket or formula food, serve them a bowl of Boiled corn and sprouts chaat.
?>