Carrot Juice Recipe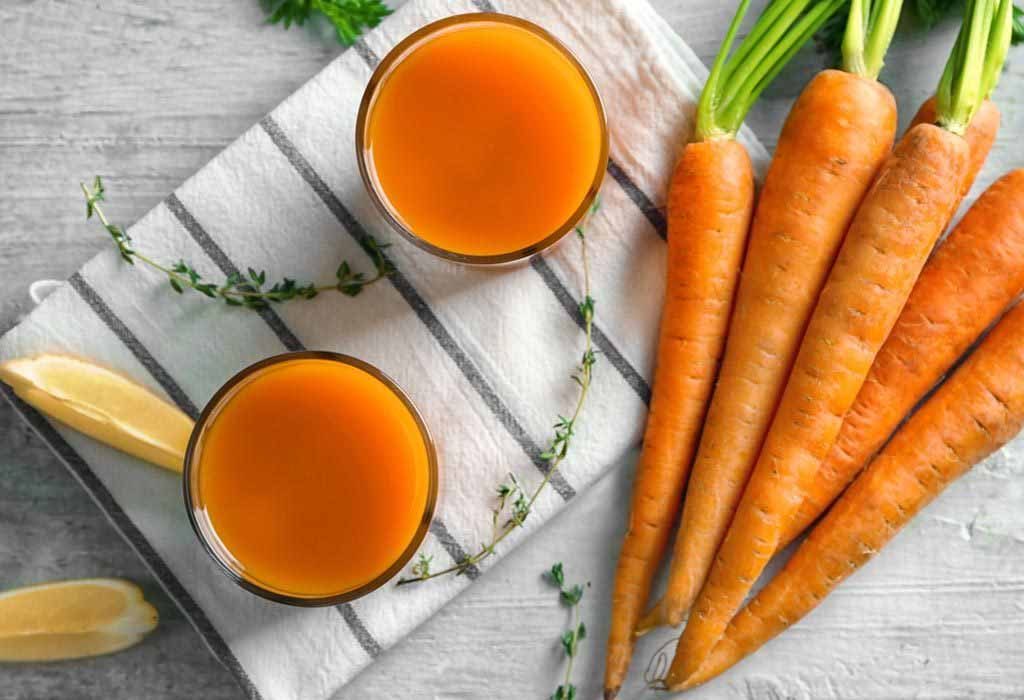 In this Article
Carrots are a nutritious and a tasty choice for baby food recipes. Carrot juice is good for babies when they are being weaned off breast milk. It is an excellent between-meal food option for your little one. This simple to prepare yet delicious carrot juice recipe is surely going to make your little munchkin happy. Wondering how to make this tasty carrot juice for babies? Read on to learn how to make it in just a few minutes!
Cooking Time
| | |
| --- | --- |
| Type | Time (hh:mm:ss) |
| Preparation Time | 00:08:00 |
| Cook Time | 00:05:00 |
| Total Time | 00:13:00 |
Cooking Method
Blender
Type of Meal
Vegetarian
Suitable For
Any Toddler above 13 months of age
Meal Schedule
With Breakfast, Mid Morning Snack, or Evening Snack.
Recipe Type
In-between meal
Ingredients
| | |
| --- | --- |
| Type | Quantity |
| Carrot | 3 medium-sized |
| Water (boiled and cooled) | 1 medium-sized glass |
| Raisins (Optional)(Soaked overnight) | 5 to 6 |
Instructions
Are you wondering how to make carrot juice? The juice is extremely easy and does not require too much effort. Here are the step by step directions to prepare carrot juice.
Wash the medium-sized carrots thoroughly.
Peel the carrots.
Cut the carrots in small pieces.
Put all the pieces in the blender; add a bit of water to make grinding easy.
Blend till a smooth puree is made.
Sieve the ground pulp to separate any fibres.
If the consistency of the juice seems thick, dilute it with water.
Puree the pre-soaked raisins.
Add the raisin puree to the juice to add sweetness.
Serve topped with lemon juice for added taste.
Recipe Tips
Make sure you remember the recipe tips given below before you start preparing the delicious carrot juice recipe for your baby.
Make sure to use carrots that are neither too big nor too small. Take medium ones as they have all the nutrients and are sweet in taste.
Make the juice fresh every time, and avoid making in huge quantities to save for later.
Do not add sugar as it might harm your baby. Add raisin puree or honey for sweetness.
Always use a clean blender and remember to clean the carrots thoroughly before using them.
Nutrition Information (Per 100 Grams)
| | |
| --- | --- |
| Type | Value |
| Energy | 41kcal |
| Carbohydrates | 9.58 g |
| Natural sugars | 4.74 g |
| Fibre | 2.8 g |
| Protein | 0.93 g |
| Fat | 0.24 g |
| Calcium | 33 mg |
| Iron | 0.3 mg |
| Magnesium | 12 mg |
| Phosphorus | 35 mg |
| Potassium | 320 mg |
| Sodium | 69 mg |
| Manganese | 0.143 mg |
| Copper | 0.045 mg |
| Zinc | 0.24 mg |
| Selenium | 0.1 µg |
| Fluoride | 3.2 µg |
| Vitamin C | 5.9 mg |
| Vitamin B1 (Thiamin) | 0.066 mg |
| Vitamin B2 (Riboflavin) | 0.058 mg |
| Vitamin B3 (Niacin) | 0.983 mg |
| Vitamin B5 (Pantothenic acid) | 0.273 mg |
| Vitamin B6 | 0.138 mg |
| Vitamin B9 (Folate) | 19 µg |
| Choline | 8.8 mg |
| Vitamin A | 835 µg |
| Vitamin E | 0.66 mg |
| Vitamin K | 13.2 µg |
Health Benefits
Want to know how healthy this home-made carrot juice baby food recipe is for your baby? Here are some of the health benefits of carrot juice for babies:
Carrots are a rich source of vitamins and several other vital nutrients. They support many body functions and keeping the body healthy.
Carrots are good for the eyes. The vegetable has beta-carotene, which is a precursor to Vitamin A. Vitamin A is essential for a healthy retina and good vision.
Carrots have many micronutrients such as flavonoids which are needed for a healthy circulatory system. These micronutrients are good for kidneys and help in purification of blood to filter out toxins.
Regular consumption of carrots boosts immunity. Carrots increase the number of platelets and lymphocytes in the body to ensure a healthy immune system for your developing baby.
Carrots support the smooth functioning of the liver. They shield the liver from the harmful effects of toxins or toxic chemicals.
Buying Guide
Here are some buying tips to keep in mind while picking up ingredients for carrot juice for your baby:
Pick carrots that have minimal blemishes and have a consistent colour.
Always peel a thin layer of the bought carrots and slice off the hard upper disc. Remember to soak the carrots for at least 5 minutes to ensure all soil particles are removed. Soak again if the water becomes muddy after the first soak.
After soaking, wash the carrot under running water to completely clean the carrots. After drying them with a kitchen towel, store them in the refrigerator in an airtight ziplock bag or pouch. Or chop them in small pieces, transfer them in a bowl and close the bowl with a cling film to store them in the refrigerator.
Make this super-easy carrot juice for babies. It can be whipped up in a few minutes and is sure to bring a big smile on your little one's face!