Carrot Halwa Recipe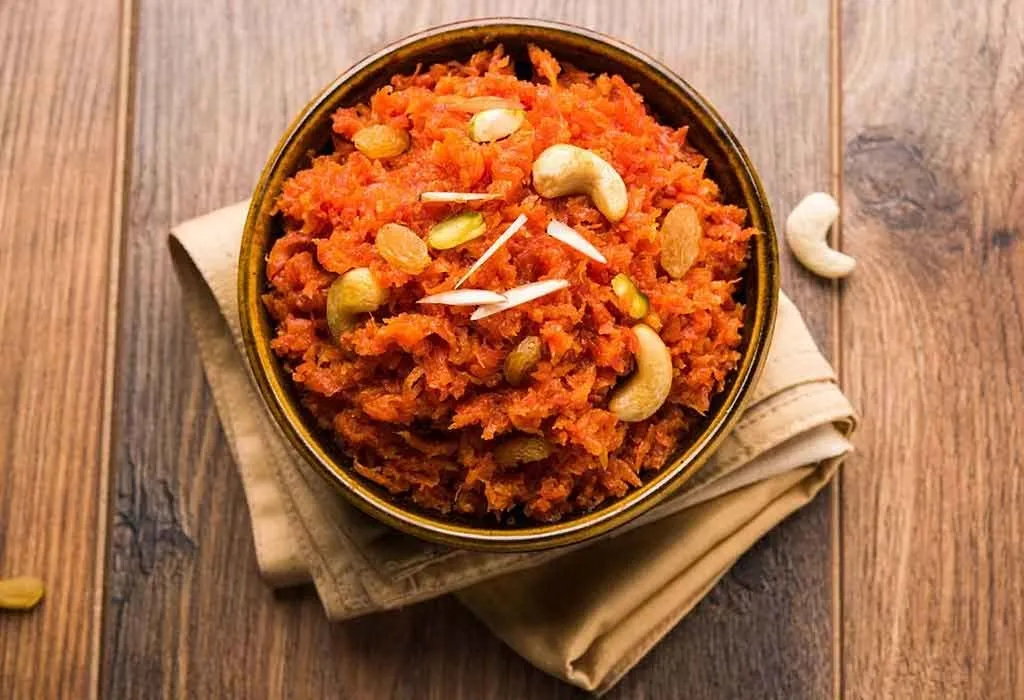 In this Article
Carrot Halwa or Gajar ka Halwa is great for toddlers and kids, in fact, it is good for the entire family. It is a delicious dessert, one of the must-have desserts for kids. Carrot Halwa is a specialty during winters, the smell of ghee in the carrot halwa is irresistible. It is a pretty simple dish which your little munchkin is definitely going to love and will ask you to make again and again. One thing should be kept in mind before feeding carrot halwa to your baby, the carrot has to be grated finely and it should be well cooked. Wondering how to make Carrot Halwa? Read and learn how to make this yummy dessert in no time!
Cooking Time
| | |
| --- | --- |
| Type | Time (hh:mm:ss) |
| Preparation Time | 00:15:00 |
| Cook Time | 00:45:00 |
| Total Time | 01:00:00 |
Cooking Method
Gas
Type of Meal
Vegetarian
Suitable for
Any toddler above 16 months of age
Meal Schedule
Evening Snack or Post Lunch or Post-Dinner Dessert
Recipe Type
Dessert
Ingredients
| | |
| --- | --- |
| Type | Quantity/Volume |
| Carrot | 1 cup/ 2 medium-sized |
| Milk | ¼ cup |
| Crushed jaggery | ¼ cup |
| Ghee | 2 tablespoons |
| Raisins | A few |
| Cardamom powder | ¼ teaspoon |
| Wheat flour | 1 tablespoon |
Instructions
Here are step by step directions to make carrot halwa:
Wash the carrots, peel off their skin and grate the carrots finely using a grater.
Add one tablespoon of ghee in a pressure cooker and sauté the grated carrots for about one minute.
Now, add milk to the grated carrots and cook it until two whistles go off.
Once the pressure is released, open the cooker and add the crushed jaggery. Keep cooking on a low flame till the jaggery melts completely.
Now, add one tablespoon of wheat flour and stir until the mixture is thickened.
Next, add one tablespoon of ghee and cook for another one to two minutes while stirring constantly.
Take another pan, heat a little ghee and fry some raisins and cashews.
Add the fried raisins and cashews to the halwa, add the cardamom powder and some extra ghee if needed. Mix it well, keep mixing till the cardamom powder is well blended with the halwa. Switch off the stove.
The halwa can be served warm or kept in a refrigerator for a while and served cold, it depends on your taste and requirements.
Recipe Tips
The quality of the jaggery should be good so it can be used without melting and filtering.
Jaggery can also be replaced with brown sugar.
This simple Carrot Halwa recipe can be served with ice cream, it goes great with vanilla ice cream.
For babies younger than one year, homemade Carrot Halwa baby food recipe can be made with water too.
Nutrition Information ( Serving Per 100 Grams)
| | |
| --- | --- |
| Type | Value |
| Calories | 489 Kcal |
| Carbohydrates | 59.1 grams |
| Protein | 4.7 grams |
| Cholesterol | 63 milligrams |
| Fat | 28.5 grams |
| Sodium | 49 milligrams |
| Potassium | 168 milligrams |
Health Benefits
Wondering how healthy this tasty dessert is for your baby? Here are some health benefits of carrot halwa for babies/ toddlers:
Carrots are rich in beta carotene and Vitamin A which is good for the eyes. It also increases protection against fatal diseases like cancer.
Carrot Halwa is also an excellent source of calcium for bone development.
Carrots are a good source of dietary fiber, which ensures healthy digestion and bowel movements.
Chewing it properly makes sure saliva is produced properly and dental health is maintained.
Buying Guide
Here are some buying tips that you should keep in mind while picking up the ingredients for carrot halwa for your baby:
Make sure to pick up good quality jaggery, so that it can be used without filtering.
Organic fruits and vegetables are good for babies as these fruits and vegetables do not have any harmful chemical insecticides and pesticides. Organic products are great in general. It is a safer option and good for the health of your little munchkin.
Make sure, the carrots are not hard as they have to be grated.
Make these super-easy and delicious carrot halwa for babies. This dessert is very easy to make and your baby will definitely want more of this yummy dessert. With this easy to make recipe you won't have to worry about a quick dessert anymore and your children you absolutely love it.