Bajri Puff Porridge Recipe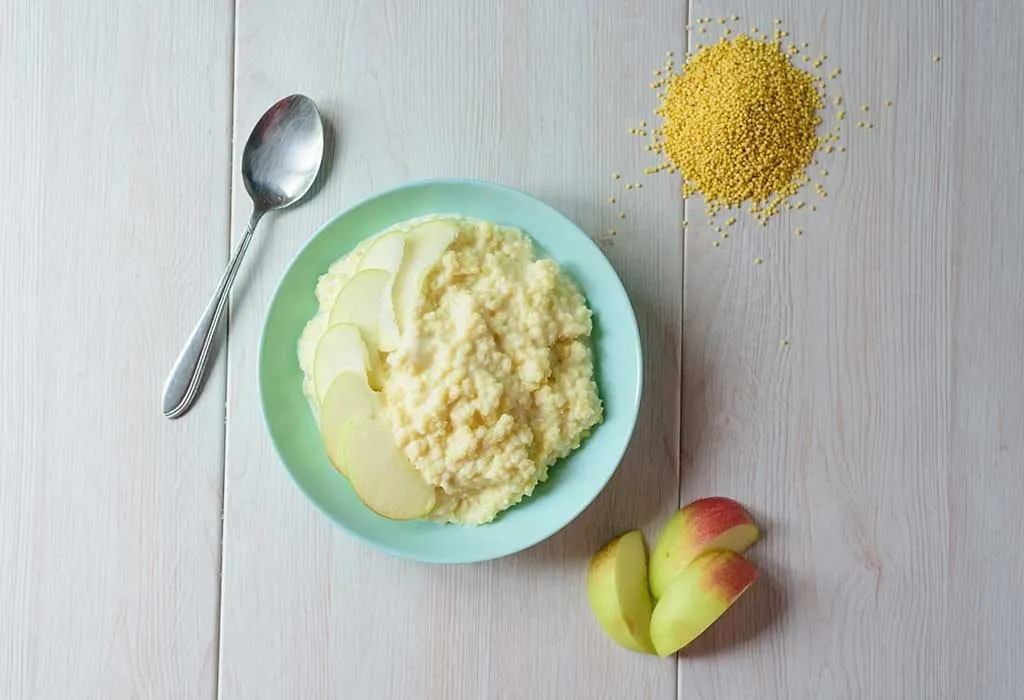 In this Article
Millets are known as super-food since they are extremely nutritious and rich in vitamins and minerals. Pearl Millet or Bajra is used to prepare the Bajri Puff Porridge. This dish is given to small babies and toddlers since it does not require them to chew, and most importantly, extremely healthy. Bajri Puff Porridge for babies is easy to cook and takes very less time to prepare. It is an old and traditional dish which can be eaten by both babies and adults.
Cooking Time
| | |
| --- | --- |
| Type | Time |
| Preparation Time | 00:12:00 |
| Cook Time | 00:03:00 |
| Total Time | 00:15:00 |
Cooking Method
Gas Stove
Type of Meal
Vegetarian
Suitable For
Any baby above 6 months of age
Meal Schedule
Breakfast or mid-morning
Recipe Type
Main Dish
Ingredients
| | |
| --- | --- |
| Ingredients | Quantity and Volume |
| Puffed Bajra (Pearl Millet) | 3-4 Tbsp |
| Apple (mashed) | 2-3 Tbsp |
| Khajur (Date) (de-seeded and pureed) | 3-4 |
| Ghee | 2 Tsp |
Instructions
You must be wondering how to make Bajri Puff Porridge! However, the dish is extremely easy and does not require any kind of fanfare to prepare. Here are the step by step instructions for preparing Bajri Puff Porridge.
Firstly soak the dates in a small bowl with little hot water for some time.
Once the dates have been soaked well enough, make a smooth paste in a blender using the water that you used to soak the dates.
Wash the apple and peel it.
De-seed the apple and cut it into small pieces.
Using clean hands, mash the apple pieces as much as possible.
In a non-stick pan, heat the ghee.
Once the ghee has heated, add the Bajra Puff.
Stir the bajra puff along with the ghee on a medium flame for a few seconds.
Then add about 1 cup water (or as much water as required) stirring slowly and continuously over medium heat.
Once the porridge is cooked, add the date puree and mashed apple. Mix well.
Serve the porridge when it gets lukewarm.
Recipe Tips
Make sure you remember the below-mentioned points before you start preparing the healthy and simple Bajri Puff Porridge recipe for your baby.
Remember to de-seed the date before adding it to the porridge.
Chop the dates before soaking them in warm water.
Make a puree of the soaked dates before putting it into the porridge to avoid choking the baby.
Do not use tap water to cook the porridge.
The outer cover of apples usually has wax. Therefore, peel the apple and use only the white part of the apple.
Always wash your hands thoroughly before cooking the porridge. The utensils used should also be properly cleaned before using it to cook the porridge.
Nutrition Information (Per 100 Grams)
| | |
| --- | --- |
| Nutrient | Value |
| Energy | 320 kCal |
| Protein | 6 gram |
| Carbohydrates | 47 gram |
| Fibre | 7 gram |
| Fat | 12.4 gram |
| Cholesterol | 0 mg |
| Vitamin A | 693.4 mcg |
| Vitamin B1 (Thiamine) | 0.2 mg |
| Vitamin B2 (Riboflavin) | 0.2 mg |
| Vitamin B3 (Niacin) | 1.4 mg |
| Vitamin C | 0.8 mg |
| Vitamin E | 0.2 mg |
| Folic Acid (Vitamin B9) | 25.6 mcg |
| Calcium | 34.4 mg |
| Iron | 4.4 mg |
| Magnesium | 80.8 mg |
| Phosphorus | 146.2 mg |
| Sodium | 5.8 mg |
| Potassium | 303.8 mg |
| Zinc | 1.6 mg |
Health Benefits
Listed here are few of the health benefits of home-made Bajri Puff Porridge baby food recipe.
Bajra is said to have the highest protein content among all the grains. Therefore it is a very good source of protein for babies, mostly for babies from vegetarian households.
Calcium in Bajra helps in proper growth of babies' bones and teeth.
Bajra also contains a fair amount of iron which helps to keep anaemia at bay in children.
Regular intake of Bajra puff porridge increases insulin sensitivity, thereby reducing the risk of juvenile diabetes in babies and children.
Giving Bajra porridge during the summer months can keep your baby's body cool.
Being fibre-rich, Bajra puff porridge cures constipation in babies.
It gets digested easily making the baby's stomach feel light.
Bajra puff porridge is beneficial in keeping the baby energetic and agile.
Bajra puff can keep the stomach of babies full for a longer time.
Buying Guide
Buy organic (if possible) and good quality products from a good store.
The apple used in the porridge should be of good quality; better still, buy organic apples.
Choose dates that are plump having a smooth outer layer with a healthy shine. Make sure the dates do not have a sour or foul smell or look dry.
Check the expiry date of the millet flour before buying it.
Our babies are very precious to us and therefore we always want the best for them. So, instead of depending on formula food bought from the market, make a little effort and give your baby a bowl of tasty and nutrient-rich Bajri Puff Porridge at least few times a week.