Tomato Carrot Mint Dip Recipe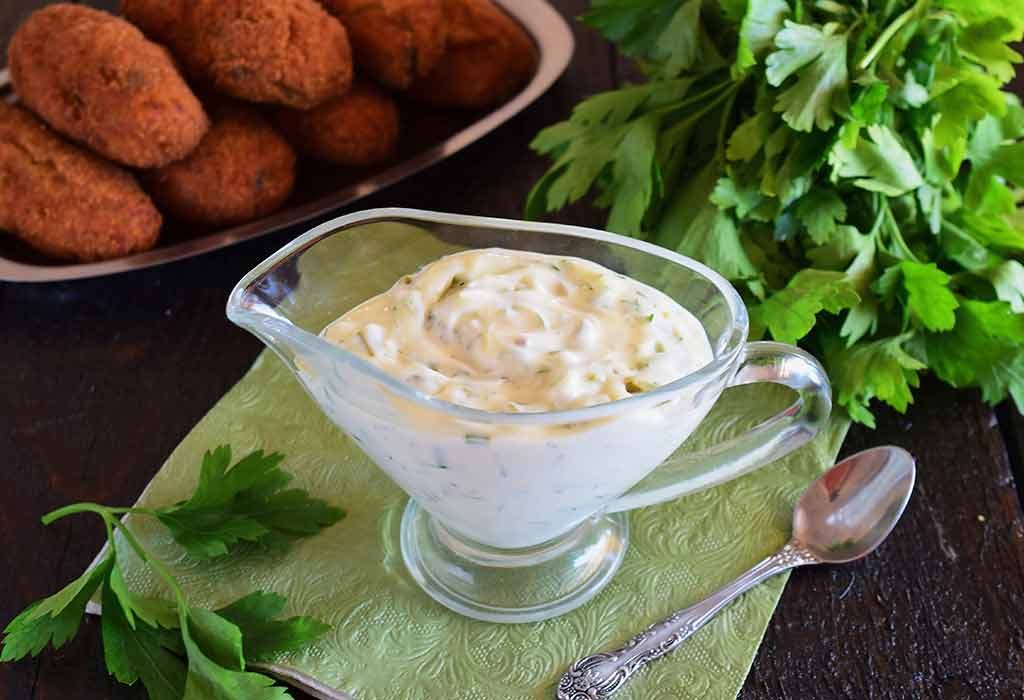 In this Article
As your baby is making his/her foray into finger food and light snacks, they would need some tasty accompaniment to go with it. This easy Tomato Carrot Mint Dip recipe will serve as an all-purpose side to finger foods and fried food. The tangy combination of tomato, carrot, and mint will tickle your toddler's taste buds.
Cooking Time
| | |
| --- | --- |
| Type | Time (hh:mm:ss) |
| Preparation time | 00:10:00 |
| Cook time | 00:15:00 |
| Total time | 00:25:00 |
Cooking Method
Gas, blender or mixer jar
Type of Meal
Vegetarian
Suitable For
Toddlers older than 20 months of age
Meal Schedule
Snacks, accompaniment for lunch or dinner
Recipe Type
Snacks or accompaniments
Ingredients
| | |
| --- | --- |
| Type | Quantity |
| Tomatoes | 1 |
| Carrots | 1 |
| Mint leaves | 2 teaspoons |
| Oil | A few teaspoons |
| Salt | As per taste |
| Yogurt | 5-8 tablespoons |
Instructions
If you are wondering how to make Tomato Carrot Mint Dip, then follow this step-by-step guide to whip up a lovely accompaniment for your baby's snacks!
Rinse and wash the tomatoes, carrots and mint leaves.
Grate the carrot, and chop the tomatoes into tiny pieces. Chop the mint leaves into tiny pieces, too.
Pour some oil into a pan and saute the tomatoes. Once they become mushy, add the grated carrots and saute them until soft. Toss in the mint leaves and mix then gently for a few seconds.
Let the mixture cool down.
Once it cools, add it to a blender jar and whip it well. Add some water if the ingredients are not blending.
Once the mixture has blended, add it to a bowl.
Add the yogurt and mix well.
Add salt as per taste, and serve with your favorite snack.
Recipe Tips
Follow these simple tips to perfect the homemade Tomato Carrot Mint Dip baby food recipe:
You can choose to grate the carrots, chop the tomatoes and mint leaves and add them to the yogurt without blending them.
By sauteing them in oil and making them into a paste, you can be assured that your baby will eat it, as very small babies will find it difficult to chew large chunks or pieces of vegetables.
Use thick yogurt to make the dip rich and nourishing.
Nutrition Information (per 100 grams)
| | |
| --- | --- |
| Type | Value |
| Calories | 20 kcal |
| Carbohydrates | 2 gms |
| Protein | 0.9 gm |
| Fiber | 1.9 gms |
| Cholesterol | 3 mg |
| Sugar | 1.4 gms |
Health Benefits
Tomato Carrot Mint Dip for toddlers is a great way of introducing vegetables into your baby's diet. The mashed form makes sure that your little one can consume it as a whole and receive its various health benefits, such as:
Tomatoes are loaded with Vitamin C, Vitamin A, calcium, potassium and lycopene. It is a perfect antioxidant and helps in strengthening the immunity levels of the body.
Carrots are rich in Vitamin A and help in developing eyesight. Carrots are high in fiber, antioxidants and boost the health of teeth and gums. Carrots help in the absorption of sugar in the bloodstream.
Mint leaves have antibacterial and antioxidant properties that aid in building immunity levels. Mint leaves relieve congestion and prevent allergies. Mint leaves are also good for the skin of babies.
Mint leaves alleviate the symptoms of allergies and hay fever.
Buying Guide
Watch for these things when sourcing ingredients for Tomato Carrot Mint Dip :
Buy firm and ripe tomatoes. Tomatoes will cook well only if they are firm and ripe.
Buy carrots that are ripe and juicy.
Buy mint leaves that are fresh and do not have holes in them. Make sure that the mint leaves are not wilted.
It is advisable to buy organic vegetables as they are free from chemicals and pesticides.
Use homemade yogurt for this recipe as it will be free from any additional preservatives or additives. In case you are using store-bought ones, make sure to buy the ones that come in sealed packages. Also, make sure you check the expiry date on the packaging.
It is important to offer a variety of fruits and vegetables to your toddler during their growing years. A good way of introducing vegetables and fruits is in a pureed form where they will get a taste of the vegetables and get used to it gradually. Tomatoes and carrots are vegetables that can be introduced from the time you start solid foods for your baby. This recipe is a great way of combining vegetables and yogurt to get the maximum benefits for your child.