Besan Jowar Coriander Chila Recipe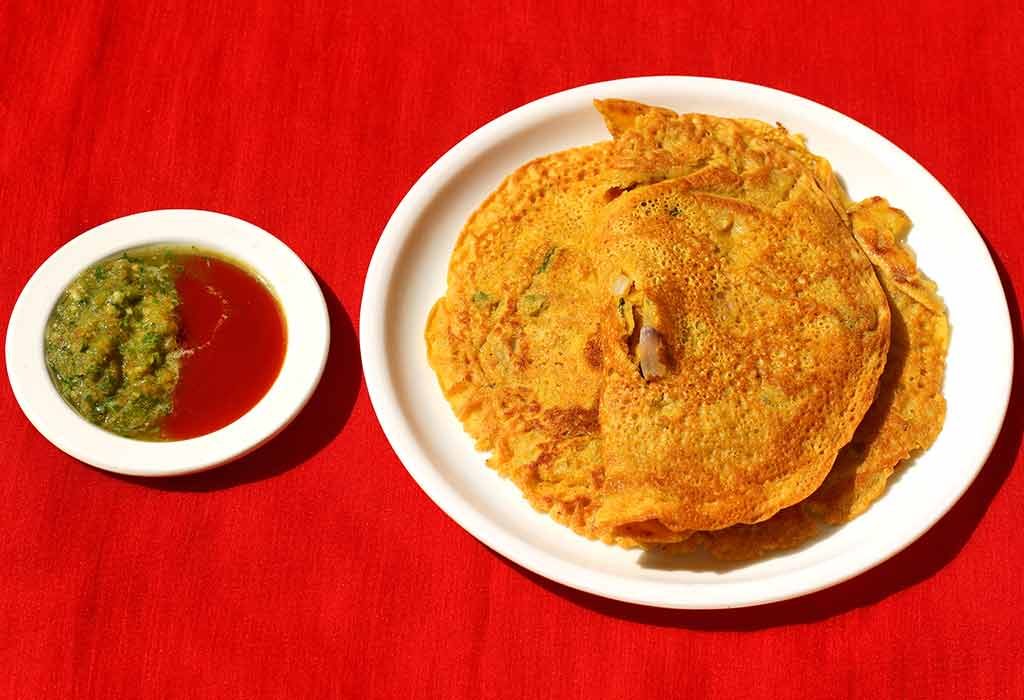 In this Article
Jowar, also known as Sorghum, is a millet which is a powerhouse of essential vitamins, antioxidants and minerals. It is loaded with a good amount of calcium, copper, zinc, phosphorous, potassium and all building B vitamins. It is gluten-free, whole grain and makes a yummy chilla when combined with besan. Besan Jowar Coriander chilla for toddlers is easy to make, unlike the plain jowar roti which kids may not like. This recipe does not require much time and can be an instant bite too for playing kids.
Cooking Time
| | |
| --- | --- |
| Type | Time (hh:mm:ss) |
| Preparation Time | 00:05:00 |
| Cook Time | 00:20:00 |
| Total Time | 00:25:00 |
Cooking Method
Gas Stove
Type of Meal
Vegetarian
Suitable For
Babies from 10 months onwards
Meal Schedule
Breakfast or brunch
Recipe Type
Main Dish
Ingredients
| | |
| --- | --- |
| Ingredients | Quantity and Volume |
| Gram (Besan) Flour | 1/2 cup |
| Jowar flour | 1 cup |
| Cumin seeds | 1 Tsp |
| Carom Seeds | 1 Tsp |
| Turmeric | 1/4th Tsp |
| Ginger pod | 1 inch |
| Garlic cloves | 4 |
| Green chilli | 1 |
| Finely chopped coriander leaves | 1/2 cup |
| Water | As required |
Instructions
Now let us look into how to make Besan jowar coriander chilla. It is an instant recipe and extremely nutritious.
Follow the step by step directions to prepare Besan Jowar Coriander Chilla:
In a mixer jar add green chilli, chopped ginger pods, garlic cloves, cumin and carom seeds. Grind it to a coarse paste.
In a mixing bowl, add jowar flour, besan flour, turmeric, the ground paste, coriander and salt.
Mix gently by adding water.
Stir continuously so that no lumps are formed.
Make a thick batter with flowing consistency.
Heat a skillet and grease it with ghee.
Pour a ladleful of the chilla batter and spread in a circular motion.
Cook on medium flame until it turns a little brownish.
Flip it and cook on the other side too.
Hot Besan Jowar Coriander chilla is ready to be served.
It tastes best with mint chutney or tomato chutney.
It is best to use the whole batter at once and make as many chillas as you can. The batter loses its taste if refrigerated for later use.
Recipe Tips
Here are a few tips to note to before you make this easy Besan Chilla recipe.
Do not use the besan and jowar flour without sieving them. It is important to have lump free flour for easy mixing.
Red chilli powder in moderate quantity can be used instead of green chilli.
While using green chilli, remove the seeds in it so that it will be less spicy for babies.
Grated tomato can be added to enhance taste and nutrition.
It is important to cook chillas on both sides. Half cooked jowar can upset the baby's stomach.
It is best to add boiled and cooled water as you are making this for babies.
Do not roast the chilla too much as roasting too much will give burnt smell and kids may not like it.
Make sure you wash chilly, coriander and ginger thoroughly before using.
Nutrition Information (Per 100 Grams)
| | |
| --- | --- |
| Nutrient | Value |
| Energy | 92 Cal |
| Protein | 2.3 g |
| Carbohydrates | 16.5 g |
| Fat | 2.1 g |
| Fibre | 2.4 g |
| Fat | 2.1 g |
| Vitamin A | 192.7 mcg |
| Vitamin B1 | 0.1 mg |
| Vitamin B3 | 0.8 mg |
| Vitamin C | 8.2 mg |
| Vitamin E | 0.1 mg |
| Vitamin B9 or folic acid | 12.8 mcg |
| Calcium | 21.8 mg |
| Iron | 1 mg |
| Magnesium | 30.3 mg |
| Phosphorous | 67.1 mg |
| Sodium | 6.1 mg |
| Potassium | 94.7 mg |
| Zinc | 0.4 mg |
Health Benefits
This homemade Besan Jowar Coriander chilla recipe is a nutritious one and has a lot of health benefits for your little one:
Jowar and besan are gluten-free. Jowar is rich in antioxidants while besan is rich in protein. These while combined together improve the metabolism thus preventing constipation in babies and toddlers.
Jowar helps in maintaining a feeling of fullness or satiety in kids.
A rich source of Vitamin B, this recipe is sure to boost the immunity.
Adding jowar to your baby's diet is sure to reap a lot of benefits in their health in the long run.
Coriander, ginger and garlic in this recipe will introduce the various tastes to your little one.
Buying Guide
Buy organic and good quality flour.
Check the expiry date on the packing.
Make sure the pack is sealed well and hygienic.
Check the spices for any insects in it.
Do not buy roasted gram flour for this recipe.
Our babies are a precious part of our lives, and they deserve the best when it comes to food and nutrition. So instead of store brought formula food, let us give them a wholesome recipe like this Besan jowar coriander chilla on a regular basis.