Murmura Chivda Recipe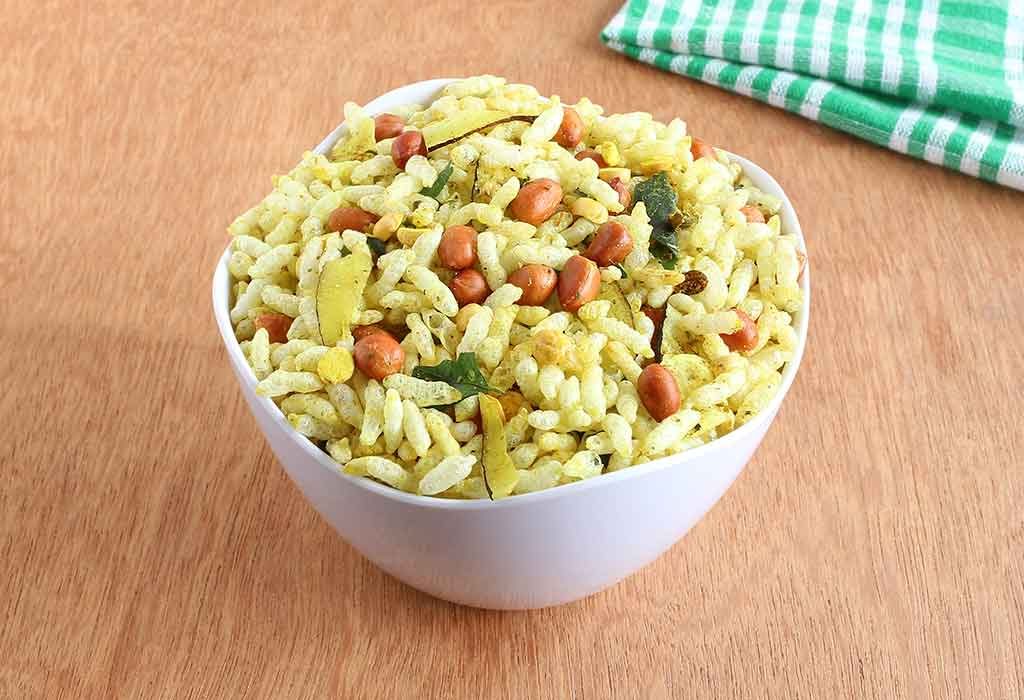 In this Article
Murmura or puffed rice is one of the best snacking options for toddlers since it is rich in dietary fibres and helps in quick digestion. It is rich in protein, vitamins, calcium and iron. Puffed rice, when consumed with nuts and raisins enhances its nutritive value as well as taste. It can be quickly prepared, and it can be given as a superfood for kids in their break time during school or their evening day-care (given the busy life of a working mom). You can also carry this along when you go on a short vacation, and it's a healthy alternative to the unhealthy chips and fried snacks. Given below is a quick guide on the ingredients and measurements to prepare the homemade murmura chivda baby food recipe.
Cooking Time
| | |
| --- | --- |
| Type | Time (hh:mm:ss) |
| Preparation Time | 00:07:00 |
| Cook Time | 00:08:00 |
| Total Time | 00:15:00 |
Cooking Method
Gas
Type of Meal
Vegetarian
Suitable For
Toddlers older than 14 months old
Meal Schedule
Mid-Morning Snack and Evening Snack
Recipe Type
Snack
Ingredients
| | |
| --- | --- |
| Type | Quantity |
| Puffed rice | 2 cups |
| Peanuts | 2 tablespoons |
| Cashew nuts (chopped) | 8 -10 numbers |
| Almonds (chopped) | 5 -6 numbers |
| Black raisins (chopped) | 2 tablespoons |
| Roasted gram split | 2 tablespoons |
| Curry leaves | 6 -7 numbers |
| Asafoetida | ¼ teaspoon |
| Paprika powder/Chilli powder | ½ teaspoon |
| Turmeric powder | ½ teaspoon |
| Desi ghee | 2 tablespoons |
| Salt to taste | |
Instructions
If you are planning to give this healthy snack to your toddler, learn here how to make murmura chivda for toddlers. Here is a step-by-step guide on how to make this tasty and healthy snack.
Clean the puffed rice properly, removing the husk. Then keep aside.
Chop the almonds and cashew nuts into medium-sized pieces which would make it easier for toddlers to chew.
Heat the desi ghee in a wok.
Add the peanuts and fry until light brown. Next, add in the chopped nuts and almonds, roasted gram split, and curry leaves and fry for a minute.
Add in the turmeric powder, paprika powder, asafoetida and salt to taste.
Sauté and splutter for 30-45 seconds on a low flame.
Turn off the flame and allow it to cool at room temperature.
Once it cools down completely, add in the puffed rice and sauté it again on a low flame for another 2 minutes till it gets mixed well with the spices and salt.
Allow the mixture to cool down and add the raisins to it.
Store it in an airtight container for longer shelf life. However, make sure you consume this within 3-4 weeks.
Recipe Tips
Follow the below-mentioned recipe tips to make this snack item for your toddler.
Ensure that puffed rice is free from stones and other impurities as this may cause digestion issues for children.
You can add coconut sugar or jaggery to enhance the taste. This will also reduce the spice levels if higher.
Generally, children tend to avoid eating vegetables. This can be served as a main meal for kids by adding grated carrots, onions, tomatoes, sprouts and raw mangoes at the time of serving. This would make it more like a salad and a healthy meal.
Use cast iron wok to make it richer in iron. Also, do ensure that the container is free from moisture to retain the crispiness of the puffed rice.
Nutrition Information (per 1 Cup)
| | |
| --- | --- |
| Type | Value |
| Energy | 113 calories |
| Carbohydrates | 9.9 grams |
| Protein | 1.2 grams |
| Potassium | 33.6 milligrams |
| Calcium | 3.5 milligrams |
| Iron | 0.8 milligrams |
| Sodium | 1 milligram |
| Magnesium | 4.7 milligrams |
| Phosphorous | 22.5 milligrams |
| Zinc | 0.2 milligrams |
| Dietary fibre | 0.3 grams |
| Fat | 7.8 grams |
Health Benefits
Given below are some health benefits of murmura chivda.
Puffed rice contains protein and fibre. Protein is required to build muscles in the body and fibre keeps one energetic for a longer period which is required for growing children.
Nuts are an outstanding source of nutrients like vitamins, minerals, antioxidants, healthy fats, protein and fibre. This helps in the growth and development of the children.
Roasted gram split is rich in manganese, folate, protein, dietary fibre, copper, phosphorus and iron.
Desi ghee helps in digestion and turmeric helps improve the immune system.
Buying Guide
Things that you should keep in mind while picking up ingredients for the preparation are listed below.
Always buy fresh puffed rice as it needs to be crispy for longer shelf life. The old stock will have a sour taste and hence not advisable for kids. Buying organic puffed rice or puffed rice (brown) is a healthier option.
Before buying puffed rice, ensure that it does not contain small stones and other impurities.
Branded nuts and raisins are recommended for quality and taste.
Homemade desi ghee is a better option.
You may now try preparing this healthy recipe on your toddler's birthday or on any day. It is always a better idea to prepare simple homemade food for toddlers rather than buying food from outside. Go ahead and enjoy the lip-smacking yet simple murmura chivda with your toddler.