Oats Muffin Recipe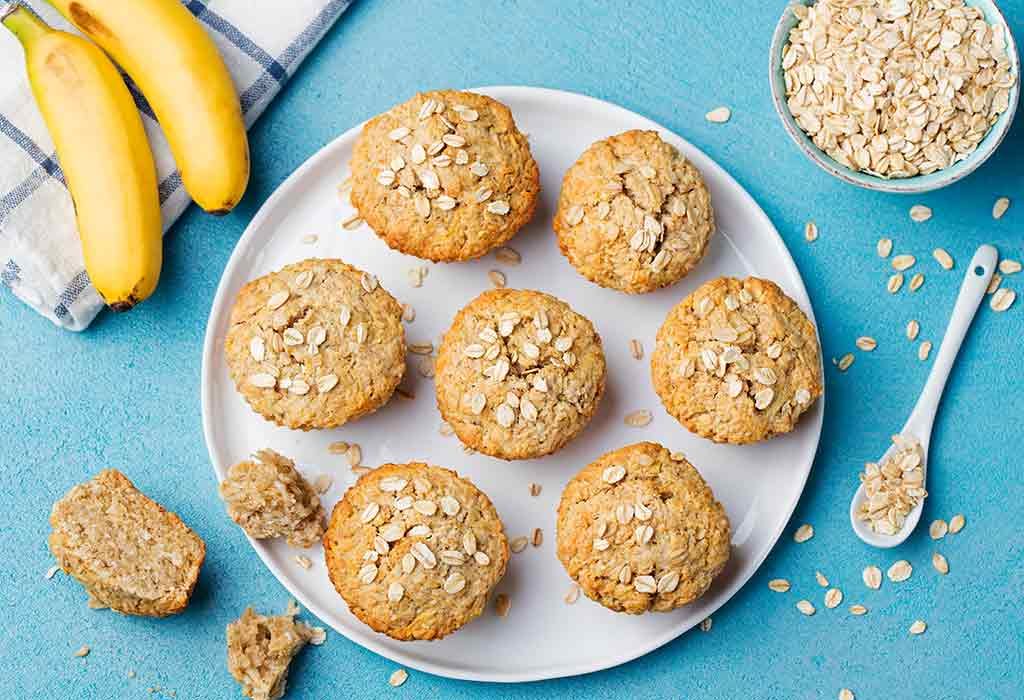 In this Article
Muffins are a favourite with kids. They are super healthy, customizable, and grab and go kind of food. You will hardly find a kid rejecting muffins, and you have the option of making them at home and to make sure you give them what you feel is right. Oats muffins for babies is one such nutritious choice of muffins. You can prepare them well in advance and freeze them for later use. It gives you much less worry in the mornings when you are scrambling to fix up breakfast for your tiny tot and are torn between giving them something healthy but is also quick and easy to make. You could change the taste by adding your choice of titbits like apple chunks, blueberries, almonds, etc.
Cooking Time
| | |
| --- | --- |
| Type | Time (hh:mm:ss) |
| Preparation Time | 00:15:00 |
| Cook Time | 00:20:00 |
| Total Time | 00:35:00 |
Cooking Method
Oven
Type of Meal
Vegetarian
Suitable For
Toddlers above 17 months of age
Meal Schedule
Breakfast
Recipe Type
Snacks or side-dish
Ingredients
| | |
| --- | --- |
| Ingredients | Quantity and Volume |
| Rolled oats flour | 2 cups |
| All-purpose flour | 1 cup |
| Banana | 2 |
| Cinnamon powder | 1 tsp |
| Unsweetened apple sauce | ¼ cup |
| Baking soda | ½ tsp |
| Baking powder | 1 tsp |
| Maple syrup (optional) | 2 tbsp |
| Salt | Just a pinch |
| Coconut oil | To grease the muffin cups |
| Vanilla extract | ¼ tsp |
| Coconut Milk | ½ cup |
Instructions
Below is the step by step procedure to prepare Oats muffins. This recipe is eggless as we want to give a snack that is free of any allergens.
Preheat oven to 200 degrees Celsius.
In a large mixing bowl, mix all-purpose flour, oats flour, baking soda, baking powder and salt.
In another bowl mix milk, applesauce, and maple syrup (if using).
Mash bananas and add them to the above mix and combine them properly.
Now stir in the flour mix into the milk and banana mix. Pour it slowly while stirring continuously so that no lumps are formed.
Grease muffin tray with coconut oil.
Divide the muffin batter into the grooves of the muffin tray, evenly.
Put it inside the oven and bake for 20 minutes.
To make sure the muffins are done well, insert a fork or toothpick into the muffin, and it should come out clean.
You can store them at room temperature for two days or refrigerate them in airtight containers for one week.
Recipe Tips
This is an easy Oats muffins recipe which tastes good and is also a boon to the family since you can store them and use it as and when you want.
This is an eggless and dairy-free recipe, but one can always replace coconut milk with formula milk or cow's milk and eggs into it. This recipe does not have these ingredients to take care of any kind of allergy a baby can have towards these allergens.
Bananas and applesauce in this give the muffins ample sweetness for a young child. But if your child wants a sweeter version, then maple syrup is a good option.
You could deep freeze the cooked muffins upto six months. The best way to do that is to use parchment paper to stack them in Tupperware.
One can also add wheat flour in it, we have kept it gluten-free, but it depends on the kind of diet you want to follow for your baby.
The batter should be a thick one, like idli batter, so adjust the consistency with milk if you need to make it thinner or thicker.
Different ovens can have different temperatures, so keep a watch on your oven temperature.
Nutrition Information (per muffin)
| | |
| --- | --- |
| Nutrient | Value |
| Energy | 90 Cal |
| Protein | 2 gm |
| Carbohydrates | 18 gm |
| Fat | 1 gm |
| Fibre | 2 gm |
| Calcium | 1% |
| Iron | 6% |
| Sodium | 109 mg |
| Cholesterol | 16 mg |
| Vitamin A | 1% |
| Vitamin C | 7% |
* Percentages are based on a diet of 2000 calories a day.
Health Benefits
This home-made Oats muffins baby food recipe is geared towards keeping it easy to cook, making it nutrient-dense and above all, taste delicious for your munchkin to approve it.
The sweetness in these muffins comes 100% from fruits and no added sweetener is there which could cause issues for your child.
The fruits like applesauce bring a lot of fibre into the muffins.
Oats have a beta-glucan which is excellent to built immunity in babies.
Buying Guide
These days you get organic options for all the ingredients listed here, so try to use mostly organic items.
It is preferable to buy a silicon muffin tray since the non-stick ones can be coated with materials that can leech toxins into the muffins.
We hope this procedure on how to make Oats muffins for a child was easy to follow, and you would want to keep it at the top of your list as a meal for your child.