Tofu Bhurji Recipe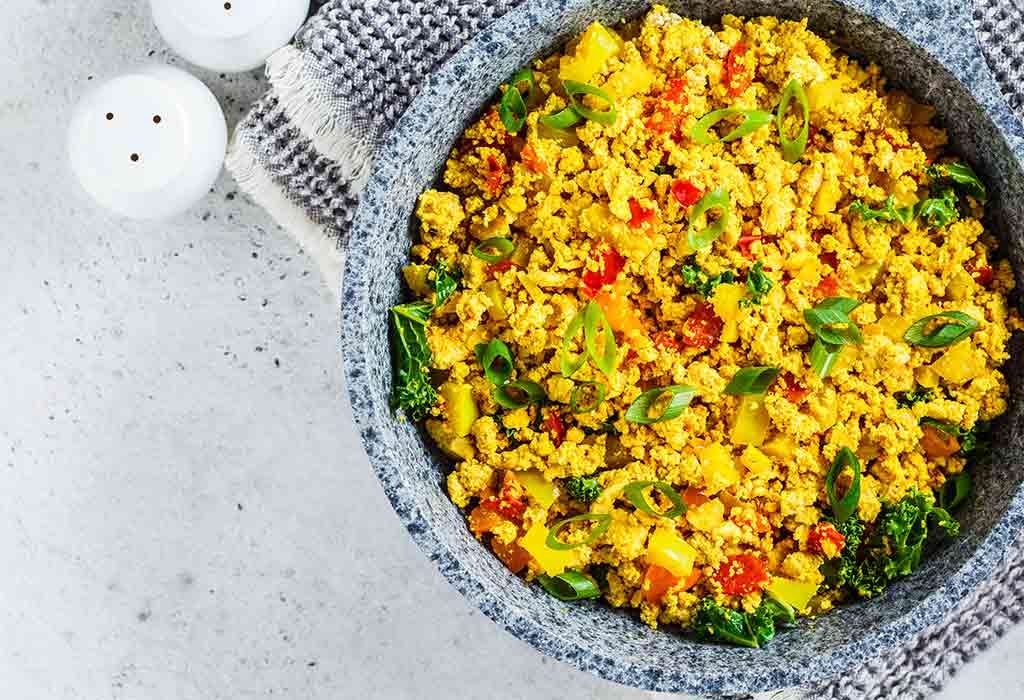 In this Article
One of the best nutritious dishes, Tofu Bhurji can be made in a jiffy. Learn how to make Tofu Bhurji for your lactose intolerant kid that can be paired with bread, chapatti or even rice. A great substitute for paneer, tofu absorbs the seasonings and this Tofu Bhurji is rich in protein, calcium, low on calories and carbohydrates.
Cooking Time
| | |
| --- | --- |
| Type | Time |
| Preparation Time | 00:10:00 |
| Cooking Time | 00:30:00 |
| Total Time | 00:40:00 |
Total Servings: 3-4
Cooking Method: Gas stove or induction
Suitable for: Any toddler above 17 months of age
Type of Meal: Great for vegans, Suitable for vegetarians too
Meal Schedule: Breakfast, Lunch, Dinner or even Evening Snack
Recipe Type: Main Dish for breakfast, lunch and dinner
Ingredients
| | |
| --- | --- |
| Ingredients | Quantity & Volume |
| Tofu | 250 gm |
| Onion | 1 finely chopped |
| Tomato | 1 finely chopped |
| Green Peas | ¼ cup |
| Turmeric | ¼ teaspoon |
| Black Pepper Powder | 1 teaspoon |
| Ghee/Oil | 2 tablespoons |
| Coriander | 2 tablespoons finely chopped |
| Salt | As per taste |
Instructions
Here is a detailed procedure guide on how to make Tofu Bhurji for babies/toddlers.
Start with rinsing the tofu block in fresh water. Rinse it well for a couple of minutes. Pat it dry on a tissue paper, kitchen paper towel or a clean kitchen towel ( usually made of cotton or muslin)
Grate or chop the tofu into small pieces.
Heat ghee or oil in a pan or wok. Add the finely chopped onions and saute for 1-2 minutes until it becomes soft
Next add the finely chopped tomatoes and saute until they are mushy and well-cooked
Toss in the green peas and add some salt. Stir fry it with the onions and tomatoes for a minute or so. Cover and cook the peas until they are soft.
Add turmeric and mix well
Follow by adding the chopped or scrambled tofu and mix well. Add salt if needed and stir fry for a couple of minutes and cover and cook for 3 minutes.
Add the freshly crushed black pepper and mix well.
Lastly garnish the tofu bhurji wth finely chopped coriander.
Recipe Tips
Tofu can be introduced in a child's diet only after they complete 8-9 months of age and not before that. Babies with soy allergies must not be given tofu.
Do not add too much salt to the dish as children do not need salt in their food as per recommended guidelines.
Wash the tofu before use and dry it thoroughly before chopping or grating it
Wash the tomatoes in cold water before use.
If you are using fresh green peas make sure you wash it thoroughly. Fresh peas take more time to cook so cover and cook it until they are soft.
If you are using frozen peas, make sure you thaw it or keep it out of the freezer for some time before you use it. If you use it directly from the freezer it will release a lot of water and make the Tofu Bhurji with a gravy-like consistency. Tofu Bhurji tastes best when it is dry with just the right amount of moisture.
Wash the coriander thoroughly before chopping them for garnish.
Chop the onions and tomatoes finely so that they will cook well and your baby can chew tiny bits of the vegetable.
Use generous amount of ghee or oil to sauté the onions and tomatoes. Using more fat will enhance the taste and go well as an accompaniment with bread, chapatti or even rice.
Health Benefits
Tofu contains nutrients like calcium, selenium and iron. It is highly beneficial for kids who are lactose intolerant and can get their dose of calcium from the tofu.
Green peas are a rich source of Vitamin C and fibre. It aids in healthy digestion.
Tomatoes are filled with Vitamin C and also good antioxidants to the body to help fight free radicals.
Onions are also filled with iron, folate and calcium.
Nutritional Facts Per Servings
| | |
| --- | --- |
| Nutrient | Value |
| Calories | 315 |
| Fats | 20 gm |
| Carbohydrates | 14 gm |
| Protein | 29 gm |
| Dietary Fibre | 4.5 gm |
| Calcium | 560 mg |
| Iron | 14.2 mg |
| Vitamin C | 95.7 mg |
Buying Guide
Tofu Bhurji baby food recipe is a simple recipe for babies over 8-9 months of age and a perfect recipe that can be made with ingredients at home.
Make sure you buy tofu that comes in sealed packs. Ensure that you check the expiry or best before date before you buy the tofu.
Make sure you buy ripe and firm tomatoes. The squishy ones will release a lot of water and lessen the consistency of the dish.
You can crush a few pods of black pepper in a mortar and pestle and sprinkle it over the mixture. This is a better option than using finely ground black pepper powder.
It is ideal if you use homemade ghee to saute the onions and tomatoes but if you do not have it you can use the branded ones from the store.
If you are vegan, then you can use olive oil, refined oil or any other vegetable oil instead of ghee.