Veg Sandwich Recipe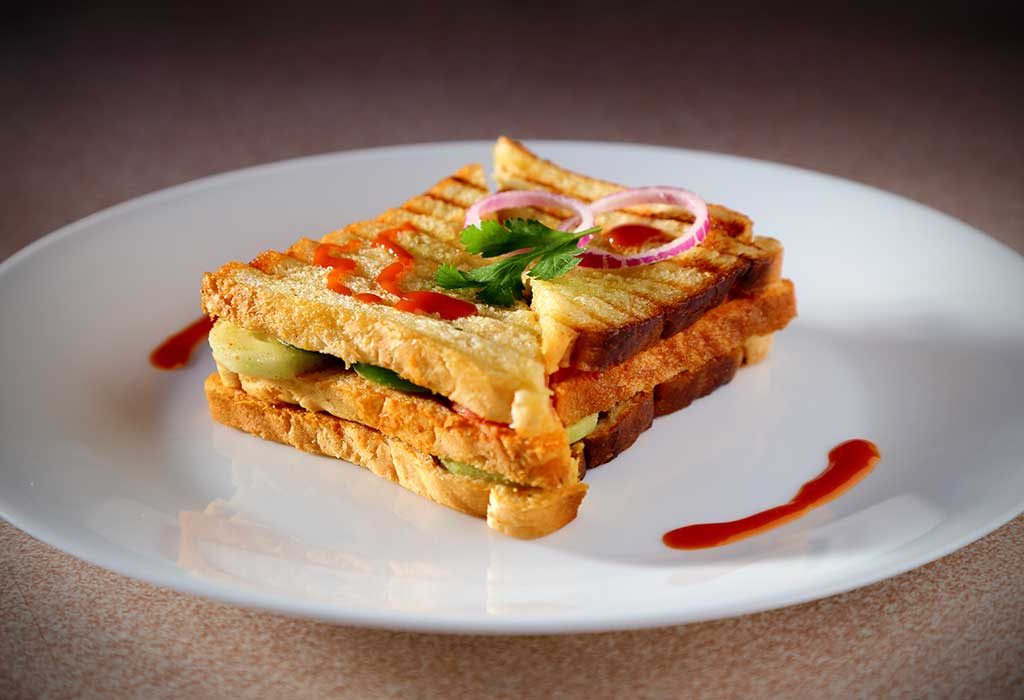 If your child doesn't like to eat veggies, mommy, you will have to find one way or the other to sneak in nutrition. How about you make a healthy vegetable sandwich for your child? A vegetable sandwich is a perfect mix of protein, carbohydrates, vitamins, minerals and the calories required for his wholesome growth. Learn how you can make a vegetable sandwich with multigrain bread or white bread to serve for breakfast or as an evening snack.
Cooking Time
| | |
| --- | --- |
| Type | Time |
| Preparation Time | 00:30:00 |
| Cook Time | 00:40:00 |
| Total Time | 01:10:00 |

Total Servings
3-4
Cooking Method
Gas stove or induction
Suitable for
Any toddler above 14 months of age
Type of Meal
Suitable for vegetarians and vegans
Meal Schedule
Breakfast and evening snack
Recipe Type
Main dish for breakfast and evening snack
Ingredients
| | |
| --- | --- |
| Ingredients | Quantity & Volume |
| Bread slices | 4 whole slices |
| Onion | 1 finely chopped |
| Tomato | 1 finely chopped |
| Green peas | ¼ cup |
| Potato | ¼ cup finely chopped |
| Black pepper powder | 1 teaspoon |
| Ghee/oil | 2 tablespoons |
| Coriander | 2 tablespoons finely chopped |
| Mint leaves | 1 tablespoon finely chopped |
| Salt | As per taste |
| Red chilli powder | 1 teaspoon |
| Coriander powder | 1 teaspoon |
| Garam masala | ½ teaspoon |
| Butter | 6-10 tablespoon |
Instructions
Here is a detailed step-by-step procedure on how to make a vegetable sandwich for babies/toddlers.
Start with washing all the veggies thoroughly in cold water.
Chop the onions, tomatoes, and potatoes finely.
Chop the mint and coriander leaves finely and keep aside.
Heat ghee or oil in a pan or wok. Add finely chopped onions and sauté for 2 minutes until soft.
Next, add the finely chopped tomatoes and sauté until they are mushy and well-cooked.
Sprinkle the mint and coriander leaves and let it release flavour into the onion and tomato mixture.
Toss in the green peas and add some salt. Stir fry it with onions and tomatoes for a minute or so. Cover and cook the peas until soft.
Next, add the finely chopped potatoes, add some salt and sprinkle some water. Cover and cook till the potatoes turn soft.
Add red chilli powder, coriander powder, and salt to taste, then mix well.
After a few minutes, add the garam masala. Cover and cook till the water evaporates.
Take two slices of bread and spread some butter on it. Spread butter on both sides of each slice.
Toast the bread slice on a hot tawa lightly till it is golden brown.
Spread the vegetable mixture on one slice of bread.
Press the other slice over it to seal the two slices completely.
Recipe Tips
Follow the below tips to make a delicious sandwich for your little one.
Sauté and cook the vegetables well so that your child can chew easily.
Once you make the whole sandwich, cut them into tiny pieces so that your toddler can chew and eat it. Unless they have all their baby teeth, it will be difficult for them to eat the whole sandwich.
Do not add too much salt to the dish as children do not need salt in their food as per recommended guidelines.
Wash the mint and coriander leaves thoroughly before chopping.
If you are using frozen peas, thaw it or take it from the deep freezer before cooking.
Fresh peas need to be washed thoroughly after being removed from the pod. Sprinkle some water after adding the peas to make sure they cook well.
Chop the potatoes well and cook them until they are soft so that your baby does not have difficulty chewing.
You can reduce the amount of red chilli powder, coriander powder and garam masala if your child does not like too much of spice.
Spread butter generously as it will help to soften the bread to help your baby to chew.
Nutritional Facts Per Servings
| | |
| --- | --- |
| Nutrient | Value |
| Calories | 250 |
| Fats | 10 gm |
| Carbohydrates | 41.4 gms |
| Protein | 10.8 gms |
| Dietary Fibre | 4.5 gms |
| Calcium | 560 mg |
| Iron | 14.2 mg |
| Vitamin C | 95.7 mg |
Nutritional Facts Serving Per 100 Grams
| | |
| --- | --- |
| Nutrient | Value |
| Total Calories | 300 |
| Protein | 20 gm |
| Total Carbohydrates | 50 gms |
| Dietary Fibre | 4.5 gm |
Health Benefits
A homemade vegetable sandwich can be very beneficial for your child's health. But you should give it to your child only if he is above twelve months of age. Learn about the benefits of a veggie sandwich.
Onions are a rich source of iron, folate, phosphorous and magnesium. They are ideal ingredients to add to the diet of a toddler for increasing immunity levels.
Tomatoes are rich in Vitamin C and also good for the skin.
Green peas are also a great source of Vitamin C and aid digestion.
Buying Guide
Here are a few things you should keep in mind while going shopping for the ingredients needed to make a vegetable sandwich.
A vegetable sandwich tastes best with white bread. But wholewheat bread or multigrain bread is a healthier option. It has the requisite dietary fibre to aid digestion.
Make sure you buy ripe and firm tomatoes. Ripe tomatoes cook easily and release the flavour when the mint and coriander leaves are tossed into it.
Buy fresh peas and potatoes to add to the taste.
Buy good quality, branded butter as butter contains fat and it must be easily digested.
A veggie sandwich is very nutritious and healthy. You can serve it to your child during breakfast or at snack time. Make mealtimes happy with this dish!
?>