Rice Porridge Recipe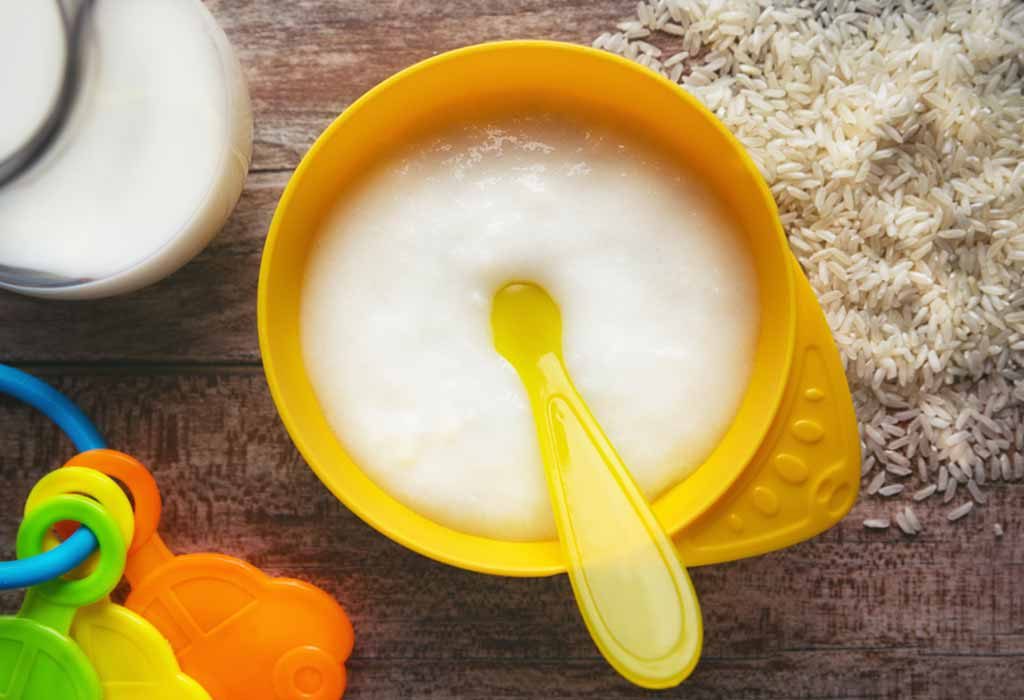 Popularly known as 'congee', 'zhou', or 'jook', rice porridge is an ideal first food for babies who are more than six months of age. Traditionally served in East Asian and Chinese homes for centuries, this common meal is easily digestible, highly nutritious and less likely to cause allergic reactions in babies. Homemade rice porridge powder is an amazingly versatile meal option that can be made into a quick lunch or sweet porridge. Babies find its creamy and smooth texture easy to swallow especially during fever, teething or even diarrhea. Made with parboiled rice and water, it makes one of the best base cereal that is tasty, inexpensive and contains the health benefits that your baby's daily diet should contain. Find out how to make rice porridge for your weaning baby instantly as it makes a wholesome meal idea.
Video: How to Make Rice Porridge for Babies (With Recipe Tips & Buying Guide)
Cooking Time
| | |
| --- | --- |
| Type | Time (hh:mm:ss) |
| Preparation Time | 00:10:00 |
| Cook Time | 00:15:00 |
| Total Time | 00:25:00 |
Cooking Method
Gas Stove
Type of Meal
Vegetarian
Suitable For
Weaning babies older than six months of age
Meal Schedule
Lunch or dinner
Recipe Type
Main Dish
Ingredients
| | |
| --- | --- |
| Type | Quantity |
| Parboiled rice | 2 Tbsp |
| Water | 1.5 cup |
Instructions
Follow the step by step directions mentioned below for preparing the yummiest rice porridge for your little munchkin.
Take 2 tbsp. of rice and wash it well. Drain out the water completely and dry it for an hour under the sun or shade.
Dry roast the dried rice in a pan until it turns light and fluffy. Grind the rice in a mixer to form a coarse powder.
Take 2 teaspoons of the coarse rice powder and one cup of water in a pan.
Cook it on low flame for about 5 minutes.
Mix it well, ensure that there are no lumps formed and the porridge gets a saucy consistency.
Switch off the flame and let it cool down. Pour it into a bowl before serving to your baby.
Recipe Tips
This simple rice porridge recipe can be made healthier by adding ¼ tsp of pure coconut oil or ghee for underweight babies.
This homemade rice porridge baby food recipe can be made tastier by using basmati rice, ponni, sona masuri rice that are more fragrant than the other varieties of rice.
You can soak the rice in water for about 6 hours before rinsing it as it gets broken down for easy digestion.
Do not add sugar or salt in the porridge for babies less than one year of age.
Introduce rice porridge in its diluted form for about a week. Once your baby is comfortable and gets no allergic reactions you can make it thicker.
It is mandatory to follow the standard instructions of sterilizing the utensils, bottles and washing your hands well before cooking or feeding your child.
You can add a pinch of ajwain, carom seeds or moong dal to add flavor to this recipe for toddlers.
Adding breast milk or formula milk can enhance the nutritional value of this recipe. Any fruit puree or mashed potato can also be added to the cereal instead of milk.
If the rice porridge thickens after cooling down adjust with warm water.
Check with your pediatrician before introducing any new food to your baby.
Nutrition Information (Per 1 Cup)
| | |
| --- | --- |
| Type | Value |
| Energy | 675 kCal |
| Carbohydrates | 147 grams |
| Protein | 13 grams |
| Sodium | 9 mg |
| Fiber | 2 grams |
| Fat | 1 grams |
| Potassium | 212 grams |
| Calcium | 52 mg |
Health Benefits
Rice porridge is one of the most baby-friendly foods that is recommended by most experts. It is highly sustainable and has exceptional health benefits for both babies and toddlers:
Rice water is a great source of energy for babies as it contains carbohydrates that fulfill the energy requirements for a day-long activity.
Easy to digest, rice porridge eases the bowel movements in babies.
Rice can be the best staple food containing the essential proteins and vitamins that are needed for the overall development of babies.
Brown rice is a good source of B complex vitamins that aid in brain functioning. The amino acids found in rice rejuvenate the muscles, builds ligaments and tendons.
Buying Guide
Take note of the necessary guidelines while shopping for the best quality ingredients required for making rice porridge.
Pay attention to the color of the rice, rice texture `and appearance before choosing rice. Organic brown rice has more nutritional value.
Make sure that the rice does not have weevil, stones or any lubricant content in them.
Buy from a trusted store that guarantees quality for its price, as sometimes old and new varieties of rice can be mixed to cheat the customers.
Homemade rice porridge for babies is highly recommended for babies as it is a safe baby cereal substitute than packaged products readily available in the supermarket. This delicious dry powder can be your constant companion during travel and can be served almost every day of the week.