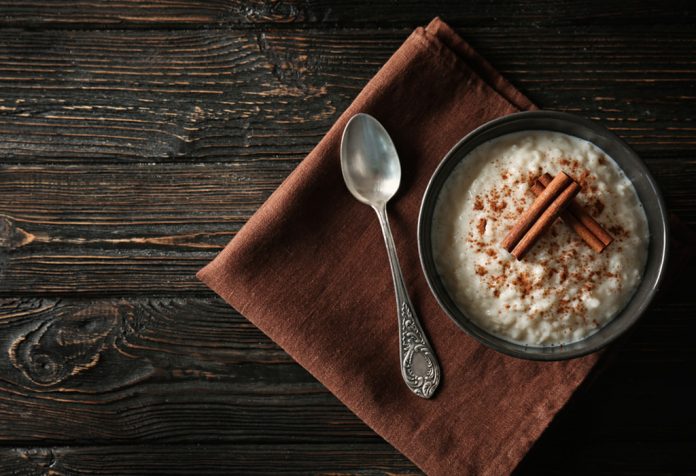 Last Updated on
One of the hardest parts associated with being the mother of an infant is her diet. Feeding the child not only becomes a regular chore, but also a constant, confusing question. It can be a very overwhelming time, as questions regarding the suitability of the dish, whether it is digestible, and the likes tend to swarm your mind. In many such situations, there can only be one answer – porridge!Read on for some ideas on how to make porridge for baby.
10 Healthy Infant Porridge Recipes
1. Rice Porridge
This porridge will be rich in fibre and good for digestion. If you are wondering about how to make rice porridge for baby, here is a process for you to follow.
Ingredients Needed
Parboiled rice – 2 tbsp or Rice cereal – 2 tbsp
Water – 1.5 cups
How to Make
Place the dried rice in a saucepan and roast it until it gets slightly puffy – you can skip this if you use homemade rice cereal. Use a mixer to grind the rice into a powder and store any extra powder for future use in an airtight container. Now take the required amount of powder in the same saucepan and add a cup of water to it. Make sure that there are no clusters formed and cook it in slow flame for about 5 minutes. Feed it warm to your child.
2. Rice Moong Dal Porridge
High in protein, this combination will help in developing the muscles.
Ingredients Required
Parboiled rice – 2 tbsp
Moong Dal – 1 tbsp
Cumin seeds – a pinch
or
Rice moong dal powder – 2 tbsp
Water – 1.5 cups
Ghee – ¼ Tsp
How to Make
Dry roast the moong dal and the dried rice in a low flame until the rice becomes puffy and add cumin seed and a quick stir. Then, use a mixer to grind these items into a fine powder, which is then added back into the saucepan. After adding ghee and 1.5 cups of water to the mix, stir so that no lumps are formed.
3. Barley Apple Porridge
Rich in dietary fibres, it can help ease the digestive process.
Ingredients Required
Barley dry cereal powder – 2 tbsp
Apple – 1 small sized apple
Banana – 1 small
Breastmilk or formula – ¼ cup
Water – 1 cup
How to Make
De-seed the apples and peel the banana, and puree them with less water. Add barley to a saucepan and stir it after adding the water. After cooking for ten minutes, add the fruit mixture. Mix well and cook for 3 more minutes- after it cools down, add breast milk or formula if desired.
4. Ragi Porridge with Whole Ragi
Rich in iron, it can help combat anaemia. Here is the recipe for ragi porridge for babies
Ingredients Required
Ragi seeds – 1 cup
Water – to grind
How to Make
Wash ragi adequately until it is clean, and then soak it in water for twelve hours. Transfer this soaked ragi to the blender and blend it for two minutes with a quarter cup of water. Again, add another quarter and blend until it becomes smooth. Extract the ragi milk using a cheesecloth by straining, into a saucepan. Cook this milk until it thickens in consistency and add some jaggery for sweetening.
5. Ragi Porridge using Ragi Flour
Ragi is also rich in calcium which helps bone development. This is another reason to use it in an Indian porridge recipe for babies.
Ingredients Required
Homemade ragi flour / Organic Ragi flour – 2 tbsp
Powdered jaggery – 1.5 tbsp (optional)
Water – ¼ cup + ¼ cup
Cows milk – 1 cup (don't add for babies under one year)
How to Make
Take the ragi in a saucepan and the jaggery in a separate vessel to be cooked. Add about a 100 ml cup of water to the latter, and boil until it melts completely. Filter out this mixture into the ragi saucepan using a strainer and add another quarter cup of water into it. Cook and whisk the mixture slowly over a medium flame, until it turns into shiny brown colour. Add a cup of milk if apt and cook until the consistency thickens.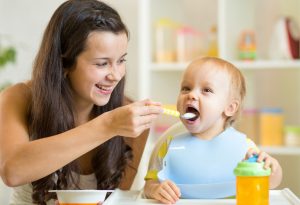 6. Sweet Potato Poha Porridge
Sweet potatoes being rich in Vitamin A, helps in the improving the immune system.
Ingredients Required
Poha/Beaten Rice/ Aval – 1 cup
Sweet Potato – 1 medium sized
Jaggery – 2 tbsp (optional)
Cardamom powder – a pinch
Raisins- 1 tbsp
Water – as required
Ghee – 2 tablespoons
How to Make
Soak the poha in water until they are soft and cook the sweet potatoes for three whistles on a medium flame. Melt the jaggery by heating it in a pan with water and strain it so that all the impurities are removed. Mash the sweet potatoes well with a fork and cook it with the jaggery water and cardamom powder. Add the soaked poha, and then cook it over a medium flame for two minutes, at which time you add ghee to the mix and cook it for another two minutes. Add raisins and serve warm.
7. Oats Porridge
Oats being rich in fibre, helps in the improvement of the digestive system.
Ingredients Required
Homemade oatmeal Cereal – ¼ cup
Water – ¾ cup
Breastmilk/ Formula milk/ Cows milk – ¼ cup
Dates syrup/any sweetener – 1-2 tbsp (optional)
How to Make
Take the mix in a saucepan and add a quarter cup of water while whisking well. Cook the porridge for five minutes until it thickens and adds milk if required. Cool it down and serve it warm with formula or breastmilk if required.
8. Cerelac Salt Porridge
Ceralac is rich in iron and ensures that your baby does not become anaemic.
Ingredients Required
Homemade Cerelac Powder/Sathu Maavu – 2 tbsp
Water – ¾ cup
Jeera Powder – a pinch
Salt – a pinch (not recommended for babies below one year)
Thin Buttermilk – ¼ cup (made from 2 tbsp of curd & water)
How to Make
Take the homemade Cerelac powder in a saucepan along with three-quarters of a cup of water, along with salt and jeera powder. Cook it while whisking for around 5 minutes on a low flame, and let it cool down. Serve after adding buttermilk and mixing well.
9. Urad Dal Porridge
Rich in proteins, this urad dal combo helps in wholistic body development.
Ingredients Required
Urad Dal – 2 tbsp
Rice – 1 tsp (optional)
Powdered palm Jaggery or jaggery – 1 tbsp or adjust (optional)
Grated Coconut – 2 tsp (optional)
Water – as required
Salt – a pinch (optional)
Cardamom – 1
How to Make
Soak the dal and rice well after thorough washing for half an hour and boil the jaggery separately to strain off jaggery water. Grind the soaked dal and rice along with coconut in a blender into a fine paste after adding a cup of water. Take this paste in a saucepan and along with the cardamom and salt and cook it on a low flame for five minutes. Add the jaggery syrup and mix well until the aroma wafts.
10. Instant Sooji Porridge
Apart from helping in digestion, this meal cooks fast making it an excellent choice for working moms.
Ingredients Required
Homemade Sooji Cereal – 2 tbsp
Hot Water – 1 cup
Ghee -1/2 Tsp
Breast milk/Formula Milk/Cows milk – ½ cup
Dates syrup/any sweetener/fruit puree – 1-2 tbsp (optional)
How to Make
Making wheat porridge for babies is a quick process. Take the boiled water in a cup and add sooji to it slowly while whisking thoroughly. Cook it for 5 minutes over a low medium flame and add sweetener. After that, add milk and cook for a few more minutes.
Porridge is one of the best dishes to cook for children, as it is both easy to make and highly nutritious. Porridge for babies 6 months old is a common first-meal as it is rarely rejected by children.
Also Read: First Foods for Baby