Til (Sesame) Ladoo Recipe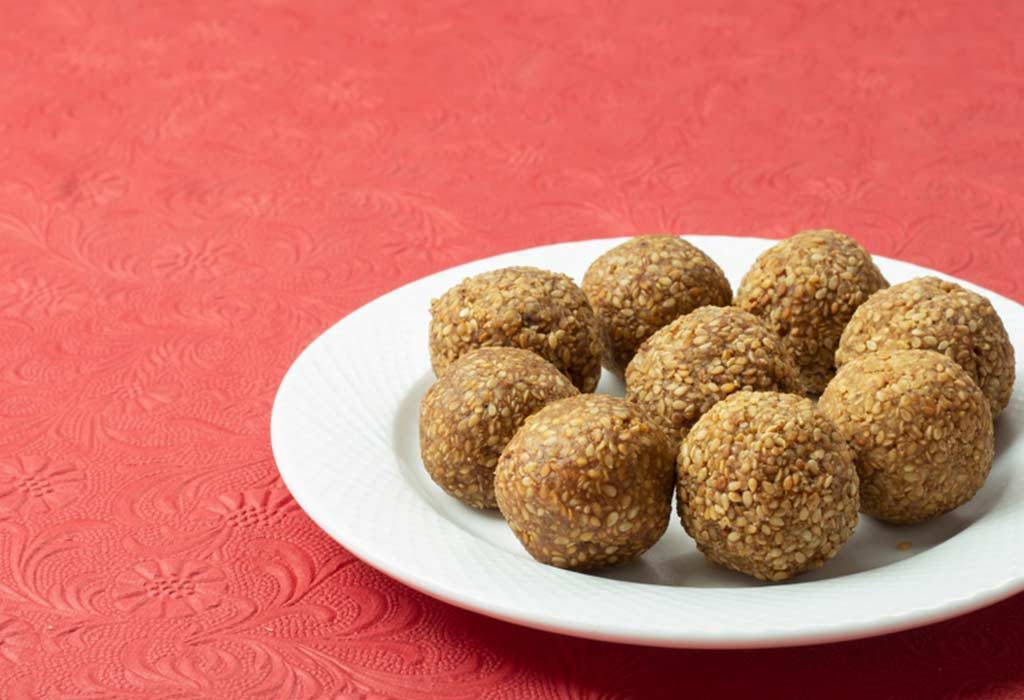 In this Article
Made with til (sesame seeds), jaggery, cardamom powder, peanuts, and ghee, Til (Sesame) Ladoo is a popular winter sweet in India. It helps to keep the body warm and provides energy during the cold months. You can make this simple Til (Sesame) Ladoo recipe with the ingredients at any time. There is an aromatic appeal to this recipe and your munchkin will love the combination of roasted sesame seeds sweetened with jaggery and laced with cardamom powder.
Cooking Time
| | |
| --- | --- |
| Type | Time (hh:mm:ss) |
| Preparation Time | 00:05:00 |
| Cook Time | 00:15:00 |
| Total Time | 00:20:00 |
Cooking Method
Gas Stove, Induction
Type of Meal
Vegetarian
Suitable For
Toddlers older than 20 months of age
Meal Schedule
Dessert or mid-day snack.
Recipe Type
Main Dish
Ingredients
| | |
| --- | --- |
| Type | Quantity |
| Sesame seeds (Til) | 1 ¼ cups |
| Ghee | 1 tablespoon |
| Jaggery (roughly chopped) | 1 ¼ cups |
| Peanuts (roasted and crushed) | ¼ cup |
| Cardamom powder | ½ teaspoon |
Instructions
To make this all-time favorite home-made Til (Sesame) ladoo baby food recipe, you only need to follow this simple step-by-step process:
Heat a pan or kadhai and dry roast the sesame seeds on a low flame for about 8-10 minutes. Make sure you stir the mixture continuously. Once done keep it aside on a separate plate.
Now heat the ghee in the pan and add the jaggery. Stir gently until it melts and cooks on a low flame for about 5 minutes
Add the roasted sesame seeds, crushed peanuts, and cardamom powder to the jaggery. Mix gently and cook it on a low flame for about 2 minutes. Keep stirring the mixture continuously.
Grease a tray with ghee and pour the mixture into the tray. Let the mixture cool down lightly for about 2-3 minutes.
Now grease your palms with some ghee, take some mixture and roll into a ball.
Repeat the process for the rest of the mixture until all the ladoos are made.
Store in an air-tight container and eat as required.
Recipe Tips
Now that you have learned how to make Til (Sesame) ladoo, just follow these simple tips to perfect it:
Roast the sesame seeds and make sure that you stir it constantly. The sesame seeds should not burn as it will lend a bitter taste.
You can even powder the seeds after you roast them.
Try to use white seeds instead of black ones. The white seeds have a rustic flavor and taste nice when roasted.
Nutrition Information (Per 100 Grams)
| | |
| --- | --- |
| Type | Value |
| Calories | 62 kCal |
| Carbohydrates | 7.4 grams |
| Protein | 1.2 grams |
| Fat | 3.2 grams |
| Sodium | 0.8s grams |
| Fiber | 0.9 grams |
| Cholesterol | 0 |
Health Benefits
Til (Sesame) Ladoo for babies is a great snack that will give loads of health benefits to your child. Read on to find out more about the nutrition that a Til Ladoo can give:
Sesame seeds are a rich source of fiber, protein, and other essential nutrients.
The fiber in sesame seeds aids digestion.
The protein helps to build muscles and also repair tissues.
Sesame seeds help to fight infection through the formation of antibodies.
Sesame seeds also form enzymes that are helpful for digestion.
Sesame seeds are rich in iron that help generate red blood cells.
Jaggery is rich in antioxidants and essential nutrients.
Jaggery contains carbohydrates which provide energy.
Jaggery helps in digestion and also cleanses the liver by flushing out all the toxins.
Buying Guide
When sourcing ingredients for Til (Sesame) Ladoo, just make sure you follow the below tips:
Buy sesame seeds in packed form. Make sure you check the expiry date on the packaging. If you are using it at a later date, then store it in an air-tight container and a cool place.
Buy jaggery in packed form and check the expiry date on the packaging.
Always try to buy organic products as they are free from chemicals.
Peanuts must also be bought in packed form.
You can buy cardamom powder from the store. If you have the whole cardamom, you could just roast it for a few minutes and grind it. While grinding cardamom, add a little bit of sugar so that it grinds into a fine powder.
Although the Til Ladoo is a winter delicacy, made especially during Makar Sankranti, you can serve it to your toddler anytime. It is a healthier and great alternative to store-bought desserts or chocolates that are harmful for your child.