Mungdal Ladoo Recipe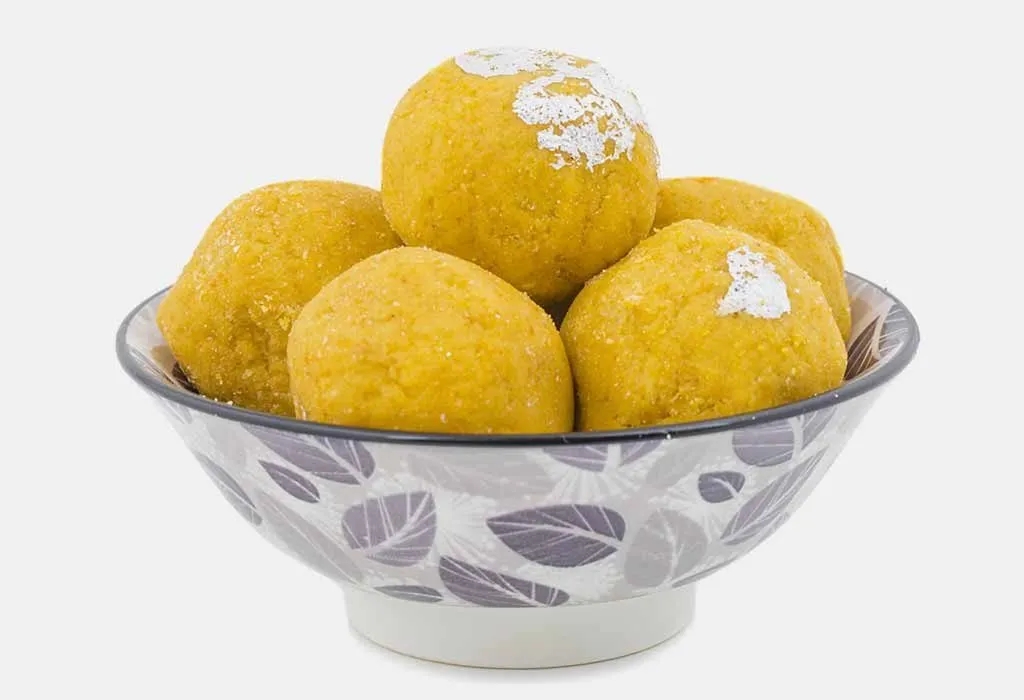 In this Article
Mungdal ladoo is a traditional Indian sweet liked by everyone. It is a healthy snack that your kids will love. Often prepared during festivities, it makes a perfect snack for toddlers and kids. These ladoos are full of protein, and the taste and texture are inviting for adults as well. The carbohydrate and protein content of mungdal ladoo for babies ensure energy for the little ones along with the development of the brain. Everyone in the family would simply drool over these ladoos. Therefore, let us get started with the recipe that is quick and easy.
Cooking Time
| | |
| --- | --- |
| Type | Time (hh:mm:ss) |
| Preparation Time | 00:15:00 |
| Cook Time | 00:10:00 |
| Total Time | 00:25:00 |
Cooking Method
Gas Stove
Type of Meal
Traditional Indian Sweet
Suitable For
Any babies above 12 months of age
Meal Schedule
Mid-Morning or Evening Snack.
Recipe Type
Dessert
Ingredients
| | |
| --- | --- |
| Ingredient | Quantity and Volume |
| Mungdaal | 1 Cup |
| Brown Sugar or Jaggery Powder | ¾ Cup |
| Cardamom or Green Elaichi | 4-6 pieces |
| Ghee | ¼ Cup |
| Cashews | 10 |
| Raisins | 10 |
Instructions:
Wondering how to make mungdal ladoos? The recipe is easy to prepare, and we will provide you step by step directions for the same. Follow these simple steps and let your family enjoy its taste.
1. First and foremost, keep all the ingredients ready as per the measurement.
2. Now take the mungdal and dry roast it on a medium flame. It will turn golden brown and will give a pleasant aroma when done.
3. When done, lower the flame and remove the mungdal from the pan.
4. Add a tsp of ghee and fry the cashews till it turns golden brown.
5. Take the dry roasted mungdal and blend it along with cardamom. It should turn into a fine powder.
6. Here you add brown sugar or jaggery powder to the mixture. Grind it till it the mixture is properly blended.
7. Inspect the blended mix and remove the grainy particles, if any.
8. Instead of wasting it, you can grind the grainy particles to get a fine powder.
9. Heat the remaining ghee in a pan.
10. Once hot, add it to the mixture of mungdal and jaggery/sugar.
11. Adding cashews and raisins, mix it well in a bowl or a plate.
12. Do not let any formation of the lumps. Break it by your hands, if any.
13. Now start making the ladoo balls with soft hands.
Recipe Tips:
You just saw how simple this mungdal ladoo baby food recipe is. However, during and after the preparation, keep the following things in mind.
While roasting the mungdal, make sure you do not burn it.
Jaggery powder is preferred; you can use brown sugar as well. However, avoid the regular sugar.
Do not let any formation of lumps during the entire process of preparations.
Manage the amount of ghee that you add while making the ladoos. You should be able to hold the balls properly.
The amount of brown sugar or jaggery can be adjusted as per your liking,
Always store these ladoos in an airtight container. You can use it well for a week or two.
Maintain proper hygiene during the entire preparation.
Nutrition Information (Per 100 Grams)
| | |
| --- | --- |
| Nutrient | Value |
| Energy | 111 kCal |
| Protein | 3 gm |
| Carbohydrates | 18 gm |
| Fiber | 4 gm |
| Fat | 3 gm |
| Cholesterol | 7 mg |
| Vitamin A | 5 mcg |
| Vitamin C | 0.7 mg |
| Vitamin E | 0 mg |
| Folic Acid (Vitamin B9) | 0 mcg |
| Calcium | 9 mg |
| Iron | 1 mg |
| Sodium | 1 mg |
| Potassium | 128 mg |
| Zinc | 0 mg |
Health Benefits:
There are several health benefits of homemade mungdal ladoo baby food recipes. The prominent ones are:
These ladoos are packed with proteins.
It will fulfill all the carbohydrate requirements of your kids or toddlers.
It has the right quantity of saturated fats.
The main ingredient mungdal, is loaded with antioxidants.
Your mungdal ladoos are balanced with nutrients.
Buying Guide:
Always go for organic products when it comes to groceries.
Prefer jaggery powder or brown sugar over the regular white sugar.
Try using organic ghee or better prepare it at home.
Always check the expiry date and freshness of food items before buying.
We make all the efforts to ensure our babies get the best to eat in terms of nutritive value. Instead of offering them packaged snacks from the market, homemade preparations are far better. These mungdal ladoos are sure to win the hearts of toddlers, kids, and adults alike.