Chicken Noodles Recipe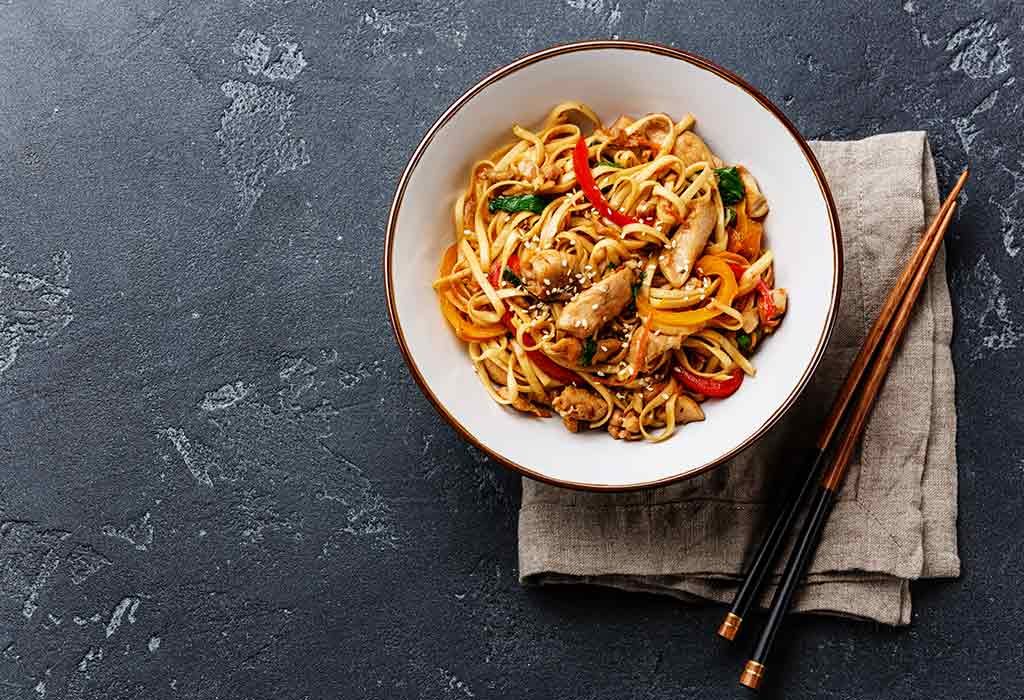 In this Article
Looking for after-school snack or a yummy quick meal for your toddler? Chicken noodles it is! A quick, filling and nutritious dish that will become your child's all-time favourite meal. The quintessential noodle recipe is easy to prepare and is sure to tingle their taste buds. There can be different variations of this recipe, but the Indo-Chinese way is fusion food that is easily adaptable to suit one's taste buds. The addition of chicken to the noodles of noodles not only enhances its tastes but makes it healthier too. Chicken noodles for babies helps not only to build a good immune system but also safely introduces new flavours.
Cooking Time
| | |
| --- | --- |
| Type | Time (hh:mm:ss) |
| Preparation Time | 00:10:00 |
| Cook Time | 00:40:00 |
| Total Time | 00:50:00 |
Cooking Method
Gas Stove
Type of Meal
Non-Vegetarian
Suitable For
Toddlers above 21 months of age
Meal Schedule
Evening snack or meal
Recipe Type
Main Dish
Ingredients
| | |
| --- | --- |
| Ingredient | Quantity and Volume |
| Chicken (Boneless) | 250 gm |
| Onion (large and sliced) | 1 |
| Noodles | 200 gm |
| Garlic cloves | 5 |
| Salt | To Taste |
| Ajinomoto (optional) | 1 pinch |
| Pepper Powder | 2tsp |
| Spring Onion | A handful |
| Capsicum (medium-sized) | 1 |
| Soy Sauce | 1 tbsp |
| Refined Oil | 2 tbsp |
| Garam Masala Powder | 1/2 to 1 tsp |
| Water | 2 litres |
| Sugar | 1 tsp |
Instructions
If how to make chicken noodles is what is bothering you then the step by step directions given below would help you to prepare the most lip-smacking chicken noodles for your kid right at home in no time.
First marinate the chicken with pepper, salt, soya sauce and garam masala powder. Cover it and keep it aside.
Bring water to a boil in a large pot.
Add noodles to the boiling water and add 1 tsp of oil to it.
After the noodles are cooked, drain out the water by pouring into a colander.
Heat 1 tsp of oil in a pan.
Now add onion, garlic and sauté for 2 minutes.
Add the marinated chicken and stir it till it is well seared in medium heat and cooked thoroughly.
Now add the capsicum, salt, sugar, Ajinomoto and mix it well.
Pour out the cooked noodles and toss it well with the rest of the ingredients.
Drizzle some soya sauce and some crushed pepper.
Sprinkle some spring onion on top for garnishing.
Serve hot.
Recipe Tips
This simple chicken noodles recipe will sharpen your culinary skills and guide you to make the most sumptuous chicken noodles that your baby and the entire family can enjoy.
Do not overcook the noodles while boiling as it would make it mushy and sticky.
Adding oil to the water for boiling the noodles as it helps to keep them well segregated.
Use only clean filtered water for cooking.
You can add vegetables like carrots or cabbage to the noodles.
Always wash your hands thoroughly before cooking. Use only washed utensils for cooking or serving your preparation.
Do not over fry the chicken as it may turn hard.
You can marinate the chicken in the refrigerator for up to 24 hours to make it soft. You can use egg or corn starch to coat the chicken.
Chilli sauce can be added to make it spicier.
Nutrition Information (Per 100 Grams)
| | |
| --- | --- |
| Nutrient | Value |
| Calories | 430 kCal |
| Cholesterol | 75 mg |
| Carbohydrates | 10 g |
| Fat | 33 g |
| Saturated Fat | 5 g |
| Sodium | 1011 mg |
| Potassium | 298 mg |
| Fibre | 1 g |
| Sugar | 7 g |
| Vitamin A | 3550 cIU |
| Vitamin C | 31.6 mg |
| Calcium | 22 mg |
| Iron | 1.1 mg |
Health Benefits
Here are the positive health benefits of home-made chicken noodles baby food recipe that can be a quick-fix for sudden hunger pangs.
Chicken is lean meat with high protein content which makes it ideal for growing children.
Being rich in phosphorous, chicken helps in proper growth of babies' bones, teeth and proper functioning of our kidney, liver and central nervous system.
Vitamin B6 in chicken boosts the metabolism and raises the energy levels of children.
The tryptophan or amino acid in chicken is a natural mood-enhancer, which helps to keep the child less fussy and happy after every meal.
Egg noodles contain essential amino acids and are low on the glycaemic index providing sustained energy. The riboflavin, thiamine, folic acid and niacin content in them provide sufficient nutrition for the optimum body functioning.
Shirataki noodles and soba noodles have high fibre content that helps to reduce constipation by easing bowel movements.
One bowl of noodles keeps your child full for a longer period as it takes time to get digested.
Buying Guide
Different varieties of noodles are sold in supermarkets. Made from rice flour, root vegetable, buckwheat flour, tapioca flour. They have diverse benefits, textures and tastes.
The best way to ensure that you're buying the freshest chicken is to make sure the package is wrapped well and free from leakage. Don't forget to check the best before the date of the package.
Check the expiry date of the ingredients used in the dish before buying them from a reputed store.
Choose free-range chicken that is best if certified organic, raised without antibiotics and are hormone-free for best health benefits.
You just need a bowl of soft, silky-smooth and slippery noodles to pep up your child's mood. You simply can't go wrong with this dish that is universally loved by children of all ages. So home-made and fresh chicken noodles is certainly good for children from non-vegetarian households.