Whole Wheat Pasta Recipe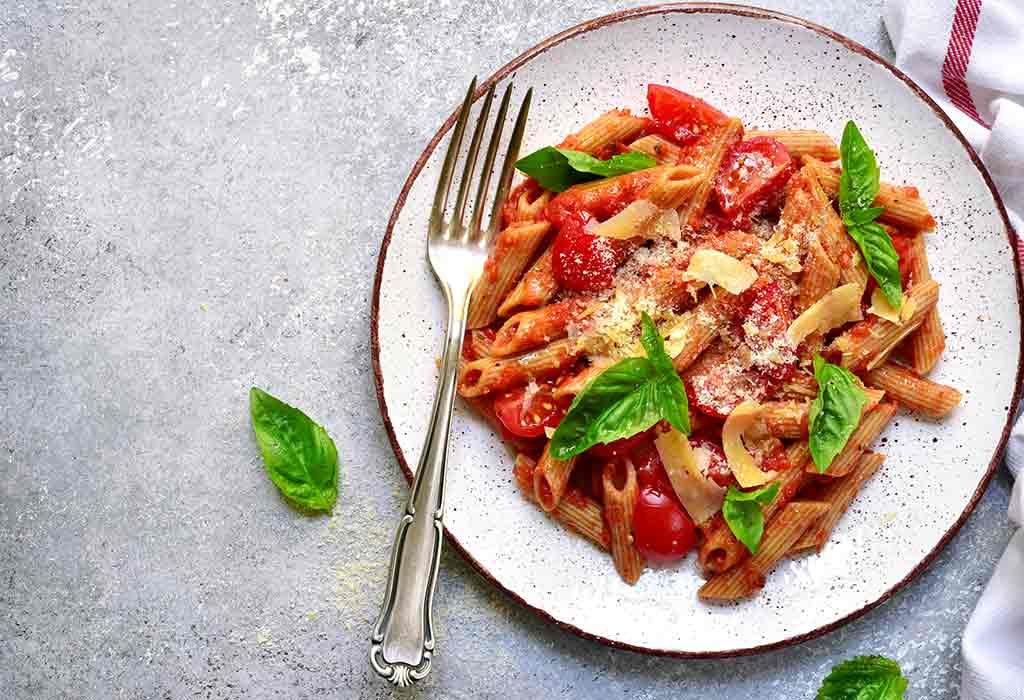 Modern lifestyle can be pretty hectic and there may not be enough time to prepare a full-fledged meal. Choosing pasta as one meal can always go-down well as an evening snack or a feel-good dinner. A staple food in Italian cuisine, pasta is a hot-favourite among kids. It is versatile, comforting, filling and best of all – easy to prepare, not to mention its deliciously creamy sauce and added veggies that packs some extra nutrition to your child's daily diet. Made from an unleavened wheat flour dough mixed with water or eggs, they are formed into different shapes and then cooked by baking or boiling. Learn how to make whole wheat pasta and serve a sumptuous dish for your entire family.
Video: Whole Wheat Pasta Recipe for Toddlers & Kids
Cooking Time
| | |
| --- | --- |
| Type | Time (hh:mm:ss) |
| Preparation Time | 00:10:00 |
| Cook Time | 00:10:00 |
| Total Time | 00:20:00 |
Cooking Method
Gas Stove
Type of Meal
Vegetarian
Suitable For
Toddlers older than 13 months of age
Meal Schedule
Breakfast, Evening Snack, Dinner
Recipe Type
Snack Dish or Main Meal
Ingredients
| | |
| --- | --- |
| Type | Quantity |
| Whole Wheat Penne Pasta | 1 Cup |
| Olive Oil | 3 Tbsp. |
| Salt | ½ Tsp |
| Water | 750 ML |
| Onion | ¼ Cup |
| Capsicum | ¼ Cup |
| Tomato | ¼ Fine Chopped |
| Cilantro Leaves | 1 Tsp |
| Pepper Powder | ½ Tsp |
| Parmesan Cheese | 2 Tsp |
| Sweet Tomato Sauce | 1 Tbsp. |
Instructions
The step by step directions given here will show you the way to make whole wheat pasta in the quickest way following the perfect technique.
Add water in a big pan and bring it to boil.
Add salt, 1 tsp of oil, pasta and mix well.
Cook on medium flame until the pasta gets tender approximately after 15 minutes.
Drain out the water and set aside.
Heat 2 tbsp. of oil in a frying pan. Add chopped onion and stir on medium flame till it becomes translucent.
Add the capsicum cubes to it and cook for 1 minute.
Add the chopped tomatoes and stir well.
Add salt and black pepper. Let it cook for 2 more minutes and then add the boiled pasta.
Add the tomato sauce, parmesan cheese, basil leaves and parsley leaves and toss everything to give it a perfect mix.
Let it cook for 2 minutes and once done, serve hot.
Recipe Tips
This simple whole wheat pasta recipe can be made from scratch. Try making pasta at home using whole grain flour.
Do not over-cook the pasta while boiling it or else it will get stuck to the pan while frying.
Try cheese varieties like mozzarella, ricotta, pecorino, cheddar or asiago.
Cheese not only seasons the pasta but adds texture and gives it a rich flavour.
This homemade whole wheat pasta baby food recipe can be made with any vegetables of your choice; chicken and mushroom that give this dish a bulk.
Nutrition Information (Per 1 serving)
| | |
| --- | --- |
| Type | Value |
| Energy | 238 Cal |
| Carbohydrates | 48 grams |
| Protein | 9.6 grams |
| Sodium | 6.4 mg |
| Fibre | 6.2 grams |
| Fat | 2.7 grams |
| Potassium | 154 mg |
| Vitamin A | 0.1% |
| Calcium | 1.6% |
| Iron | 15% |
Health Benefits
Whole wheat pasta is loved by most mothers and their kids as they enjoy a balanced diet without any mealtime drama:
Apart from adding an extra flavour, butter contains omega 3 and fatty acids that promote brain development for a child.
Wheat flour is a rich source of carbohydrates that generates energy for any physical activity. As it is easily digestible, wheat helps to reduce constipation and flatulence in children.
Whole grain contains 100 per cent of the kernel-bran, germ, endosperm which is good for the heart.
Whole wheat pasta is high in fiber which acts as a natural laxative for children. Its manganese, copper, phosphorus content helps in the overall growth and development of children.
It has a high content of carbohydrates that boosts the energy levels of children.
Olive oil reduces gastric acidity and promotes the development of bones and the nervous system.
Buying Guide
Nowadays the choice of different products can be a little too overwhelming. Make your purchasing decision based on the recommendations given below for maximum satisfaction
Compare fibre levels, look for "whole" mentioned at the top of the pack while buying pasta.
Look out for specialist cheese shops that sell branded cheese or freshly made cheese. Try before you buy.
Sealed packs with detailed nutrition information ensure good quality.
Watch out for the expiry date of all dairy products before buying.
Choose organically grown vegetables.
Buy olive oil labelled extra virgin. Look into the polyphenol levels of olive oil.
Homemade whole wheat pasta for babies is a tested recipe that helps to show how much you care for your child as it gives the meal an extra special touch of love. More so it tastes a world better to boxed varieties available at a super market. Go ahead and try your hand at this continental recipe that would establish you as an expert chef.