White Dhokla Recipe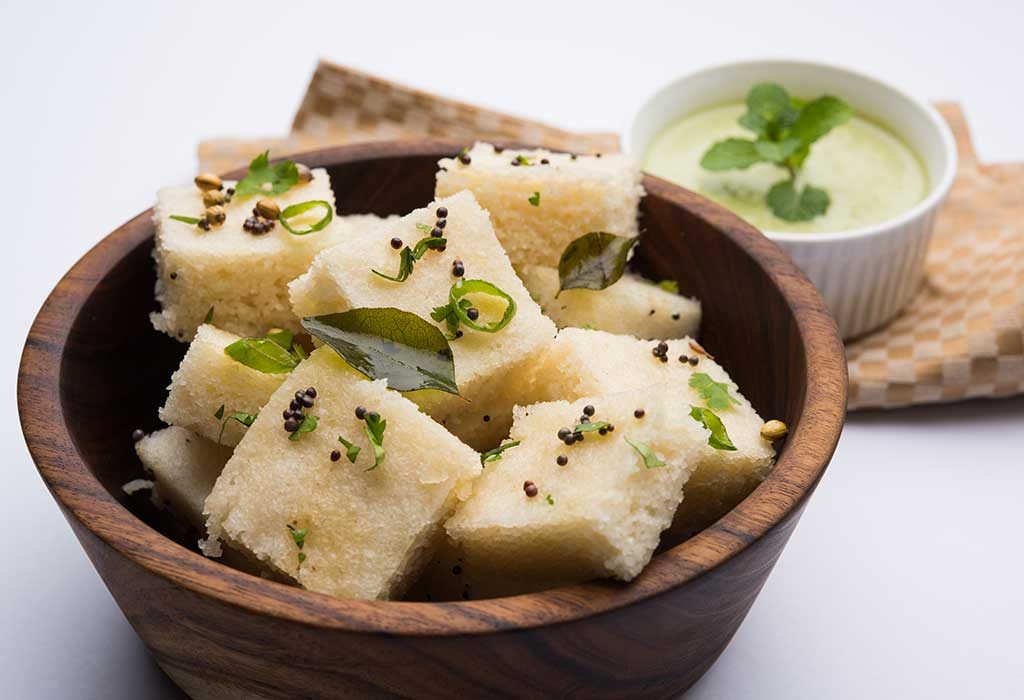 In this Article
Introduce your child to a nutritious and tasty low fat snack from the Gujarati cuisine. This steamed and fermented rice and lentil cake is very light and spongy. White dhokla for babies is made by using rice, yogurt and split black gram. It looks like a rice cake or idli because of its white color, but it's completely different in taste. Even kids with no teeth will happily eat it and it is suitable for toddlers. Your kids will love this dish and this way you can give them the qualities of traditional rice and lentils.
Cooking Time:
| | |
| --- | --- |
| Type | Time (hh:mm:ss) |
| Preparation Time | 08:00:00 |
| Cook Time | 00:30:00 |
| Total Time | 08:30:00 |
Cooking Method
Gas or steamer
Type of Meal
Vegetarian
Suitable for
Babies of 9 months age and above
Meal Schedule
Mid-morning snack or Evening snack
Recipe Type
Main dish
Ingredients
| | |
| --- | --- |
| Type | Quantity |
| Rice (Basmati) | 1/2 cup |
| Split black gram (Urad dal) | 1/2 cup |
| Ginger paste | 1/2 tsp |
| Baking soda | 1 tsp |
| Refined oil | 2-4 tsp |
| Rock salt | 1 tsp |
| Crushed black pepper | 1/2 tsp |
| Curry leaves | 10-12 |
| Mustard seeds | 1 tsp |
| Asafoetida | 1/2 tsp |
| Sour yogurt (curd) | 1/2 cup |
Instructions
Here are step by step directions given for making homemade white dhokla baby food recipes.
For making the batter of white dhokla:
Rinse urad dal and basmati rice thoroughly under the running water.
Soak them in separate utensils for around 4 hours.
Drain the water and add the wet rice and dal in a clean grinder.
Add the ginger paste in the grinder.
Grind the mixture and add water at intervals.
The batter should not be runny in texture, rather it should be thick. Check the batter, if it is having a little bit of grainy texture, then it is perfect for making dhokla.
Pour the batter into a deep vessel and add sour yogurt to it and then add salt.
Give it a nice mix and ferment this mixture overnight or for around 7 hours.
For making the white dhokla:
Pour some water in the steamer and allow it to boil.
Grease the dhokla pan with oil.
Take the vessel of the batter and add oil to it.
Then add baking soda to the batter.
Stir it well so that the baking soda is distributed uniformly in the batter.
Pour the batter on the greased pan sprinkle rock salt and black pepper on it.
Place the pan in the steamer.
Cover the steamer and allow it to steam for about 15-20 minutes.
Take a toothpick to check if the dhokla is cooked properly or not.
Insert the toothpick in the batter and if it comes clean, it is done.
Prepare the tampering by using a tadka pan.
Pour some oil and allow it to heat, then add asafoetida, mustard seeds, and curry leaves.
Allow it to sputter and remove from heat.
Add the tampering on the dhokla and spread it evenly.
Remove the pan and allow it to cool down a bit.
Slice it into your favorite shapes and serve it.
Recipe Tips
Do not make it spicy for your kids. Keep the taste mild so that your kids can enjoy it.

Use the home-made ginger paste as it will not contain any chemical in it and it is safe for babies.
While keeping the batter for fermentation, keep it at a warmer place.
Be quick in stirring after adding the baking soda to the batter.
Nutritional Information (Serving Per 100 Gram)
| | |
| --- | --- |
| Type | Value |
| Energy | 324 Kcal |
| Fat | 3 gm |
| Cholesterol | 5 mg |
| Sodium | 853 mg |
| Potassium | 134 mg |
| Carbohydrates | 61 gm |
| Fiber | 4 gm |
| Sugar | 2 gm |
| Protein | 10 gm |
| Vitamin A | 140 IU |
| Vitamin C | 25 mg |
| Calcium | 86 mg |
| Iron | 1.9 mg |
Health Benefits
Learned how to make white dhokla? Now learn about the health benefits of white dhokla.
It is a good source of protein.

The probiotic content of this dish will help you, baby, to build a barrier in their GI tract and this will make their immune system strong and will prevent infections.

It is easy to digest and helps in keeping the digestive system healthy.

It improves bowel movement and helps in constipation.
Buying Guide
Check the quality of rice before buying.

There should not be holes in the grains.

Do not add rice or lentils having preservatives in it.

If possible, bring home the organic grains for your toddler.

Check for the expiry date of the curd and other spices before buying it.

Do not buy curry leaves it they are yellow and have black dots on it. Always buy curry leaves that are dark green.
You can also enjoy this delicious dish along with your toddler. This simple white dhokla recipe is easy to make and if you have prepared the batter, it can be prepared in a jiffy. It tastes awesome and it is super healthy, gluten-free snack for your little ones.