Shahi Paneer Recipe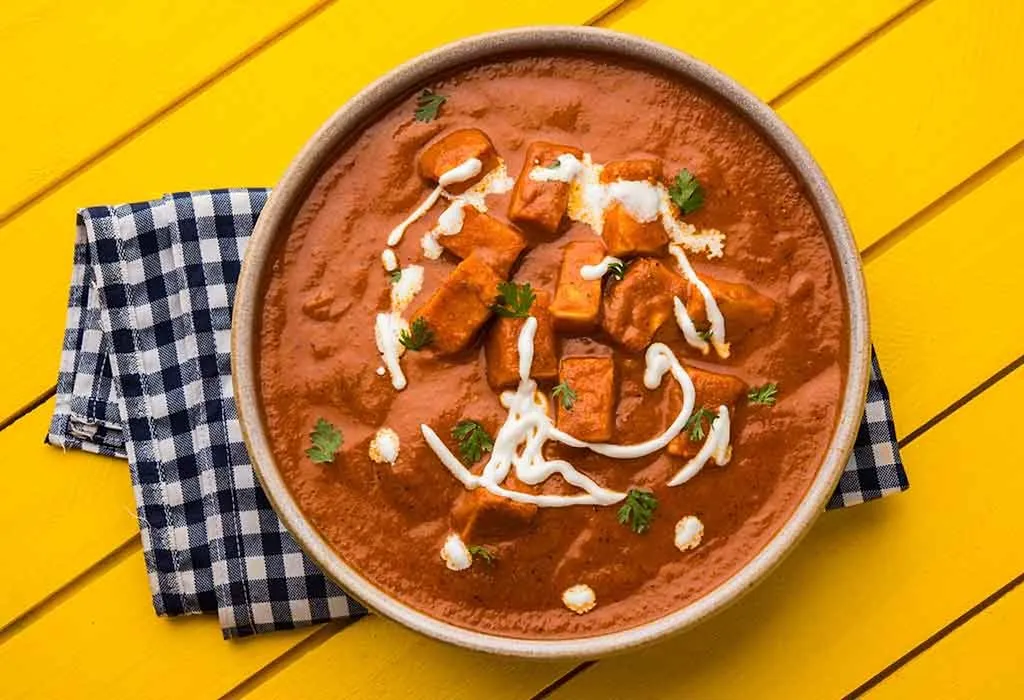 In this Article
Parents are wired to ensure that their children get enough nutrition. Introduce protein-rich foods like Shahi Paneer to your little ones to keep them energetic all day long. Shahi Paneer is a delicacy that originates from the royal family of the Mughals. This simple Shahi Paneer recipe has a creamy texture and your toddler will love the cottage cheese in it that melts in the mouth. Let your child enjoy the intense flavors and richness of this recipe along with soft rotis or sponge dosas. This delicious and nutritious recipe is going to pamper your child's palate.
Cooking Time
| | |
| --- | --- |
| Type | Time(hh:mm:ss) |
| Preparation time | 00:40:00 |
| Cooking time | 00:30:00 |
| Total Time | 01:10:00 |
Cooking Method
Gas Stove / Induction Cook-top
Type of Meal
Vegetarian
Suitable For
Toddlers above 12 months of age
Meal Schedule
Mid-morning, lunch or dinner
Recipe Type
Main dish
Ingredients
| | |
| --- | --- |
| Ingredients | Quantity and Volume |
| Grated onions | ¼ cup |
| Tomato pulp | ½ cup |
| Paneer | ¾ cup |
| Cinnamon | 1-inch piece |
| Bay leaf | 1 |
| Jeera/cumin seeds | ½ tsp |
| Turmeric powder | ½ tsp |
| Chilli powder | 1 tsp |
| Jeera powder | ½ teaspoon |
| Ginger garlic paste | 1 teaspoon |
| Salt | As per taste |
| Cooking oil | 3 tablespoon |
| Garam masala | 1 teaspoon |
| Ghee | 2 tbsp |
| Cashews | 5-6 finely chopped |
| Poppy seeds | ½ tbsp |
| Milk | 1 tbsp |
| Fresh cream | 1 tbsp |
Instructions
Are you wondering as to How to make Shahi Paneer perfectly! read on to know the right procedure:
Cut the paneer into medium size cubes.
Take a deep bowl and add the paneer pieces, chili powder, turmeric powder, and salt and give it a good mix.
Heat oil in a Kadai and add the marinated paneer pieces and fry till the paneer is nice and brown and remove from heat.
In a small bowl add milk, poppy seeds, and cashews. Mix well and let it soak for 30 minutes.
Add ginger-garlic paste to the milk mixture and blend it smooth in a mixer.
Heat ghee or cooking oil in a Kadhai and add jeera, cloves, cinnamon and bay leaf.
Next, add the grated onions and saute till the raw smell of the onions is removed.
Once the onions are cooked, pour in the tomato pulp and add coriander powder, jeera powder, chili powder, and garam masala and cook on a low flame for 5 min. You can half glass of add water if you find the mixture too thick.
Now add in the ground paste and a cup of water and give it a good stir and cook till you see the oil released in the corners of the gravy.
Now add in the sauteed paneer pieces and drop a dollop of butter and switch off the stove and garnish with fresh cream.
Recipe tips
Now that you know the step by step instructions for making this delicious recipe, keep the following recipe tips in mind before you start:
You can add green peas while you cook the tomato pulp to make the recipe more nutritious.
Sprinkling crushed Kasturi methi also gives the recipe good flavor and taste.
You can reduce the amount of chili powder in the recipe according to the spice tolerance of your child.
Making homemade paneer by curdling the heated milk is a better choice than store-bought paneer.
Serving the dish immediately after cooking is advisable as paneer tends to become rubbery after some time.
Nutrition (per 100 gms)
| | |
| --- | --- |
| Nutrient | Value |
| Energy | 220 Cal |
| Fiber | 2.1 g |
| Fat | 18.5 g |
| Cholesterol | 40 mg |
| Sodium | 352 mg |
| Protein | 8.9 g |
| Carbohydrates | 11 g |
| Vitamin A | 390 mcg |
| Magnesium | 28 mg |
| Iron | 1.1 mg |
| Calcium | 276 mg |
| Potassium | 162 mg |
Health benefits
Shahi Paneer recipe for babies is not just a delight for the taste buds, it also has the following goodness loaded in it:
Cottage cheese is known to strengthen the teeth and bones of your little one.
Paneer is a rich source of protein which is essential for better growth and development in children.
Fresh cream is loaded with vital nutrients essential for promoting the development of red blood cells in the body.
Fresh cream also contains phosphorus, essential for better brain development in small children.
Paneer is a vital source of selenium and potassium that keeps the body healthy and also protects from deadly diseases like cancer.
Buying guidelines
Let us find out some of the buying tips below before you begin with this homemade Shahi Paneer baby food recipe to ensure healthy eating:
Choose the tomatoes that are bright red and without any dark spots as those are juicier and also gives the recipe vibrant color.
Buy organic onions and tomatoes to make sure you keep your munchkin away from harmful pesticides used to grow the veggies.
Buy the spice powders that are sealed and always check for the expiry date on the packaging before picking one.
Nutrition plays an important role in your baby's growth and development, hence including healthy recipes, like Shahi Paneer, in your baby's diet is a sensible idea. Make sure that you nurture your baby's health with recipes like home-made Shahi Paneer rather than depending on any kind of store-bought ready-to-eat cereals.