Mint Lemon Sherbet Using Honey Recipe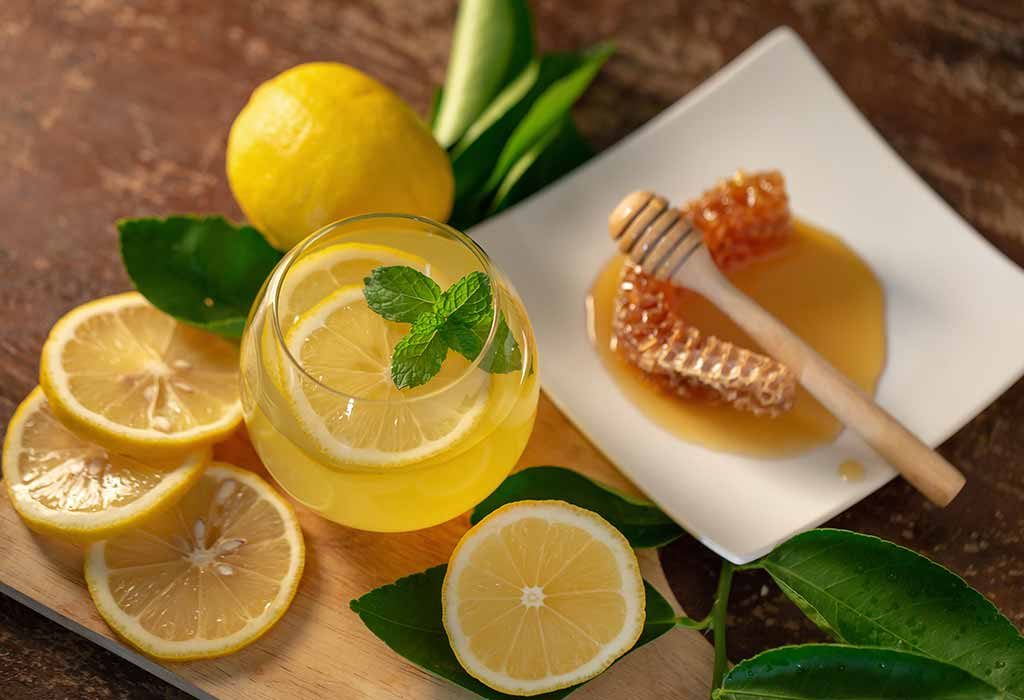 In this Article
ŚThis Indian twist to making Lemon juice will tickle your munchkin's taste buds. This Mint Lemon Sherbet with Honey for babies is the perfect juice to serve your baby after a meal. The tangy taste of the lemon with the sweetness of honey will help to lighten their stomach after a meal and also aid indigestion.
Cooking Time
| | |
| --- | --- |
| Type | Time (hh:mm:ss) |
| Preparation Time | 00:10:00 |
| Cook Time | 00:10:00 |
| Total Time | 00:20:00 |
Total Servings: 1-2
Cooking Method: Gas stove, blender
Type of Meal: Vegetarian
Suitable For: Toddlers above 13 months of age
Meal Schedule: Appetizer before the main meal, Drink after the main meal, Drink during the day
Recipe Type: Starters, Appetizers or Main Meal
Ingredients
| | |
| --- | --- |
| Ingredients | Quantity & Volume |
| Mint Leaves | ½ cup packed |
| Honey | ½ tablespoon |
| Black Pepper Powder | ¼ teaspoon |
| Black Salt | One teaspoon |
| Roasted Cumin Powder | One teaspoon |
| Salt | To taste |
| Lemon juice | 1 1/2 tablespoons |
| Water | 3 cups |
Instructions
Read and follow this step-by-step guide to learn how to make Mint Lemon Sherbet with honey:
Rinse the mint leaves in cold water. Dry it on a towel until all the water is drained. Pick the leaves from the stems.
Pour all the ingredients along with the mint leaves in a blender.
Pour ½ a cup of water into the blender.
Blend into a smooth puree until all the ingredients mix well.
Add the remaining water and give it a whizz in the blender for another 2-3 times. Keep mixing all the ingredients to make sure they get incorporated well.
Empty the contents into a bowl. At this stage, strain the juice using a strainer. This will leave out the tiny bits that may get stuck in your baby's mouth.
Pour it in a glass or bottle and serve.
Recipe Tips:
Taste the juice before you serve and add some more honey if you need to.
Chop the mint leaves before you put them in the blender so that it will blend well.
It would be ideal to strain the juice so that it will drain out the tiny pieces that may choke in your baby's throat.
When you squeeze the lemon juice, make sure that you discard the seeds. If the seeds are added to the blender, the juice may taste very bitter.
When squeezing lemons for this easy Mint Lemon Sherbet with a honey recipe, make sure you cut the lemons in half after pressing them in your palms for a minute. This helps to squeeze maximum juice out of the lemon.
Nutritional Facts serving Per 100 Grams
| | |
| --- | --- |
| Nutrient | Value |
| Energy | 29 kCal |
| Protein | 0.9 gm |
| Total Carbohydrates | 6.5 gms |
| Fat | 0.3 gms |
| Cholesterol | 0 mg |
| Sodium | 1183 mg |
| Potassium | 125 mg |
| Fibre | 1.6 gms |
| Sugar | 4.5 gms |
| Vitamin C | 11.6 mg |
| Calcium | 60 mg |
| Iron | 2.9 mg |
Health Benefits:
Lemons are rich in Vitamin C. They are superfoods when it comes to building immunity levels and protect the body from the cold and flu viruses.
Lemon juice is also very good for the skin.
Mint leaves are an excellent source of fibre and reduce bowel problems.
Mint leaves are also rich in Vitamin C and prevent cold and flu symptoms.
Honey is rich in antioxidants and is a better alternative to sugar. It helps to keep the free radicals at bay. Honey helps to fight infections and has digestive benefits too.
Pepper powder has anti-inflammatory properties and is also good for digestion.
Black salt or Kala namak is the best for this juice as it is good for digestion. It is a cooling agent and has laxative properties.
Buying Guide:
Homemade Mint Lemon Sherbet with Honey baby food recipe can be made with ingredients in your refrigerator. But there are a few things you need to bear in mind before you source the ingredients:
Make sure you check the lemons before you buy them. Buy lemons that are firm and round.
Buy good quality honey and especially the ones that come in sealed bottles. Although honey does not have an expiry date, you must check the date of manufacture on the packaging.
Buy fresh mint leaves and make sure they are not wilted.
Mint leaves must be green in colour and with no holes in them. If there are holes in the leaves, it is a sign of decay.
Whether it is summer or winter, your baby needs to be hydrated. Rather than choosing the store-bought options of juice that are high on sugar, this Mint Lemon Sherbet with honey is a great homemade option and 100% natural.