Besan Dhokla Recipe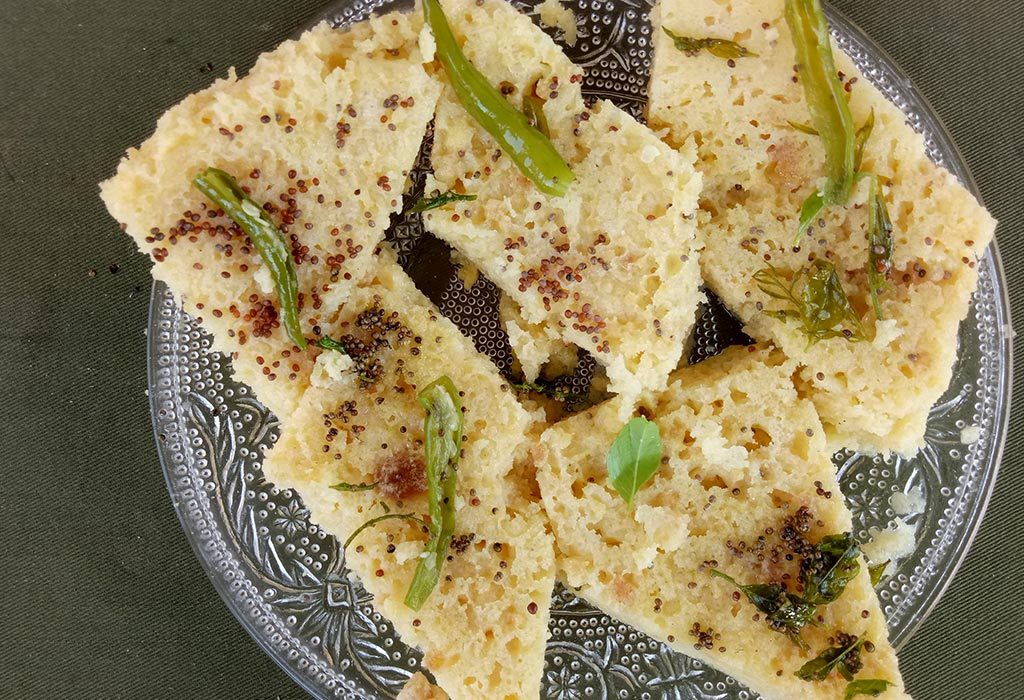 In this Article
When we look for recipes for our babies, we want to cook something which is nutritious, does not take much time and also delicious for our munchkins. Besan dhokla for toddlers is one such dish which we have tailor-made here to suit a kid's palate and also the needs of a developing body. It is always difficult to get those nutritious vegetables inside these naughty ones hence this recipe has veggies also as part of it. A traditional Gujarati dish with a twist, this recipe will surely get your child eating out of your hand.
Cooking Time
| | |
| --- | --- |
| Type | Time (hh:mm:ss) |
| Preparation Time | 00:10:00 |
| Cook Time | 00:10:00 |
| Total Time | 00:20:00 |
Cooking Method
Steaming
Type of Meal
Vegetarian
Suitable For
For babies above the age of 13 months
Meal Schedule
Mid-morning snack, dinner
Recipe Type
Snacks
Ingredients
| | |
| --- | --- |
| Ingredients | Quantity and Volume |
| Besan (Gram) Flour | 1 cup |
| Sooji (Semolina) | ½ cup |
| Curd | ½ cup |
| Ginger paste | ½ tsp |
| Coriander | 2 tbsp |
| Baking soda | ½ tsp |
| Beetroot | ½ |
| Carrot | ½ |
| Roasted Cumin (Jeera) powder | ½ tsp |
| Salt | As per taste |
| Water | As needed |
| Ghee | Enough for greasing |
| Curry leaves | 8-10 |
| Mustard seeds | ½ tsp |
Instructions
Below are the step by step directions to prepare Besan dhokla. This is an easy snack and requires less effort:
Grate carrots.
Boil and mash beetroots into a puree.
Finely chop the coriander.
Mix sooji, besan, and curd in a bowl.
Add all veggies along with ginger paste, salt and roasted jeera powder in the above mixture.
Add water to this mixture slowly and make a thick batter.
Add baking soda.
Set this aside for 15-20 minutes.
While the batter is sitting, heat water in dhokla pot and bring it to a boil.
Grease dhokla pan with ghee and put the batter on it. Spread it evenly and tap to let it settle down.
Steam the batter on a medium flame for 15-20 minutes.
Prick the batter with a fork and if it is not sticky then it is ready.
Cut the batter in any shape your child likes, a star or a flower or simple triangles.
Crack mustard seed and curry leaves in ghee and garnish the dhoklas with it.
Recipe Tips
Here are some tips to make this easy Besan Dhokla recipe a perfect one for your baby:
Do not use tap water for mixing the batter; preferably use the water which was used to boil beetroots as that would have retained nutrition from it.
While steaming the dhoklas, you could put a kitchen towel between the lid and pot so that steam droplets do not seep back into the batter. These droplets often give wet spots on the dhokla and are also undercooked.
You could also use muffin moulds to cook these as they look really cute and will give you uniform size.
If your child is less than 12 months then omit the salt; they would still love it.
Try and use home-made curd for safest and healthiest output.
Nutrition Information (Per 100 G)
| | |
| --- | --- |
| Nutrient | Value |
| Energy | 262 cal |
| Protein | 9.8 g |
| Carbohydrates | 27.5 g |
| Fat | 12.7 g |
| Cholesterol | 5.6 mg |
| Vitamin A | 1.7% |
| Calcium | 7% |
| Iron | 12% |
| Sodium | 534 g |
| Potassium | 413 g |
| Vitamin C | 1.7% |
% daily values are based on a 2000 cal diet.
Health Benefits
This is one home-made Besan Dhokla baby food recipe where you can get all that your child might not eat otherwise, yet needs for healthy development:
Besan is one of the best sources of protein in vegetarian diet and protein is what is needed for babies to grow better.
Sooji is a good source of minerals like magnesium and phosphorus which are good for a healthy nervous system.
Steaming dhokla refrains excess use of oil and is also light for digestion.
Curd in this recipe adds goodness that comes with a fermented food like breaking down fat easily and maintaining healthy gut flora.
Your child's digestion and the bowel movement will get more regulated with this.
It has a low glycemic index; good for kids specifically protects them from juvenile diabetes.
All the veggies will give your child the much-needed fibre, and beetroot is especially good for haemoglobin.
Buying Guide
Try to buy mostly organic products, be it flour or vegetables as the toxins in food will directly go into your child's system.
Make sure the vegetables are fresh and do not have any bad odour.
If you do not get readymade organic roasted jeera then you could buy organic whole jeera and then roast and grind at home.
If you have pondered over how to make Besan dhokla for a child without much effort, then this recipe will surely come to your rescue. A little cheating with adding veggies in it will make your child eat all the healthy things without the usual tantrums. These would turn out so delicious that you might not stop yourself from popping a few inside your mouth.