Cornflakes Chivda Recipe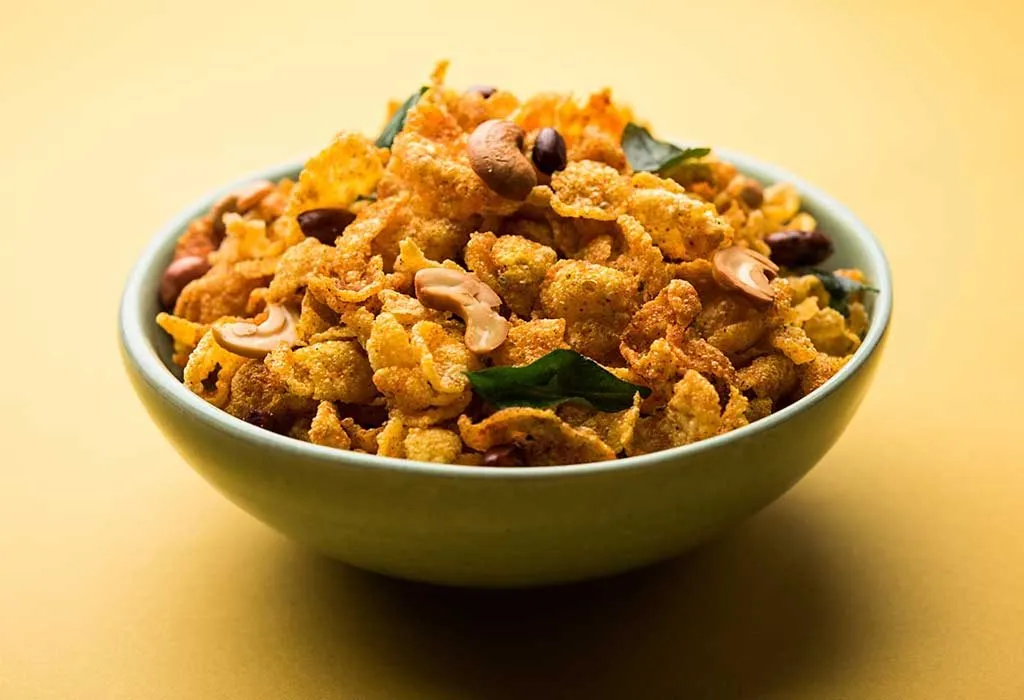 In this Article
Cornflakes Chivda offers the goodness of corn and other ingredients and is a healthy blend of nutrients for your growing baby! Try Cornflakes Chivda for toddlers and feed something healthy and yummy to your munchkin! This mix of savoury and sweet delight will be relished by your little one. A great snacking option while travelling, this recipe will surely be a lifesaver to put an end to those untimely hunger pangs of your munchkin!
Cooking Time
| | |
| --- | --- |
| Type | Time |
| Preparation Time | 00:10:00 |
| Cook Time | 00:15:00 |
| Total Time | 00:25:00 |
Cooking Method
Gas Stove
Type of Meal
Vegetarian
Suitable For
For toddlers over 18 months of age
Meal Schedule
Mid Morning Snack or Evening Snack.
Recipe Type
Appetizers
Ingredients
Following are the main ingredients that go into making homemade Cornflakes Chivda baby food recipe:
| | |
| --- | --- |
| Ingredient | Quantity and Volume |
| Cornflakes | 4 cups |
| Cashew nuts (finely chopped) | 2 tbsp |
| Peanuts (coarsely grounded) | 2 tbsp |
| Roasted chana dal | 2 tbsp |
| Mustard seeds | 1 tsp |
| Turmeric powder | ½ tsp |
| Fennel seeds powder | ½ tsp |
| Curry leaves | 8 to 10 |
| Salt | to taste |
| Sugar (powdered) | 1 tsp |
| Oil | 1 tsp |
Instructions
Want to know the procedure for making homemade Cornflakes Chivda? Here is the step by step procedure of making Cornflakes Chivda.
Take a heavy-bottomed wok and heat oil in it.
Once the oil is heated, add curry leaves and mustard seeds and wait until you hear a splattering sound.
At this point, add coarsely grounded peanuts, roasted chana dal, and chopped cashew nuts and cook until they turn crispy and light brown.
Add fennel seeds powder and turmeric powder. Give a thorough mix.
Add cornflakes and mix thoroughly to coat the masala on it.
Add salt and powdered sugar and give a gentle mix.
Remove from heat and let the chivda cool down before storing it.
Recipe Tips
Here are some handy tips that can help you in making this simple Cornflakes Chidva recipe.
You can use any kind of cornflakes (non-flavoured) that are available in the market to make this recipe.
You can also add raisins and shredded coconut to add a more nutty and sweet twist to the chivda.
Make sure the mixture has completely cooled down before storing it in an airtight container. This chivda can be stored up to 7 to 10 days.
You can also replace ghee in place of oil to add more aroma to the snack.
Alternatively, you can deep fry all the ingredients in the oil too. It not only makes the chivda crisper but you can store the chivda for a longer time.
Nutrition Information (Per 100 Grams)
After mastering the tips and instructions on how to make Cornflakes Chivda, get acquainted with its nutritional content too!
| | |
| --- | --- |
| Type | Value |
| Energy | 250 Cal |
| Carbohydrates | 40 g |
| Protein | 9 g |
| Potassium | 90 mg |
| Sodium | 430 mg |
| Fibre | 10 g |
| Fat | 10 g |
The above table mentions the approximate values present in cornflakes chivda. The actual values can vary slightly.
Health Benefits
Here are a host of benefits that your little one can derive from this yummy snack:
Cornflakes are a powerful source of nutrition and are loaded with dietary fibre, folate, proteins, and other essential nutrients. Folate aids in the formation of new cells.
The ample fibre content keeps the babies feeling fuller for longer.
The presence of carotenoids helps maintain good heart and lung health.
Peanuts are powder packed with the goodness of protein, which is an essential nutritional requirement for optimum growth and development of a baby.
Peanuts also provide an added dose of energy to kids.
Buying Guide
Here are points to keep in mind when buying or picking ingredients to make Cornflakes Chivda:
Buy cornflakes from any renowned brand. Refrain from picking any local store product.
There are many flavours in cornflakes available in the market, however, plain or the ones without any flavours are the best option for this recipe.
Always check the best before or date of expiry before buying a pack of cornflakes.
Make sure all other ingredients such as peanuts, cashew nuts, etc. are of premium quality too. Always check the date of packaging on these items as nuts go bad very soon.
If you haven't tried this yummy snack until now, well, with this easy to make Chivda at your disposal, we are sure you would be tempted to try!