Carrot-Beetroot Soup Recipe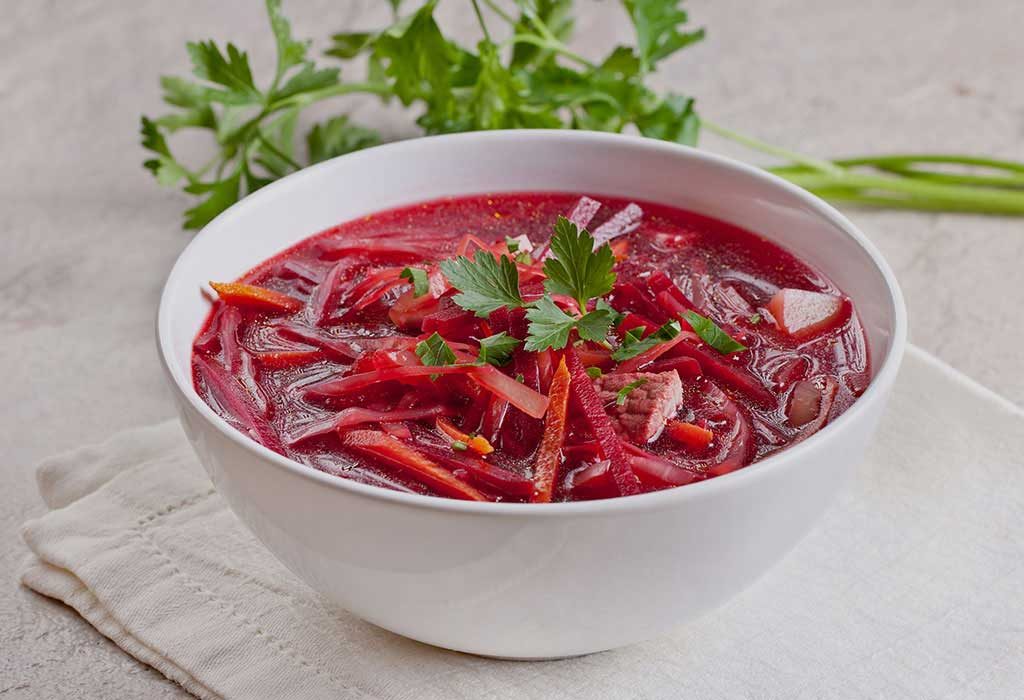 Carrot and beetroot are bright coloured root vegetables and are complete with health and taste. They are packed with essential nutrients, including minerals, vitamins, and iron and are rich in fibre too. This Carrot Beetroot soup recipe for babies/toddlers is a good choice to satisfy their hunger pangs at any time of day. This recipe is a full meal in itself and keeps the babies full for a longer duration. This delicious soup is ideal for weaning babies above 6 months and an easy way to introduce them to solid food.
Video :
Carrot-Beetroot Soup Recipe for Babies and Toddlers
Cooking Time
| | |
| --- | --- |
| Type | Time (hh:mm:ss) |
| Preparation Time | 00:05:00 |
| Cook Time | 00:10:00 |
| Total Time | 00:15:00 |
Cooking Method
Gas
Type of Meal
Vegetarian, Vegan
Suitable For
Weaning babies and toddlers above 8 months
Meal Schedule
Breakfast, Mid-Morning Snack, Lunch or Evening Snack.
Recipe Type
Soup
Ingredients
| | |
| --- | --- |
| Ingredients | Quantity / Volume |
| Carrot peeled and chopped | 1/2 cup |
| Beetroot peeled and chopped | ¼ cup |
| Butter (optional) | 1 teaspoon |
| Cumin seeds (optional) | ¼ teaspoon |
| Black pepper powder(optional) | ¼ teaspoon |
| Water | 1 cup or as needed |
| Salt (optional) | A pinch |
Instructions
So, you all mommies wondering how to make Carrot Beetroot Soup without any hassle then follow the steps given below
First, wash both vegetables thoroughly in running water to remove all impurities.
Peel off the skin from both vegetables and cut them into small pieces.
Take a pressure cooker and add a cup of water along with chopped vegetables.
Cook for 2-3 whistles and wait till the pressure is released.
Check whether the vegetables are cooked and become soft.
Now, transfer the cooked vegetables to a blending jar. Blend to make a smooth and chunk free paste. Add more water if required.
Now heat a pan and add a tsp of butter. Let it melt and then add cumin seeds.
Then add the vegetable paste to it and let it boil.
Strain the soup if making it for babies 6 to 12 months using a strainer.
Drizzle some pepper powder and add salt before serving.
Serve warm and let your munchkin enjoy this homemade Carrot Beetroot Soup recipe.
Recipe Tips
This easy to make soup is full of health and taste and can be served to kids of any age. But it is a very good meal for baby-led weaning.
Must wash both vegetables properly as both of these are roots vegetables.
Use of salt and black pepper powder is optional and you should add only if required.
Strain the ground vegetables paste only to give to babies aged 6 months to 1 year. For older than one year, straining is not required. Only make sure there is no chunk left in the paste.
The use of clean and purified water is recommended while making dishes for babies or toddlers.
Make sure your hands, vegetables, and utensils are clean when you are preparing anything for your baby.
Nutrition Information (Per 100 g)
| | |
| --- | --- |
| Type | Value |
| Energy | 22 Kcal |
| Carbohydrates | 4.6 g |
| Vitamin A | 529.2 mcg |
| Protein | 0.6 g |
| Fat | 0.1 g |
| Dietary fiber | 1.9 g |
Health Benefits
This simple Carrot Beetroot recipe is packed with all the essential nutrients required to be a complete meal for a baby. It is quick to make, delicious and has numerous health benefits like
It has carrots that are a rich source of Vitamin A and helps in improving the eyesight of babies.
Both of the vegetables used in this soup are full of antioxidants and helps in improving the immunity system.
This soup is also helpful in the brain development of babies.
It is super healthy and is complete with vitamins A, B complex, C, E, and K.
It aids in the overall growth and development of babies and toddlers.
It is rich in fiber and is easy on the stomach. It is also helpful in normal and soft bowel movements.
Buying Guide
Always look for fresh vegetables and check for firmness and blemish-free bright skin when buying root vegetables.
Organic products prove to be the best choice for your babies as they do not contain harmful chemicals, pesticides, and insecticides. These are tastier, healthier and safer for your little one.
Buying products from a trusted vendor or reputed store is always recommended.
So, what are you waiting for? Follow these step by step instructions and make this super nutritious soup to fulfill the daily diet requirements of your baby.