Banana Sheera Recipe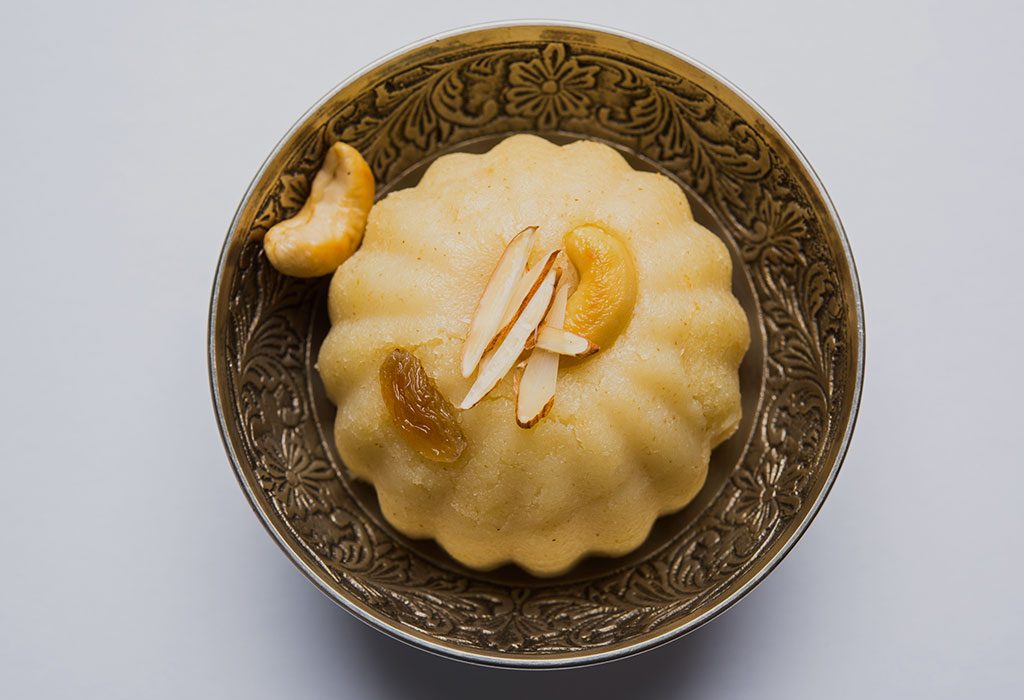 In this Article
The Banana Sheera recipe is not only a delicious North Indian pudding recipe but is also filled with nutrients and is good for babies older than 9 months. This easy Banana Sheera recipe can be fed to babies who are being weaned, as it has a soft texture and melts quickly in the mouth of the baby. It also contains Semolina which is easy to digest and light on the stomach as well.
Cooking Time
| | |
| --- | --- |
| Type | Time (hh:mm:ss) |
| Preparation Time | 00:05:00 |
| Cook Time | 00:15:00 |
| Total Time | 00:20:00 |
Cooking Method
Gas Stove
Type of Meal
Vegetarian
Suitable For
Any baby above 9 months of age
Meal Schedule
Breakfast, Mid-Morning Snack, Lunch, Evening, Snack, Dinner
Recipe Type
Main Dish, Dessert
Ingredients
| | |
| --- | --- |
| Ingredients | Quantity and Volume |
| Baby Banana (mashed) | 4 |
| Semolina | 3 Tablespoon |
| Cardamom powder | 1 pinch |
| Ghee | 2 Tablespoon |
| Milk | ½ cup |
Instructions
This recipe does not require much effort and can be prepared quickly. Here are the step by step recipe instructions to prepare this healthy and tasty recipe:
Heat a pan, add ghee to it and then add a pinch of cardamom powder.
Then, add Semolina (Rava/ Sooji) to the pan and roast it until light brown and a nice aroma starts to come.
Add milk slowly and keep stirring so that no lumps are formed.
Stir for about a minute and the mixture will be a bit thick but make sure it is not much thick but of running consistency.
Switch off the flame.
Side by the side, peel the baby bananas and mash them with the help of a fork or you can also grind using a mixer jar.
Add this banana paste to the roasted Rava and stir well.
And, your tasty Banana Sheera is ready without much effort.
Serve to your baby once the Sheera becomes lukewarm.
Follow the above steps of this delicious homemade Banana Sheera baby food recipe to make a delectable and healthy dish for your little one.
Recipe Tips
There are some important points to remember while preparing nutritional and healthy Banana Sheera recipe
Peel and mash the banana only after the roasting of Semolina is done as banana gets black if kept open for long.
You can also add banana slices to the recipe if the babies are above one year and can chew the slices properly.
Do not make the Sheera too thick to avoid choking.
Use the quantity of banana as per the appetite of the baby.
If you are preparing this recipe for the babies less than a year old, use water instead of milk, and then add formula or breast milk to it. It is advisable to not use cow/buffalo milk till baby turns one.
Always wash your hands well before cooking any meal for babies. All of the utensils should also be properly washed and cleaned before using them for babies.
You can also add small chunks of nuts and dry fruits to this recipe once your baby starts chewing properly.
Though there is no need to add sugar to this dish, as banana itself adds sweetness, if your kid demands and likes the taste of honey, you can add a little amount of honey after preparation.
Nutrition Information (Per 100 Grams)
| | |
| --- | --- |
| Nutrient | Value |
| Energy | 0.54 kCal |
| Protein | 7.75 g |
| Carbohydrates | 48.94 g |
| Fibre | 11.21 g |
| Fat | 5.54 g |
| Calcium | 44 mg |
| Iron | 2.4 mg |
| Protein | 10 g |
| Sodium | 50 mg |
Health Benefits
Here are the health benefits of Banana Sheera for babies:
Bananas are said to be a good source of nutrition and perfect weaning fruit for baby's first food.
Bananas protect from stomach ulcers and help in digestion in babies.
Bananas are a rich source of potassium, Vitamin B6, Vitamin C, Vitamin B2, minerals and help in weight gain of babies.
Bananas and Semolina both are rich sources of fibre, which in turn helps in clearing baby bowels and keeps the baby full for a longer period.
This recipe is full of nutritional values, taste and is easy on the stomach too.
Buying Guide
Buy organic (if possible) and good quality and fully ripe bananas from a good store.
Check for the expiry date before buying Semolina and other products.
So, mommies now you know how to make Banana Sheera, so why wait? Prepare this simple and tasty recipe for your little one and let her/him savour this nutritious dish.