Jeera Rice Recipe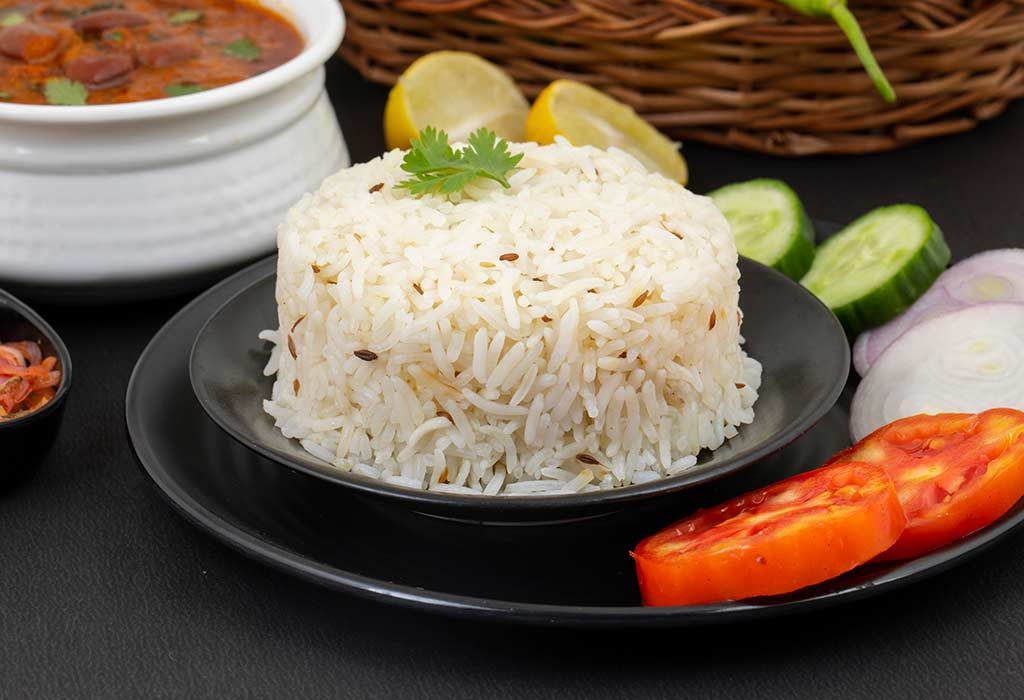 Jeera Rice is a simple and quick preparation wherein the rice is flavoured with jeera (cumin seeds) and ghee. This dish is a well-known dishes in Indian cuisine and is very easy to make. The fragrance and the earthy flavours of the jeera mixed in rice make it a perfect dish to have with dals and curries. Jeera Rice for babies can add a variant in your baby's diet too. Let's take a look at how you can make this simple yet delicious dish.
Cooking Time
| | |
| --- | --- |
| Type | Time (hh:mm:ss) |
| Preparation Time | 00:10:00 |
| Cook Time | 00:15:00 |
| Total Time | 00:25:00 |
Cooking Method: Gas Stove
Type of Meal: North Indian Vegetarian Meal
Suitable For: Any baby above 11 months of age
Meal Schedule: Lunch or Dinner
Recipe Type: Main Dish
Ingredients
| | |
| --- | --- |
| Ingredients | Quantity and Volume |
| Basmati Rice | 1 cup |
| Cumin Seeds (Jeera) | 2 tbsp |
| Ghee | 2 tbsp |
| Salt | ½ tsp (according to taste) |
Instructions
Here's a step-by-step procedure to make jeera rice.
Wash the basmati rice properly for about three times.
Now soak the washed rice in a clean bowl with 2 cups of water for 10 minutes. Soak them till the grains become double in size. Soaking the rice will reduce the cooking time.
After 10 minutes, drain the water with the help of a strainer.
Heat the ghee in a non-stick pan.
Add the cumin seeds into the ghee and let them splutter.
Saute the jeera until it becomes light brown in colour.
Add the soaked rice into the pan.
Give it a slight mix ensuring the rice grains do not break.
Add 2 cups of water and some salt. Simmer it for 5 minutes.
Then, cover the lid and cook them for another 5 minutes.
Check whether the rice is cooked by pressing some rice grains between your fingers. If they get mashed, the jeera rice is ready.
Recipe Tips
This is a simple jeera rice recipe for your baby. However, you need to keep few things in mind:
Do not overcook the rice. Keep on checking in between.
It is always advisable to use a 1:2.5 ratio of rice and water when you cook the rice in a pan or a pot.
Wash the rice properly.
Always mix the jeera and rice gently ensuring the grains do not break.
Do not saute the jeera too much as it will get burnt. Stop when you notice the jeera crackle and turn light brown.
Use clean utensils when you cook.
Use filtered water for cooking.
Always wash your hand before cooking.
You may use other long grain rice if you cannot find basmati.
Now that you know how you can prepare jeera rice for your little angel, let's also take a look at its nutritional value and health benefits.
Nutrition Information
The nutritional information provided below is for one serving of jeera rice.
| | |
| --- | --- |
| Nutrient | Value |
| Energy | 246 kCal |
| Protein | 3.7 g |
| Carbohydrates | 42.4 g |
| Fibre | 2.2 g |
| Fat | 6.8 g |
| Cholesterol | 0.1 mg |
| Vitamin A | 58.5 mcg |
| Vitamin B1 (Thiamine) | 0.1 mg |
| Vitamin B2 (Riboflavin) | 0.1 mg |
| Vitamin B3 (Niacin) | 1 mg |
| Vitamin C | 0.4 mg |
| Folic Acid (Vitamin B9) | 4.5 mcg |
| Calcium | 7.1 mg |
| Iron | 0.4 mg |
| Magnesium | 0 mg |
| Phosphorus | 0 mg |
| Sodium | 0.2 mg |
| Potassium | 4.8 mg |
| Zinc | 0.7 mg |
Health Benefits
Here are a few health benefits of homemade jeera rice for your baby.
Cumin seeds are highly beneficial for the treatment of respiratory conditions such as cold, breathing problems and asthma. One can get immediate respite from congestion by inhaling the fumes of some dry roasted cumin seeds or just by drinking some warm cumin seed water.
Cumin seeds help fight bacterial infections.
They also help combat digestive problems, such as stomach ache, nausea, haemorrhoids, acidity, etc.
They are an excellent source of iron and calcium, which is vital for the baby's growth and development.
Cumin seeds help in boosting immunity.
To ensure utmost health benefits, you must use quality ingredients. Here's a quick buying guide that you will find helpful if you've never bought the ingredients for jeera rice before.
Buying Guide
Buy fresh and organic rice.
Whether you buy packaged rice or not, ensure it does not have insects.
Always buy good quality products from a good store.
Check the expiry date of salt and jeera before buying it.
Sift through the rice and remove any foreign particles.
Prefer pure homemade ghee for cooking.
It's quite difficult to choose healthy and delicious baby food, and we're here to help you cook homemade meals for your little one. Add a healthy twist to your baby's diet with this simple jeera rice recipe. You can feed this dish twice or thrice a week with some dal to complete your baby's meal.