Egg White Pancakes Recipe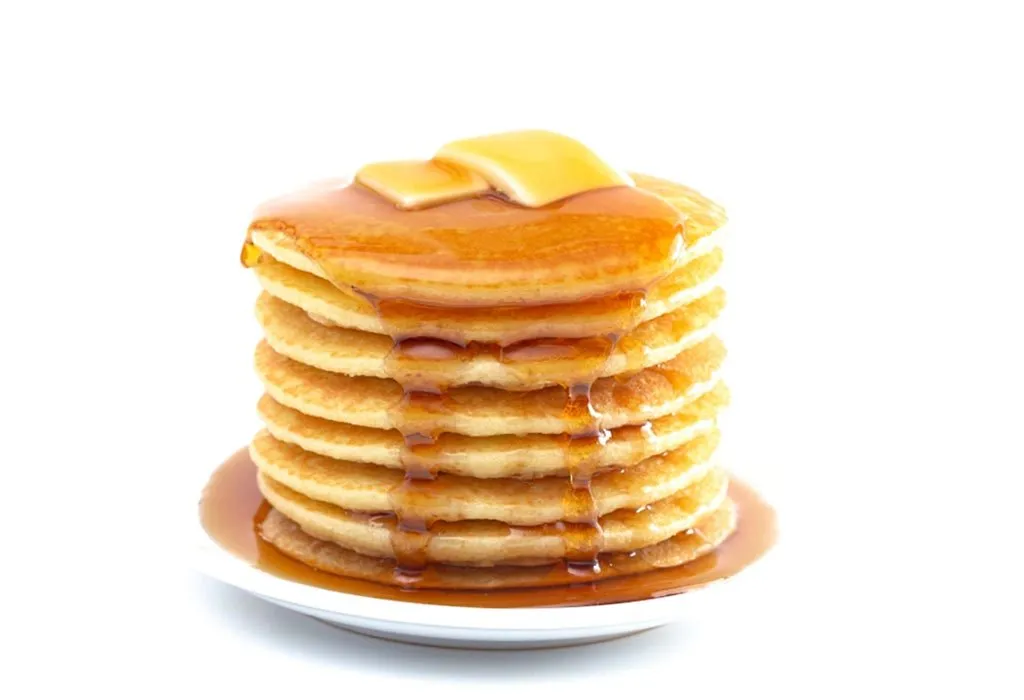 In this Article
Pancakes are one of the best breakfast options for people of all age groups and equally loved by babies too. If you are looking for an easy to make pancake recipe for your little one, here we are to fulfil your wishes! In this post, we will be sharing a homemade egg white pancake baby food recipe that you can try for your baby!
Cooking Time
| | |
| --- | --- |
| Type | Time |
| Preparation Time | 00:10:00 |
| Cook Time | 00:15:00 |
| Total Time | 00:25:00 |
Cooking Method:
Gas
Type of Meal:
Egalitarian
Suitable For:
For babies over 11 months of age
Meal Schedule:
Breakfast
Recipe Type:
Main Dish
Ingredients
Here is the list of ingredients that to need for egg white pancake for toddlers:
| | |
| --- | --- |
| Type | Quantity/ volume |
| Flour | 1 cup |
| Egg whites | 2 |
| Banana, mashed | ½ medium-sized |
| Milk | ¼ cup |
| Brown sugar | ¼ cup |
| Cinnamon powder | ½ teaspoon |
| Walnuts, finely chopped | 1 tablespoon |
| Butter, for cooking | 2 tablespoon |
| Honey (Optional) | 2 to 3 tablespoons |
Instructions
Here are step by step instructions for making these egg white pancakes:
Whisk egg whites and brown sugar in a deep bowl.
Sieve the flour and add to the egg and sugar mixture slowly, as you keep whisking the batter.
Add mashed banana, cinnamon powder, and chopped walnuts to the batter and give a thorough mix.
Add milk to adjust consistency in case the batter is not of flowing consistency. Skip adding milk if the consistency is as desired.
Heat a flat pan. Grease with butter. Scoop out a dollop of pancake mix and spread it on the hot pan. Cook on medium flame until it turns golden brown from both sides.
Serve at room temperature topped with honey!
Recipe Tips
Here are some recipe tips that may come handy in whipping out this simple Egg white pancake recipe:
If you are making these pancakes for a baby who is less than 12 months old, skip adding honey and chopped nuts.
You can add other mashed or grated fruits such as grated apple, pureed strawberries, etc to add different flavours and texture to the recipe.
If your baby is comfortable with eating chopped nuts, you can add chopped cashews, almonds, pistachios, etc to make the pancakes crunchier.
Use whole wheat flour for added nutrition for your little one.
If brown sugar is not available, you can use jaggery, date sugar, and other such alternatives too.
Nutrition Information (Serving Per 100 Grams)
The table-below shows nutritional content present in pancakes:
| | |
| --- | --- |
| Type | Value |
| Energy | 240 calories |
| Carbohydrates | 28 grams |
| Protein | 6 grams |
| Potassium | 130 milligrams |
| Sodium | 450 milligrams |
Table Source: https://www.nutritionix.com/food/pancakes
This table mentions approximate nutritional values present in 100 grams of pancakes. Sometimes values may change according to additions that you may make to the recipe.
Health Benefits
Here are some health benefits of pancakes for kids:
Phosphorous present in these yummy delights not only helps in bone and teeth development in babies but also prevents your little ones from any kind of free radical damage.
An array of B vitamins present in pancakes helps in the production of red blood cells and also promotes a healthy nervous system.
Flour is the main ingredient in pancakes, which helps in providing ample carbohydrates to your munchkin. Carbohydrates help in providing the much-needed energy for growing babies and also keep the babies feeling fuller for longer.
The presence of protein in pancakes is beneficial for muscle development.
Buying Guide
Now that you know how to make egg white pancakes, you must keep in mind following tips when buying ingredients for making pancakes:
Buy whole wheat flour from a food-grade brand. Refrain from buying locally packed products until or unless the authenticity of such products is known to you.
Always make sure that you check the best before date or date of packing, before picking up any ingredients.
If you wish to add any fruits to the recipe, make sure you buy seasonal and organic ones from your local supermarket. Do not use tinned or frozen fruits.
When buying eggs, buy the ones that are stored under refrigeration. Check for cracks and do not forget to check the sell-by or date of expiration on the carton.
This easy breakfast recipe is enjoyed by people from all over the world, so next time you are struggling with some fun ideas for breakfast for your munchkin, try making these yummy pancakes!