Grilled Chicken Recipe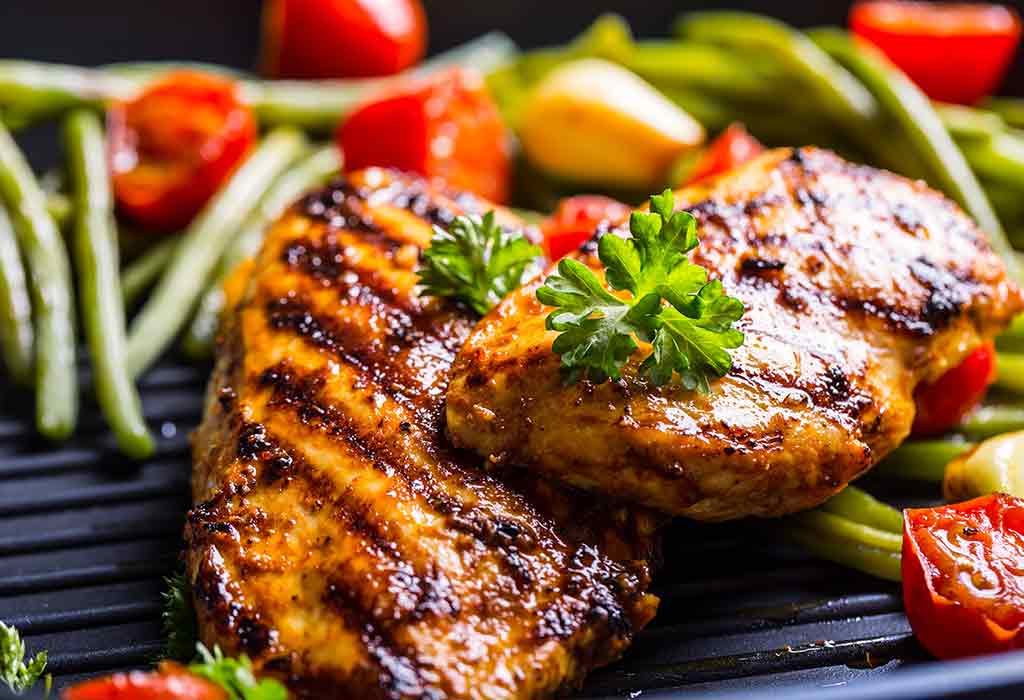 In this Article
This simple grilled chicken recipe is an Indianised spiced version with all its tangy and succulent flavours. The marinade made of yoghurt and spices softens the meat to create a flavour that will tickle your munchkin's tastebuds. The yoghurt is the best way to naturally tenderize the chicken. The acidic reaction of the yoghurt with lemon juice breaks down the proteins. The result is a moist and juicy product.
Cooking Time
| | |
| --- | --- |
| Type | Time (hh:mm:ss) |
| Preparation Time | 00:15:00 |
| Cook Time | 00:20:00 |
| Total Time | 00:35:00 |
Cooking Method
Gas Stove, Induction
Type of Meal
Non-Vegetarian
Suitable For
For toddlers older than 17 months of age
Meal Schedule
Lunch or Dinner.
Recipe Type
Main Dish
Ingredients
| | |
| --- | --- |
| Type | Quantity |
| Chicken breasts | 4- ounce |
| Plain yoghurt | 1 cup |
| Garlic ( grated) | 4 cloves |
| Lemon juice | ¼ cup |
| Ginger grated | 2 tablespoons |
| Garam masala powder | 1 teaspoon |
| Turmeric | 1 tablespoon |
| Salt | As per taste |
| Black Pepper powder | ½ teaspoon |
Instructions
Grilled chicken is the best way to serve chicken to your toddler. To learn how to make grilled chicken for babies, just follow this simple step-by-step guide:
Chop and slice the chicken breasts into reasonable thick slices and place them in a large glass bowl.
In another bowl, whisk the yoghurt, garam masala, grated garlic, grated ginger, turmeric, salt lemon juice, and black pepper powder. Whisk it well so that all the ingredients are mixed well.
Refrigerate this marinade for about 30 minutes.
Pour it gently over the chicken slices. Make sure that you coat all the slices with the marinade.
Preheat a grill on high heat and spray it with some oil.
Place the chicken breast slices on the grill and cook each side for about 6-8 minutes. Keep turning it and cook until completely done.
If you do not have a griller, then place a roti or phulka stainless steel roasting net on the gas stove. Grill the chicken pieces on them on a low flame
Recipe Tips
This home-made grilled chicken baby food recipe can be perfected with ease if you follow the below tips:
Make sure you remove all the flesh from the chicken. Slice the breasts into about 3 inch thick slices as they will cook well.
The marinade must be refrigerated for 30 minutes for all the flavours to blend well.
You can also use some butter to grill the chicken as it will enhance the taste.
Nutrition Information (Per 100 Grams)
| | |
| --- | --- |
| Type | Value |
| Calories | 211 kCal |
| Carbohydrates | 10.4 grams |
| Protein | 38 grams |
| Fat | 3.6 gms |
| Cholesterol | 10.4 mg |
| Sodium | 97.2 mg |
| Fibre | 2.2gms |
| Sugar | 4.5 gms |
Health Benefits
Grilled chicken for babies is packed with a whole load of nutrients. Grilled and not fried, the food is healthy and packs in the nutrients of the ingredients in a tasty way. Read on to find out more:
Chicken is packed with protein and Vitamin B6. Both of these are essential for the body to extract energy from food.
The rich source of protein helps to enhance muscle growth in the body.
The iron content found in chicken helps in the production of red blood cells in the body.
Chicken also contains potassium which keeps the blood vessels healthy.
The good amounts of calcium and phosphorous in chicken help in the formation of bones.
Vitamin A, C, and B12 help in healthy brain development.
Zinc and magnesium in chicken help to boost immunity.
Yoghurt enhances the digestive health of babies and is full of calcium that supports the development of strong teeth.
Buying Guide
You do not want to go wrong when it comes to serving this Grilled Chicken to your toddler. Simply follow these tips when sourcing the ingredients:
You can use home-made yoghurt or store-bought ones. Home-made set yoghurt is better than store-bought ones as they are processed.
Chicken should be bought from reputed stores. It is very important to buy chicken from stores that practice good standards of hygiene. The meat must be packaged well.
Select the chicken with a pinkish hue.
Try to buy organic products as they are free from chemicals and any additional ingredients added during the processing.
Chicken is a food that can be served to babies and if introduced at an early age, they will develop a taste for it. Grilled chicken is a wholesome meal in itself. You can also grill some extra pieces and pack them in your sandwiches the next day!