Whole Wheat Crackers Recipe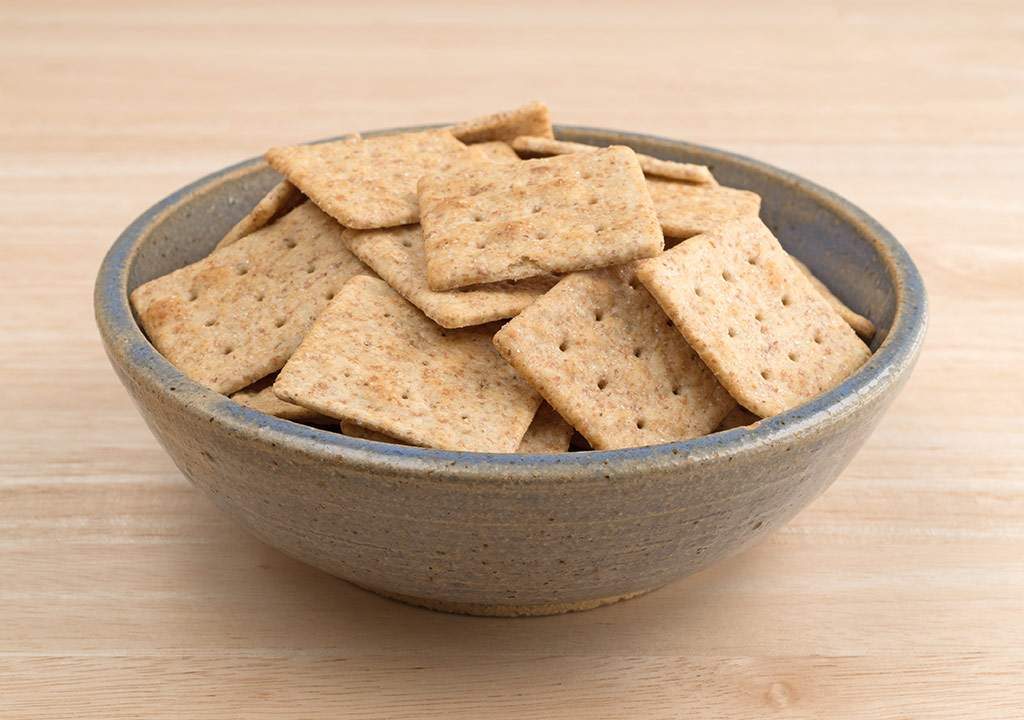 Children might feel hungry every now and then not only because of being physically active throughout the day, but also because they grow each day. It becomes irritating to cook something or the other throughout the day. Also, it is not advisable to let them gorge on ready-made junk food or market-packed snacks. So, here we bring a recipe that gets ready in minutes and can be stored for long to be given whenever the child feels hungry.
Video : How to Make Whole Wheat Crackers for Toddlers
We are talking about simple whole wheat crackers for toddlers. It is a finger-food and is loved by all. These not-so-complicated, easy-to-prepare at home crackers are much more delectable than the ready-made ones available in the market. Also, since they are baked, they are light on your child's gut. This recipe is a must for feeding your child some healthy and tasty snacks at a time when they crave for something nice and different.
Already excited to know the recipe? Read on to know how to make whole wheat crackers in the comfort of your home:
Cooking Time
| | |
| --- | --- |
| Type | Time (hh:mm:ss) |
| Preparation Time | 00:15:00 |
| Cook Time | 00:20:00 |
| Total Time | 00:35:00 |
Cooking Method
Microwave Oven
Type of Meal
Vegetarian
Suitable For
Toddlers older than 14 month of age
Meal Schedule
Breakfast, Mid Morning Snack, Evening Snack
Recipe Type
Side Dish / Snack / Appetizer
Ingredients
| | |
| --- | --- |
| Ingredient | Quantity |
| Whole Wheat Flour | 1 cup |
| Refined Oil | 2.5 tbsp |
| Salt | ¼ tsp or as per requirement |
| Water | 3 tbsp approximately |
Instructions
Below is the step by step procedure to make crispy and tasty crackers for your munchkin:
In a medium-size bowl add wheat flour, oil and salt. Add water slowly to knead the dough. The dough should be soft but not sticky. Add little bit oil to grease the dough to avoid it getting dry.
Preheat your oven to 350 F/175 C.
Divide the dough into two halves and start rolling the first half on a flat surface.
Roll out the first dough ball as thin as possible.
Keep the rolled dough on a greased baking tray and mark squares with the help of a knife. Do not cut out the squares. Also, prick the cracker with a fork and sprinkle a little bit of salt. Do not forget to brush the crackers with a little bit of oil.
Put the baking tray inside the oven. It might take around 10 to 15 minutes to cook completely. Baking time may vary depending on the thickness of your cracker. Keep on checking the oven after few minutes so that the crackers do not burn.
Cook them until the crackers turn crisp and brown.
When it cools down remove from the baking tray and separate the squares.
Repeat the same steps with the remaining dough.
The crackers are ready to eat whenever and wherever your child likes!
Recipe Tips
Do keep the following points in mind while preparing homemade whole wheat crackers baby food recipe:
The dough must be rolled out evenly. Otherwise, some crackers might turn out half-cooked.
Keep checking the oven in few intervals to avoid the burning of crackers.
Make sure these crackers are stored in an air-tight container to avoid losing the crispiness.
Wash your hands properly before starting to prepare this recipe.
Nutrition Information (Per 100 Grams)
| | |
| --- | --- |
| Type | Quantity |
| Energy | 20 kCal |
| Carbohydrates | 2 g |
| Fat | 1 g |
| Potassium | 12 mg |
| Sodium | 49 mg |
| Calcium | 1 mg |
| Iron | 0.1 mg |
Health Benefits
Following points will introduce you to the benefits of this simple whole wheat crackers recipe:
These crackers are easy to eat and are packed with vitamins, fibre, protein, minerals, and antioxidants.
They are known to keep the heart healthy.
These crackers keep your child's gut healthy by improving the bowel movements.
It also reduces the chances of your baby catching chronic illnesses.
This recipe should be avoided for kids with gluten sensitivity.
Buying Guide
Do take proper care while buying the ingredients for the recipe of whole wheat crackers for babies:
Try to grind the wheat grains at a mill to prepare wheat flour. Do not buy ready-made wheat flour available in the market. This avoids the intake of preservatives by your kid.
Make sure to try this whole wheat cracker recipe at home. It can be easily eaten by your kid on their own and proves nutritious as well! Happy Parenting and keep on trying out new recipes.