Dahi Chutney Recipe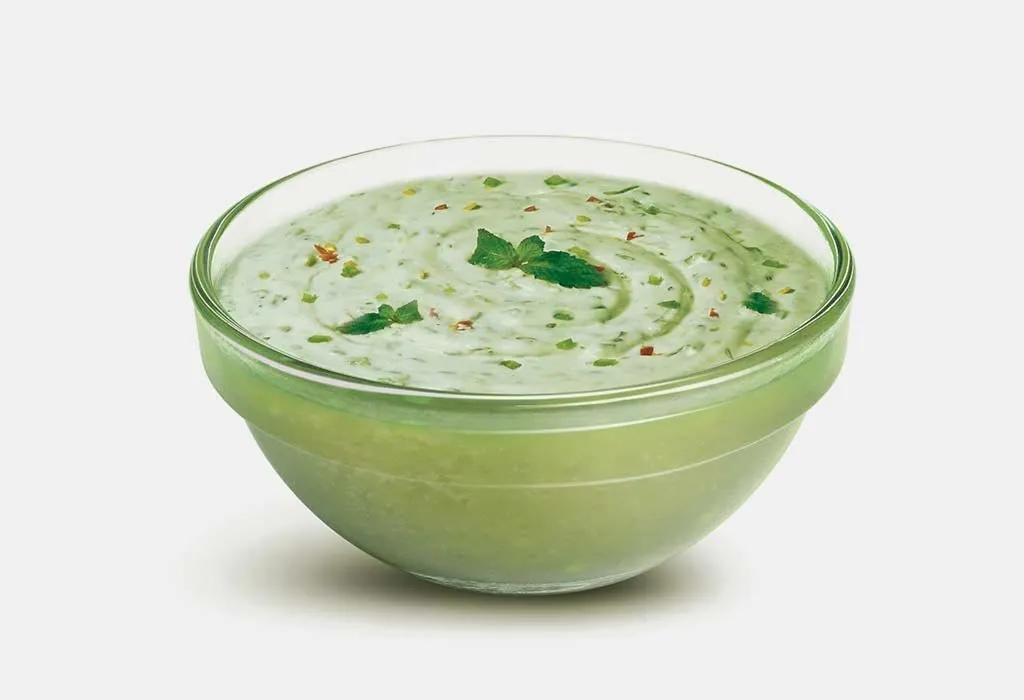 In this Article
As soon as toddlers start eating solid foods, they are introduced to a plethora of yummy flavours and textures and chutneys, sauces, and dips to help in making the usual food more interesting and palatable. In this post, we shall be sharing a very easy Dahi Chutney recipe that can make snacks and meal times interesting for your little one!
Cooking Time
| | |
| --- | --- |
| Type | Time |
| Preparation Time | 00:05:00 |
| Cook Time | 00:03:00 |
| Total Time | 00:08:00 |
Cooking Method
Blender
Type of Meal
Vegetarian
Suitable For
For babies or toddlers over 11 months of age.
Meal Schedule
Mid Morning Snack or Evening Snack
Recipe Type
Appetizers
Ingredients
Following are the ingredients that go into making Dahi Chutney for babies & toddlers:
| | |
| --- | --- |
| Ingredient | Quantity and Volume |
| Curd | 1 cup |
| Mint leaves | ½ cup |
| Coriander leaves | 1 cup |
| Ginger (coarsely chopped) | 1 tsp |
| Garlic (coarsely chopped) | ½ tsp |
| Cumin powder | ½ tsp |
| Lemon juice | 2 tbsp |
| Salt | To taste |
| Water | As required |
Instructions
Here are step by step directions that you can follow to make Dahi Chutney:
Take mint and coriander leaves and wash them thoroughly to get rid of any traces of dirt. Place them on a strainer to get rid of the excess water.
Once the leaves get rid of excess water, put them in the blender jar.
Add chopped ginger, chopped garlic, lemon juice, and salt too.
Blend all the ingredients into a thick paste-like consistency. You may add few spoons of water to adjust the consistency too.
Transfer the contents into a bowl.
Add curd and mix well.
Add cumin powder to this mixture and the Dahi chutney is ready to be served with aloo tikki, parantha, dal, and rice, etc.
Recipe Tips
If you wish to learn how to make Dahi Chutney, you should keep the following tips in mind.
Make sure you use hung curd for the recipe as normal curd tends to make the chutney more watery and runny.
You can adjust the consistency and flavour by adding more curd. More curd mellows down the pungent effect of mint.
For older kids, you can add chat masala to add a more spicy touch to the chutney.
You can safely store the chutney in the refrigerator for up to 4 to 5 days.
Nutrition Information (Per 100 Grams)
Here are some of the important nutrients present in homemade Dahi Chutney baby food recipe:
| | |
| --- | --- |
| Nutrient | Value |
| Energy | 80 Cal |
| Carbohydrates | 10 g |
| Protein | 6 g |
| Fibre | 1 g |
| Vitamin C | 15 mg |
| Folic acid | 20 mg |
| Calcium | 120 mg |
| Magnesium | 29 mg |
| Phosphorus | 77 mg |
| Sodium | 12 mg |
The above table shows approximate values present in Dahi chutney. The actual values may sometimes vary slightly.
Health Benefits
If you are thinking what goodness your little munchkin can derive from this delectable chutney, well, this section discusses some of the many benefits of this yummy homemade dip.
Curd is loaded with the goodness of calcium and phosphorus. Both these nutrients are important for optimum bone and teeth development in babies.
Curd is made through the fermentation process and thus, easy and light on your baby's tummy.
Mint contains antioxidant properties and thus helps in fighting infections and diseases. The anti-inflammatory properties may help in coping with allergies.
The calming effects of mint are great for soothing tummy and it also keeps indigestion at bay. Mint also helps in regulating the bowel movements.
Coriander leaves are high in antioxidants and help reduce the effect of free radicals.
Coriander leaves contain anti-microbial properties that make them highly effective when it comes to controlling bacterial growth.
Buying Guide
Keep in mind the following tips when buying ingredients for Dahi chutney.
Homemade curd is the best option for making Dahi chutney; however, if you are buying it from the market make sure you check the expiry date.
Pick up fresh coriander and mint leaves for the chutney. Refrain from picking up the ones that look wilted or stale.
Buy organic products when it comes to buying ingredients for preparing baby food.
You can make ground cumin at home or pick up organic cumin powder from your local departmental store.
This easy to make Dahi chutney recipe is great to add the twist of taste to your toddler's meals. Also a healthy and nutritious dip that enhances your baby's meal. Try this yummy recipe and make the meals more interesting!